The Mile-Hile City offers visitors the delights of urban camping, exploring snow-capped peaks, or the long stretch of the front range. Every campsite has something to excite and inspire, and you can't go wrong taking your habitat to one of these 10 campgrounds under an hour's drive away from Denver.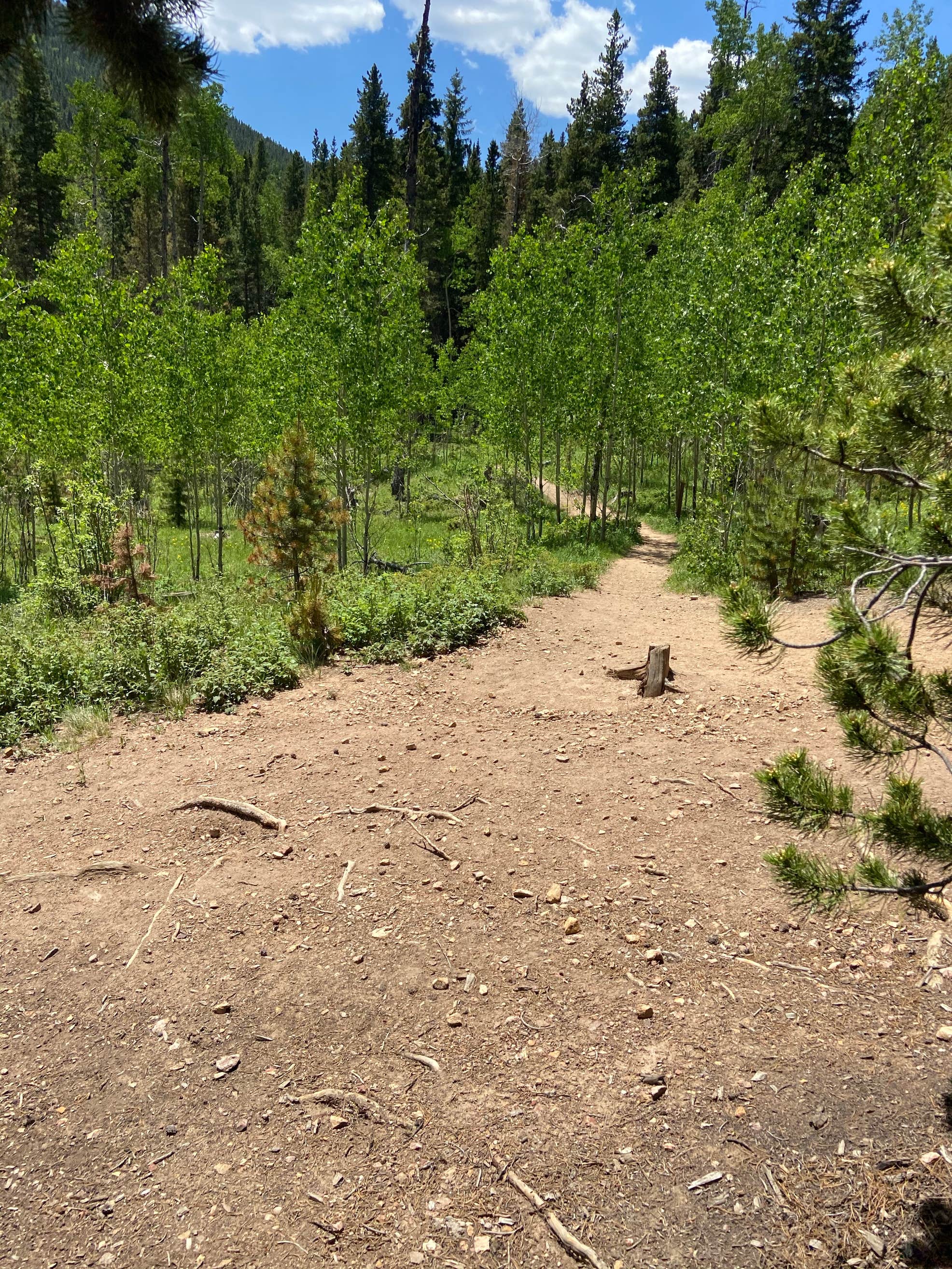 Heading up to Reverend's Ridge Campground, you get a fantastic look at Pike's Peak as you arrive at the campground. There are a few different areas, but the one open year-round is Reverend's Ridge; the others don't allow car camping.
Vault toilets are clean as a whistle and open all year, and bath and shower houses for most months. In the snow, the staff makes sure to keep the sites plowed for easy access.
Price: $28-36
Number of sites: 97
RV sites: Yes (max length: 50')
Hookups: Yes
Fires allowed: Yes
Pets allowed: Yes
"Would love to explore all the trails next time. A place to go back to." – Megan E.
Built as flood prevention in the 1970s, Chatfield Reservoir is a great place to get away a stone's throw from Denver. Facilities at Chatfield State Park are spread over four loops with some back-in and some pull-through sites, with the maximum trailer size topping off at 60'.
All sites have picnic tables, electrical hookups for most, and some are ADA-accessible. You can tell that this park was well-planned-out when you look at the playground included in each loop and other thoughtful details.
Price: $36-41
Number of sites: 197
RV sites: Yes (max length: 60')
Hookups: Yes
Fires allowed: Yes
Pets allowed: Yes
"There is a trail around the entire reservoir, which is great for a bike or a run." – Katie M.
When you visit St. Vrain (formerly Barbour Ponds), you're treated to over 600 acres of land and 100 acres of water split between multiple sites. Whichever part of the park you stay in (and there are different campgrounds and many ponds, pools, and other watery sites), you're always close to fishing, swimming, or simply splashing around.
Sites numbered 1 through 41 have electrical hookups with access to water and dump stations near the exit; the rest are more basic. Each site has a covered picnic table and fire pit.
Price: $40
Number of sites: 87
RV sites: Yes (max length: 40')
Hookups: Yes
Fires allowed: Yes
Pets allowed: Yes
"This park has an abundant habitat for birds. The hiking access to birding areas is easy." – Jill J.
This beautiful spot just minutes from downtown Denver is anchored by a gorgeous 600+ acre reservoir and rolling hills. There's a bike trail looping around the whole lake at Cherry Creek State Park and tons of fishing and boating opportunities. Amenities include dump stations, group camping, and washhouses, but you should check off-season amenities to be sure.
"For people who are first-timers, I think this park will be a great way to start. It has flushable toilets, showers, and even laundry." – Franca H.
Price: $28-41
Number of sites: 128
RV sites: Yes (max length: 45')
Hookups: Yes
Fires allowed: Yes
Pets allowed: Yes
If you drive 26 minutes southwest out of Denver, you arrive at Indian Paintbrush Campground in Bear Creek Lake Park, one of the prettiest and most convenient campgrounds as it's close to the city and Red Rocks Amphitheater. There are tons of trails and canyons to explore. Amenities include electric and water hookups but no sewer.
Price: $35-100
Number of sites: 47
RV sites: Yes (max length: 50')
Hookups: Yes
Fires allowed: Yes
Pets allowed: Yes
"Some nice hiking and biking trails off the campground. Beautiful views of the mountains." – Stacy M.
Nestled in a suburb ½ hour outside Denver, Standley Lake Regional Park is a sweet spot amidst the urban setting. The southeastern side of the property abuts Standley Lake, and if you're lucky, you'll spot some bald eagles or catch some fish. Amenities are basic but available, with spigots for potable water and outdoor showers.
Price: $30-50
Number of sites: 70
RV sites: Yes (max length: 40')
Hookups: No
Fires allowed: Yes
Pets allowed: Yes
"With a rookery, this is the spot for bird enthusiasts!" – Blair S.
All 287 of the sites at Denver Meadows RV Park sites have full hookups. At the campground, you will find ice and firewood, and the bathhouses and showers are clean. Some facilities may be dated, but you can beat the convenience of the locale as it's under an hour to Denver.
Price: $58-68
Number of sites: 287
RV sites: Yes (max length: 50')
Hookups: Yes
Fires allowed: Yes
Pets allowed: Yes
"It was a great spot for families that is quiet and very clean." – Storm S.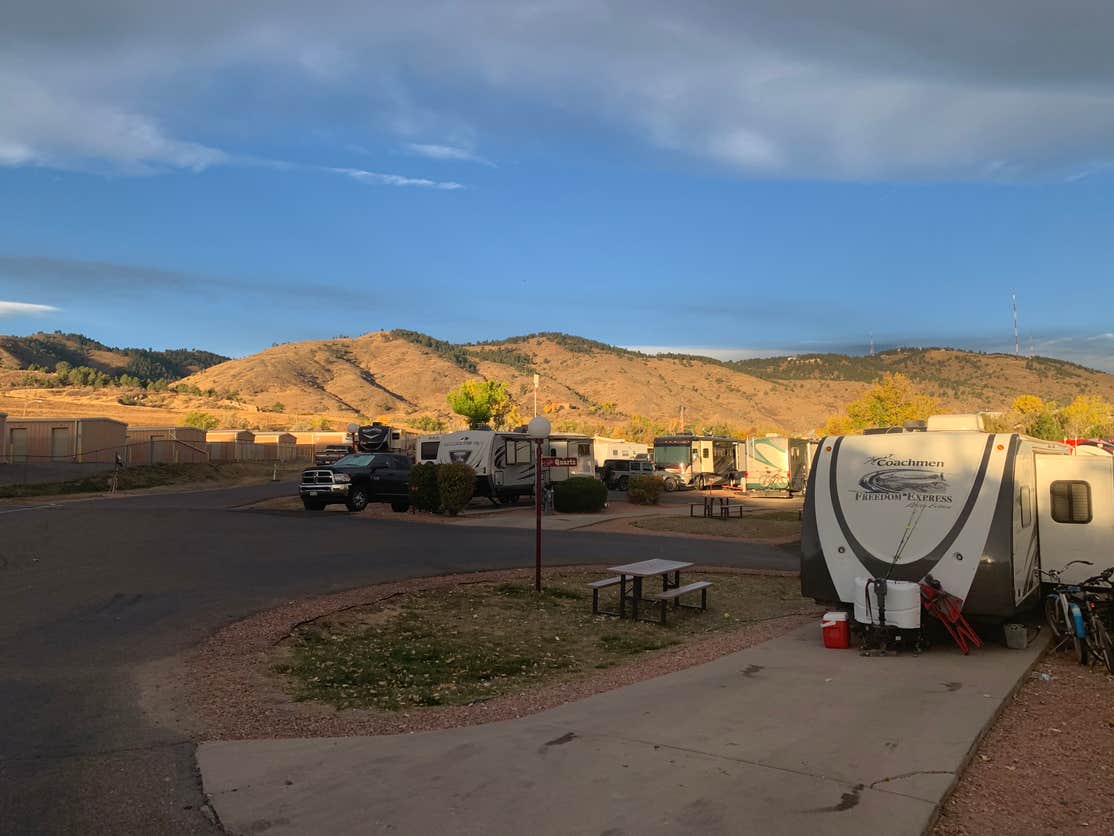 Dakota Ridge RV Park is the perfect balance of city and country with its views of the Rocky Mountains and the Denver skyline. The campground caters mostly to RVs, although big rigs may find some of the corners tight. End sites are always sought after as they're roomier, but mature trees growing throughout Dakota Ridge give each site its privacy.
Price: $41-70
Number of sites: 141
RV sites: Yes (max length 70')
Hookups: Yes
Fires allowed: Yes
Pets allowed: Yes
"The campground itself is nice, plenty to do around the campground if you like to climb short trails." – Todd C.
A suburban camping spot, Prospect RV Park keeps you close to everything you might want to see in Denver while making you feel like you're escaping it all. No fires, but there's laundry and a private shower, and a nearby park has lots of walking trails.
Price: $21-40
Number of sites: 71
RV sites: Yes (max length 60')
Hookups: Yes
Fires allowed: No
Pets allowed: Yes
"Provided with a key to an independent restroom with shower." – Rick G.
Right in the heart of the charming town of Golden, CO, you'll find Golden City Clear Creek RV Park, a bustling campground that abuts a rushing creek on one side and the town on the other. Water and electrical hookups with basic bathhouses are the extent of the amenities. Try and book a site close to the creek so you can hear it burble.
Price: $32-65
Number of sites: 36
RV sites: Yes (max length 45')
Hookups: Yes
Fires allowed: Yes
Pets allowed: Yes
"Great bike trail to town and Hot Springs." – Reiner B.
Wrapping It Up
Camping in and around Denver, Colorado, is convenient and breathtaking. Explore the rest of the excellent options on The Dyrt's complete list of campgrounds in Colorado.