Camping in and around Chicago provides ample experience to take in the Lake Michigan shoreline, try your luck at some slot machines, or explore the lakes and rivers west of the Windy City. Whether you're a native looking to get out of the city or simply getting some camping in when traveling for a Chicago festival or baseball game, there are plenty of prime spots to set up your camper trailer. So, before you get to Navy Pier or escape the hustle of Chicagoland, check out our guide on getting the most out of your northern Illinois camping trip.
Camping in Northern Illinois
Most campsites in the area are open from May until October, and many all-year campgrounds have cabins for rent so folks can have a pleasant home base for cross-country skiing. We recommend camping in Illinois from May to June and from September until early October. You may not think it gets hot, but a Midwest summer can get unbearably muggy during July and August.
The wilderness and geography of Illinois were shaped by glacial activity; so much so that the only area not touched by the glaciers is known as the "Driftless Zone." The Driftless Zone is in the northwestern end of the state and has some rugged topography and rolling hills like Charles Mound. The rest of the state is characterized by flowing streams, large rivers (the Illinois and Mississippi Rivers), and long sweeping plains. The northeastern end of the state showcases sand dunes and the third largest city in the U.S., Chicago.
RV-friendly campsites near Chicago
You can't go wrong with these 10 enchanting campgrounds under 50 miles from Chicago, Illinois. Whether you need a quick place to crash or are looking for a jumping-off point for extended expeditions, you have tons of options available. Below you'll find great spots for your trip to the Land of Lincoln.
1. Camp Bullfrog Lake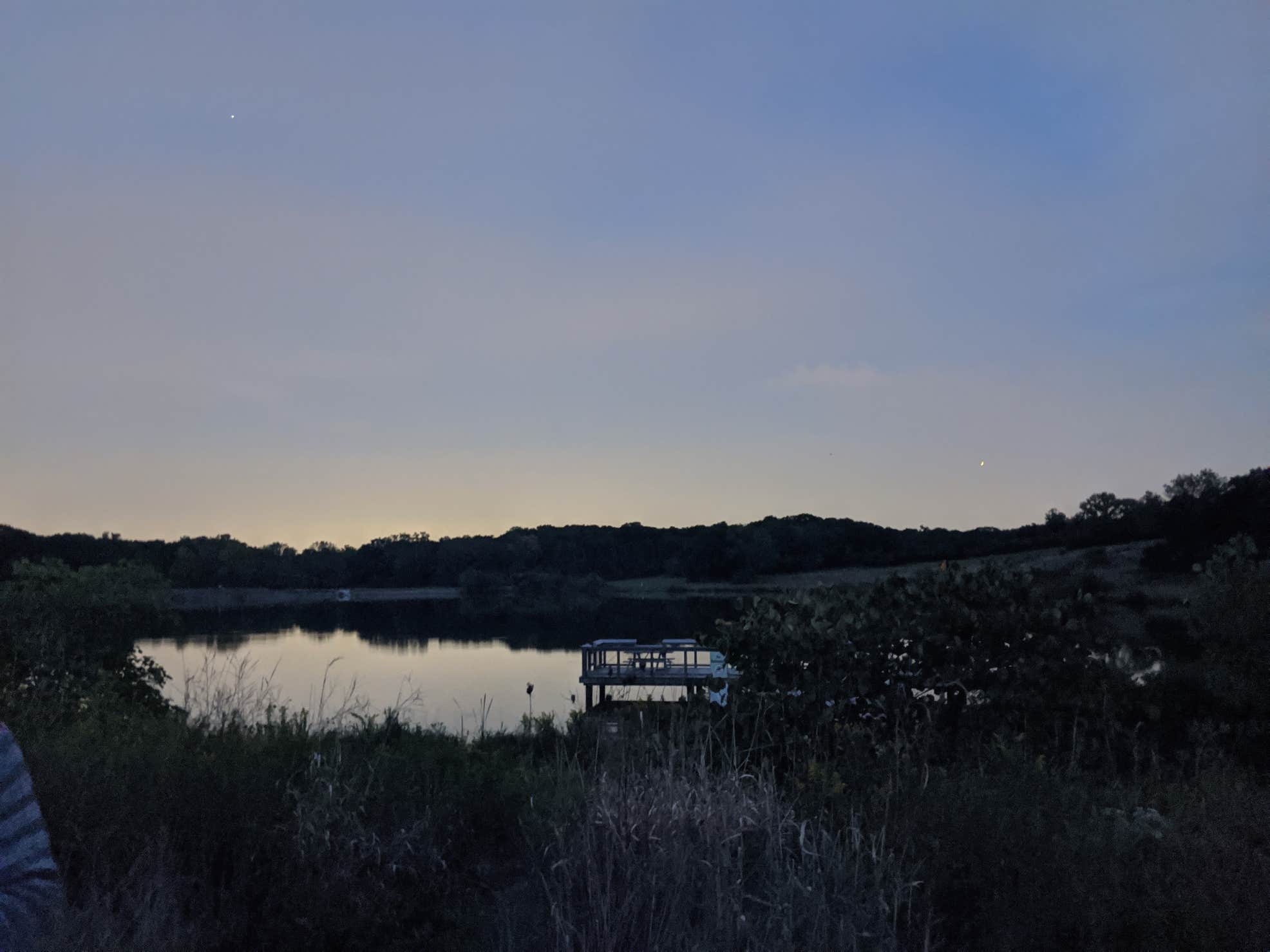 We'll begin our Chicago camping guide with Camp Bullfrog Lake, an all-year campground only 22 miles from downtown Chicago in the Palos Woods area. This campsite is also incredibly convenient – there's everything you would need for a successful pit stop and the proximity to downtown can't be beaten. The trails and natural landscapes in the area are surprisingly beautiful for being so close to the city, namely the hiking and mountain biking trails through Pioneer Woods. Camp Bullfrog Lake is an ideal midway point or much-needed respite when traveling through the state of Illinois. Amenities include bathrooms, showers, electric hookups, and firewood.
Price: $20 – 138
Number of sites: 31
RV sites: Yes (max length 40')
Hookups: Yes
Fires allowed: Yes
Pets allowed: Yes
"Great fishing and the fire pit at night just topped it off." – Paul G.
2. Adeline Jay-Geo Karis Illinois Beach State Park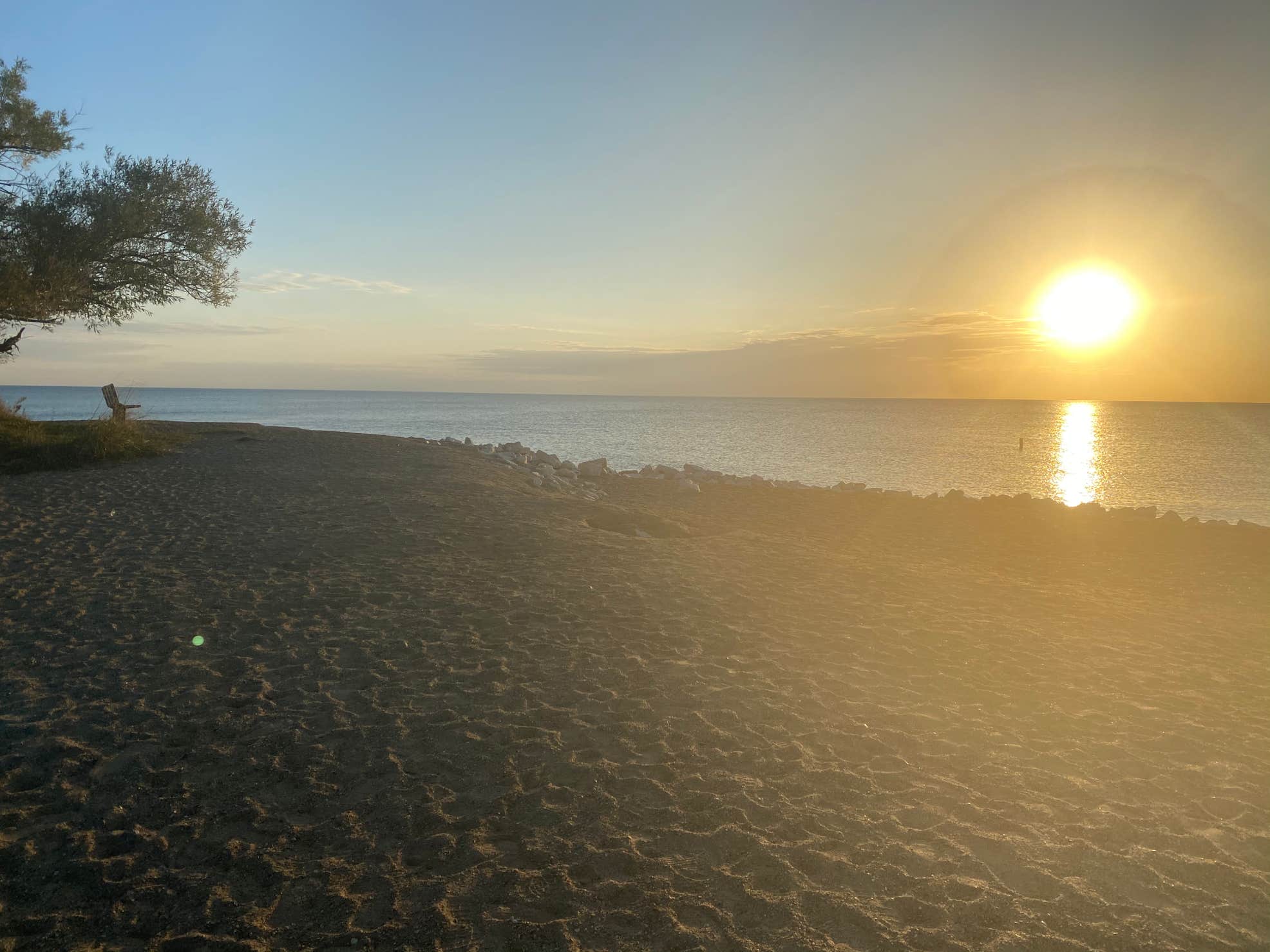 If you're looking for spacious campsites, decent fishing spots, and sunrise views over Lake Michigan, then consider Adeline Jay-Geo Karis Illinois Beach State Park. RV and trailer sites have plenty of space for parking with full hookups. The trails in the area are best for walking and hiking; cyclists may find themselves stuck in sandy patches on the trails. The northern and southern ends of the park are more secluded and the sandy ridges of the dunes, unique to this lake area, are topped with black oak for an incredible backdrop.
Price: $21-40
Number of sites: 241
RV sites: Yes (max length 30')
Hookups: Yes
Fires allowed: Yes
Pets allowed: Yes
"This location is an absolute treasure. The beach is stunning, and the trails are awesome." – Ranko K.
3. Camp Reinberg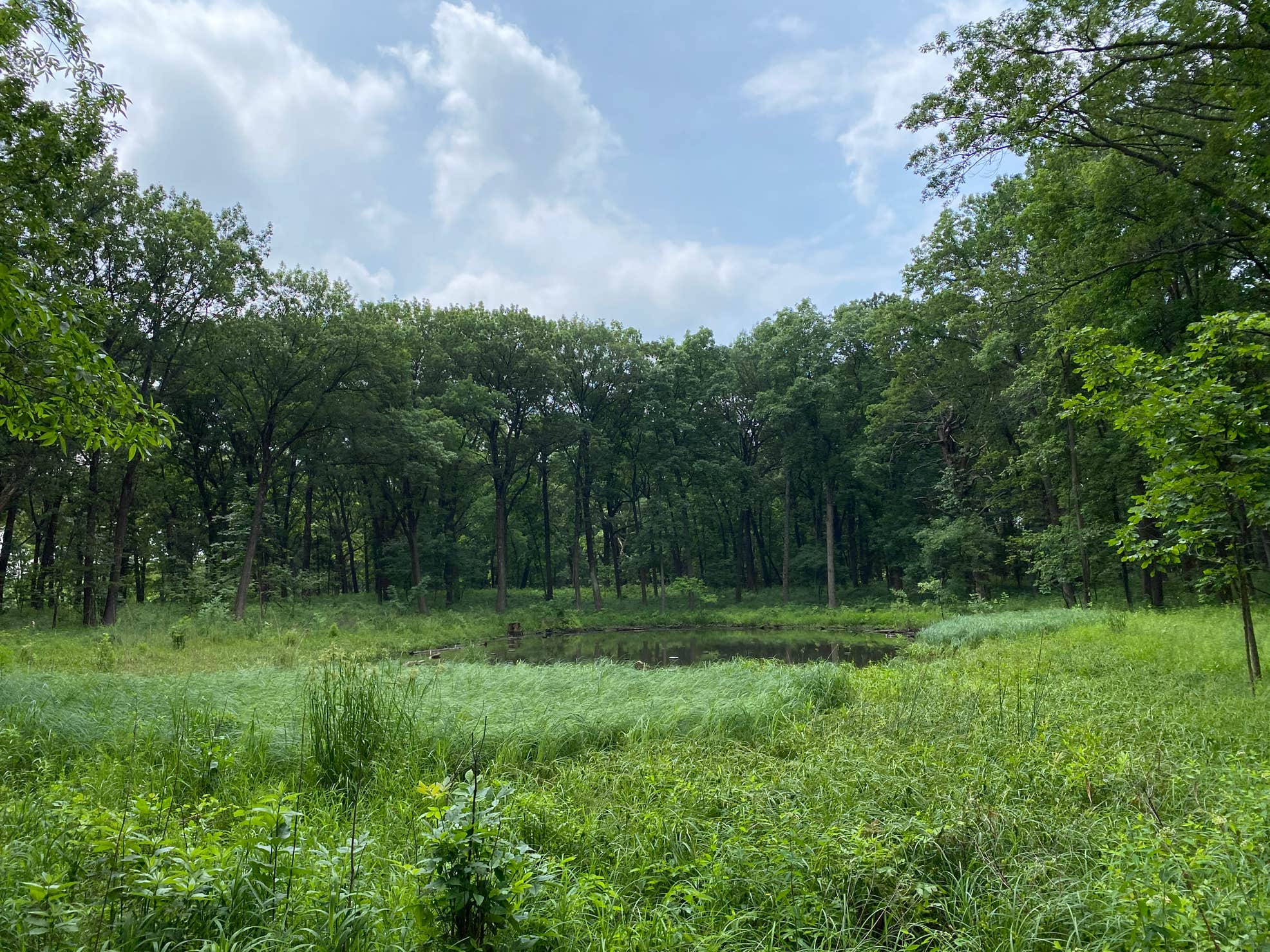 A prime getaway for native Chicagoans, Camp Reinberg is about 30 miles northwest of downtown Chicago and right next to the historic Deer Grove Forest. If you're planning a trip in the winter, you can get cozy in one of their year-round cabins. There are only five sites here, but you have plenty of space and the pathways meander through meadows, forests, and long lily-pad-covered ponds. You can also hike miles of trails through old oak trees and view some northern Midwest wildlife, like cranes and whitetail deer. Amenities are basic but clean and well-maintained. Two RV sites are paved, and the other three are gravel, but all have adequate water and electric hookups.
Price: $28-62
Number of sites: 5
RV sites: Yes (max length 40')
Hookups: Yes
Fires allowed: Yes
Pets allowed: Yes
"There are so many wildflowers everywhere!" – Susan L.
4. Indiana Dunes State Park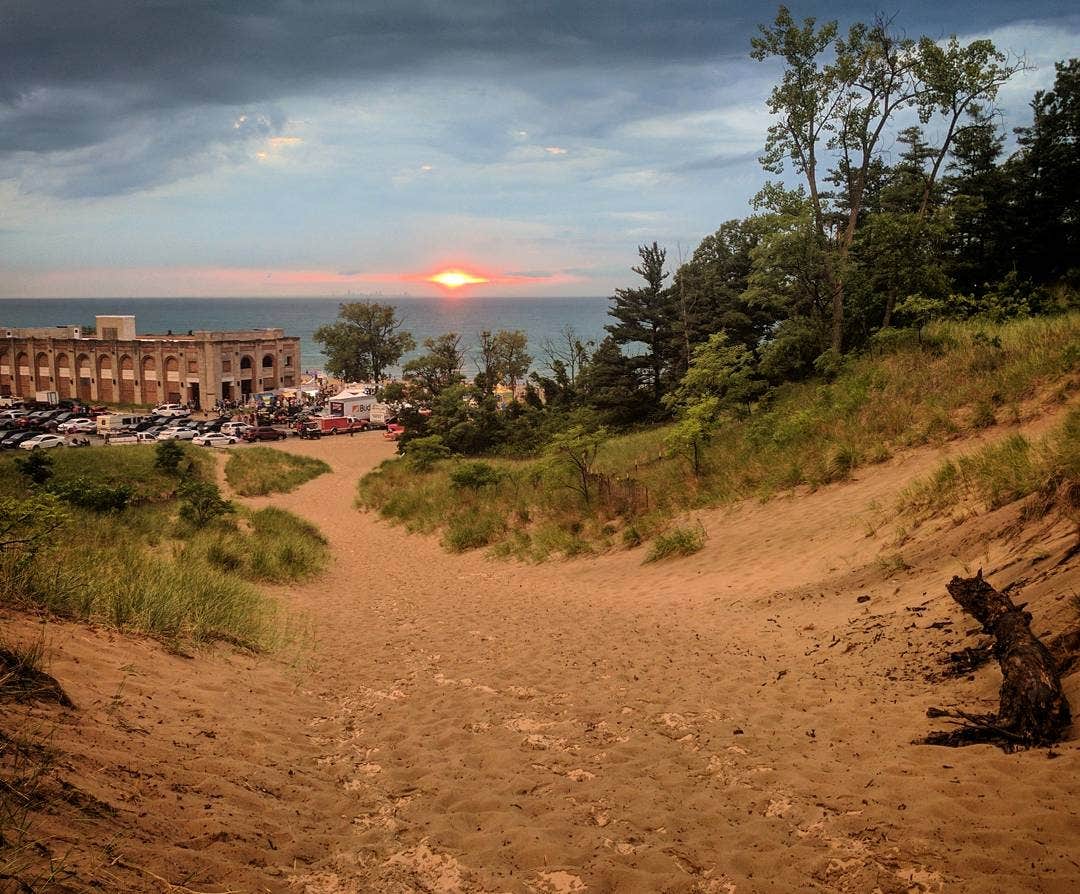 With sandy dunes towering 200 feet over the shore, the location of Indiana Dunes State Park is a showstopper. Though it's quite the drive from Chicago, it's worth it to take in this epic landscape. Simply walking through the sand and experiencing the cool breeze from Lake Michigan can make any hike in the area an enchanting one. It's of no surprise that many Native American folktales use the dunes as a focal point. In the winter, campers can enjoy snowshoeing and cross-country skiing when the dunes are covered in snow. Amenities include water hookups at almost every site, and water spigots scattered throughout the grounds.
Price: $21-40
Number of sites: 140
RV sites: Yes (max length 40')
Hookups: Yes
Fires allowed: Yes
Pets allowed: Yes
"It's a wonderful place to go to during the summer, and the kids will have a blast." – Debbie S.
5. Camp Sullivan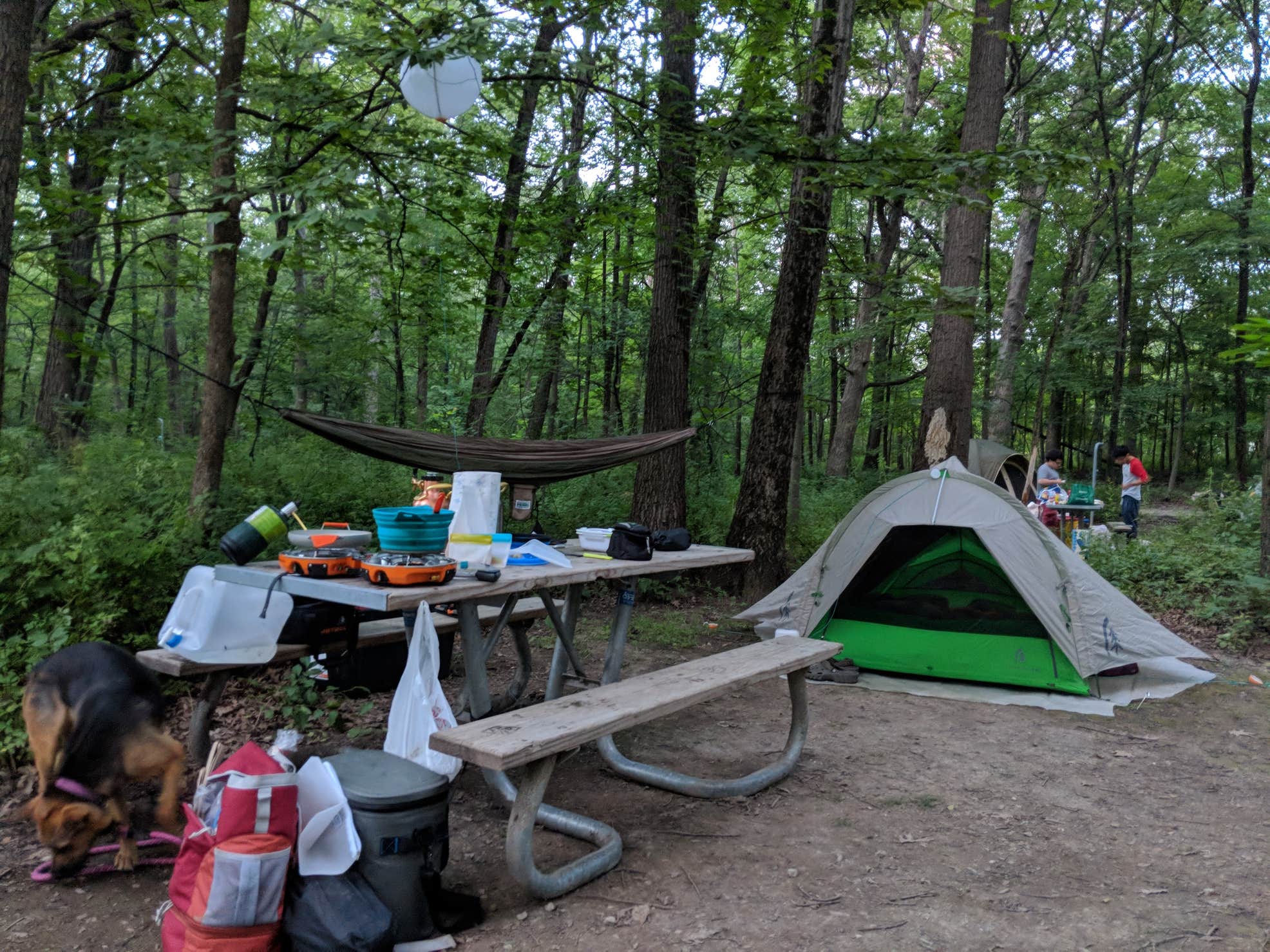 You can't miss the red barn that greets visitors at the entrance of Camp Sullivan, only 26 miles from Chicago. Some RV sites have gravel pads and timber edges, some are gravel, some are paved, and all are spacious and shady. Toilets, showers, dump stations, and complete and partial hookups round out the amenities at this charming camp.
Price: $22-65
Number of sites: 25
RV sites: Yes (max length 40')
Hookups: Yes
Fires allowed: Yes
Pets allowed: Yes
"There is an activities barn with a rock climbing wall." – Shane S.
6. Big Rock Campground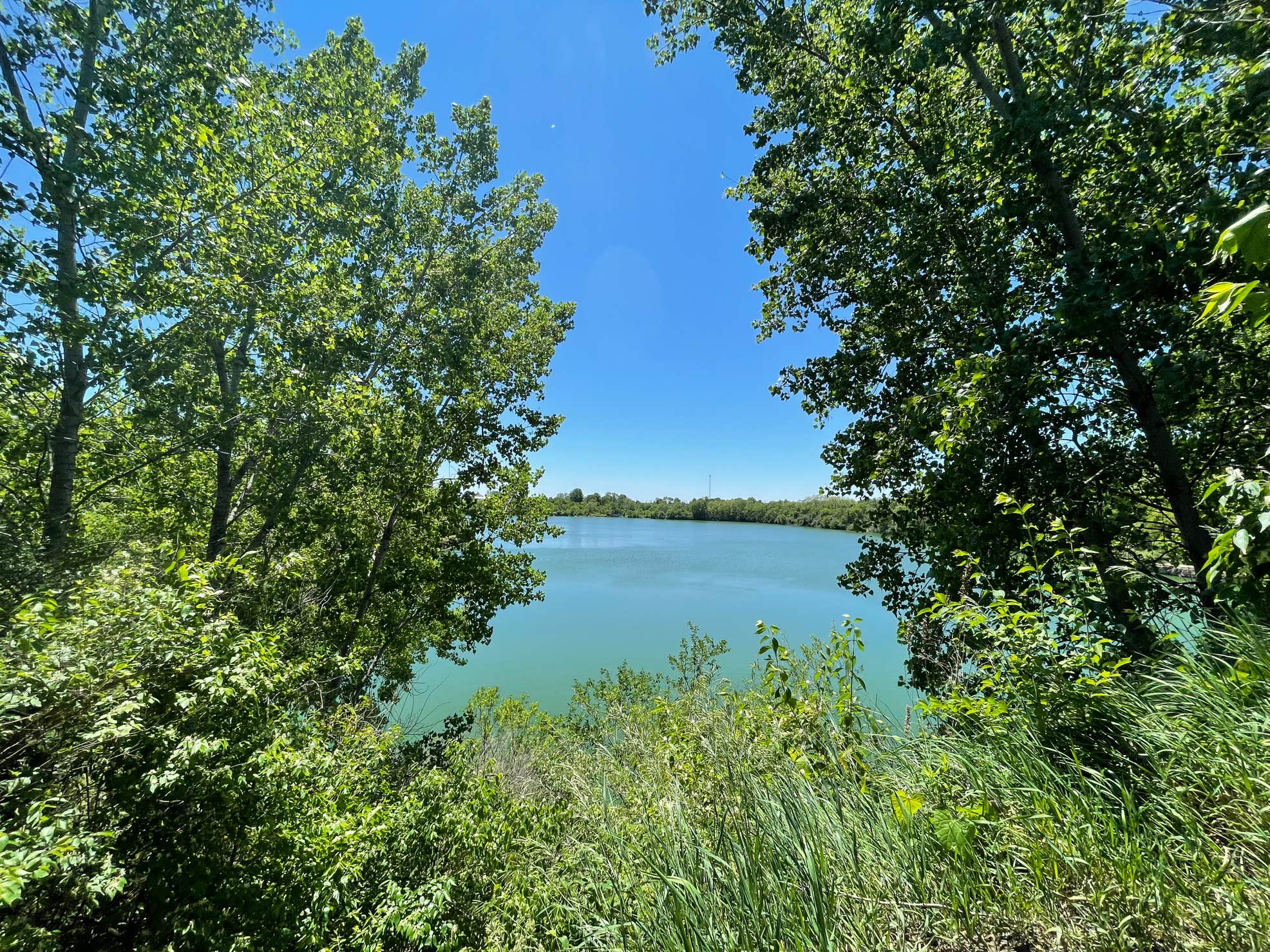 At Big Rock Campground, you camp in the middle of a flat grassy plain with clean, well-maintained washrooms, water spigots throughout, and access to partial hookups. Like most campgrounds in Illinois, this prairie-filled haven is only open from May until October. This secluded recreational area with lively trails has a first-come-first-served policy, so calling ahead of time to check availability is highly advisable. There are lots of stars and sunny skies when you camp at this conveniently located mid-sized grassland retreat nestled between Big Rock Forest Preserve, Seigler Lake, and Big Rock Creek.
Price: $12-75
Number of sites: 109
RV sites: Yes (max length 50')
Hookups: Yes
Fires allowed: Yes
Pets allowed: Yes
"Wide, open spaces for kids to ride bikes and explore wildflowers. Duck viewing. Quiet." – Amanda K.
7. Paul Wolff Campground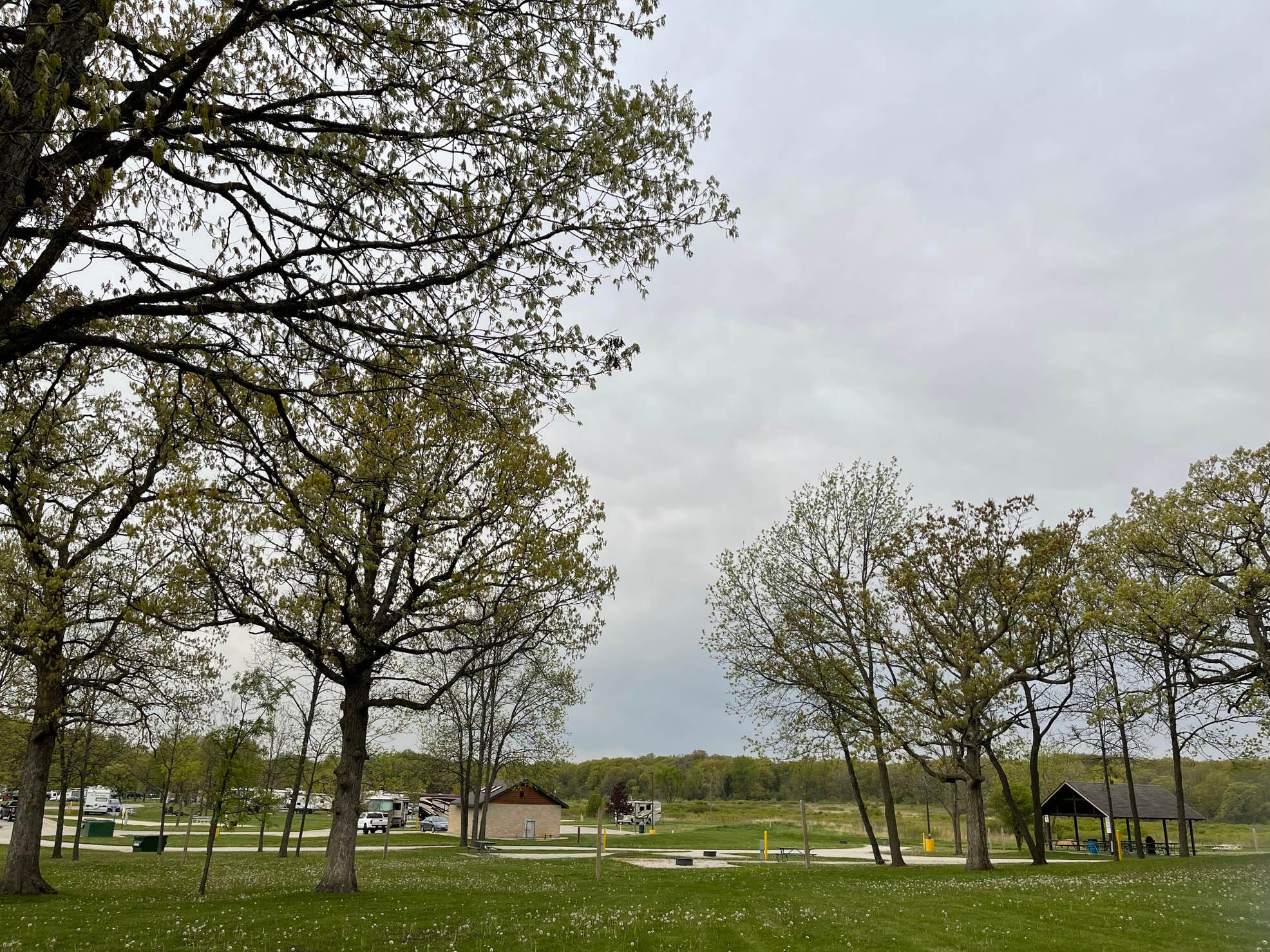 Close to the town of Almora in the Burnidge Forest Preserve, you'll find Paul Wolff Campground. Every RV site has water and electric hookups, and there's a lovely trail system with equestrian access. However, they only take cash or checks, no credit cards. The campground is first-come-first-serve, so try to arrive early in the week. The facilities are well-maintained and the staff are extremely helpful.
Price: $10-35
Number of sites: 89
RV sites: Yes (max length 50')
Hookups: Yes
Fires allowed: Yes
Pets allowed: Yes
"This area is very nice, lots of lakes that are close to each other." – Robin M.
8. Chain O' Lakes Campground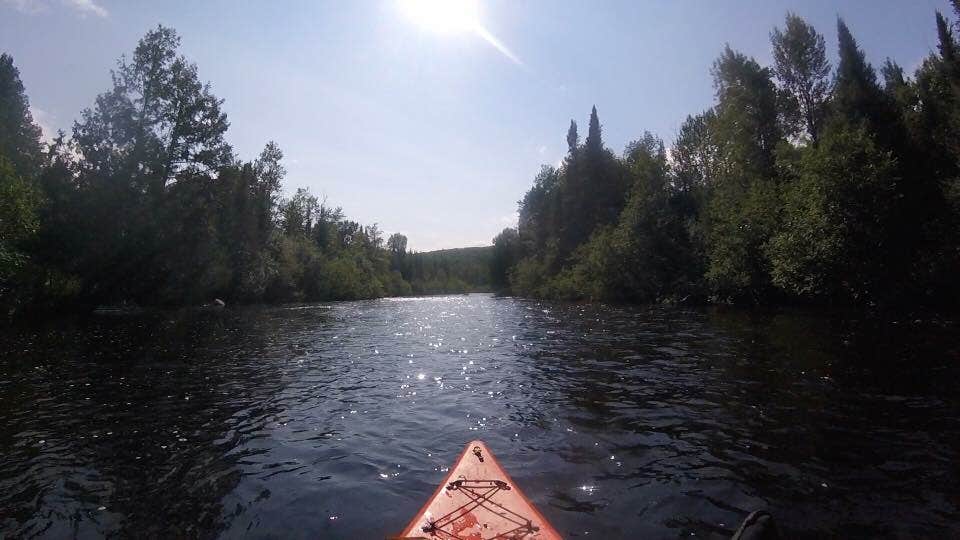 With gorgeous hiking trails, prairie-side views, and of course, delightfully small lakes, Chain O' Lakes Campground has everything you'd imagine for a pristine kayaking excursion. Besides boating around the lakes, you can hike the nature trails through the woods or head to one of the nearby towns for some souvenir shopping. Spring Grove is close by and has some restaurants in case you're getting tired of camping rations, and Shipshewana has an Amish flea market that you won't want to miss.
Price: $12-50
Number of sites: 151
RV sites: Yes (max length 50')
Hookups: Yes
Fires allowed: Yes
Pets allowed: Yes
"The channels are always swell. People always respectful with their boats." – Ariel R.
9. Richard Bong State Park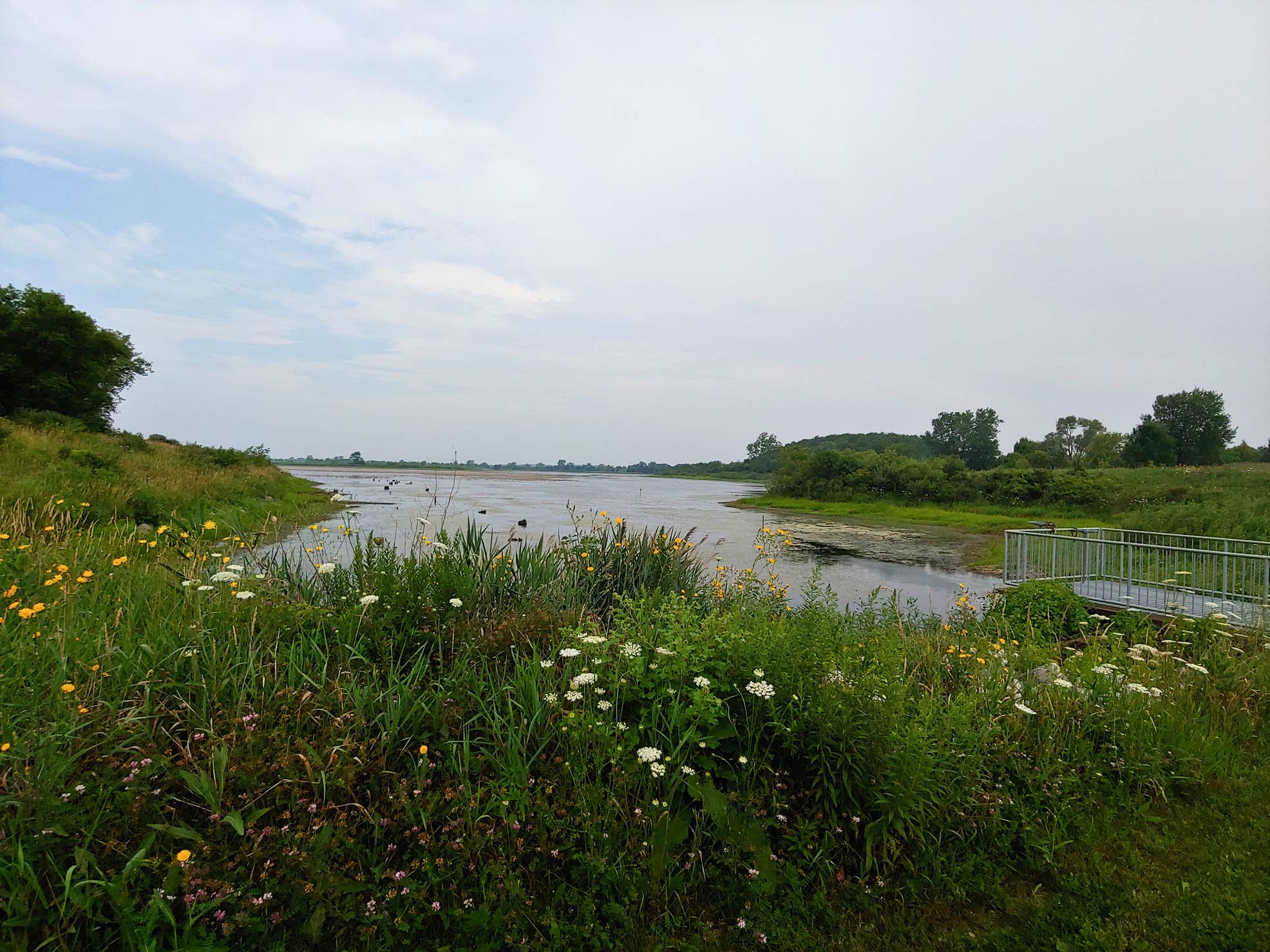 This park is located just north of the Illinois border in Wisconsin. Although it's a bit of a drive, bird watchers and campers looking for solitude will love this park. Richard Bong State Park is open year-round so you can go ice fishing or snow-shoeing in the winter. Besides fishing, skiing, and boating, the park allows campers to fly their RC aircraft and even launch smaller hang gliders. Only fitting, seeing as how the park was once to be a US Air Force base. The large recreation area is ADA-accessible and includes over 40 miles of hiking trails throughout.
Price: $15-28
Number of sites: 217 (54 with electric)
RV sites: Yes (max length 50')
Hookups: Yes
Fires allowed: Yes
Pets allowed: Yes
"The sites are huge and love the trails. We wanted to bring our Basset hound camping for the first time and thought of this place right away." – Katherine F.
10. Potawatomi Campground at Kankakee River State Park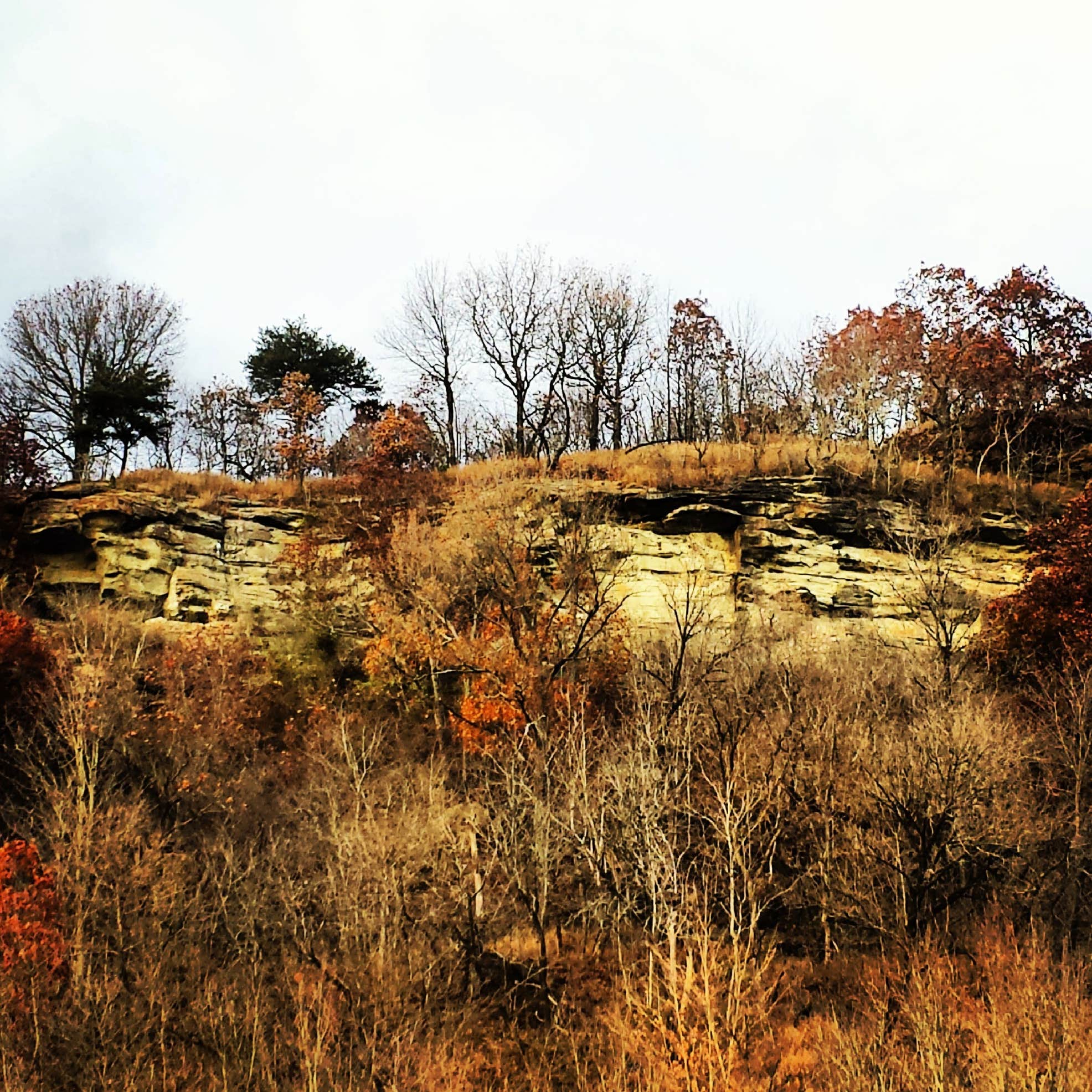 This well-maintained campground along the Kankakee River has an assortment of sites that cater to larger RVs and tent campers alike. The ADA-accessible Potawatomi Campground features hiking trails running past historic Native American sites, and you can still find arrowheads if you look hard enough. Besides hiking, the area includes some amazing spots for light rock climbing and you can beach your canoe on the small islands in the Kankakee River for a peaceful picnic. If you're prepping for bow hunting season, you can also freshen up your skills at the archery range.
Price: $8-50
Number of sites: 231
RV sites: Yes (max length 40')
Hookups: Yes
Fires allowed: Yes
Pets allowed: Yes
'Spacious sites with lush jungle-like greenery grown in between, which provides perfect privacy. Easy access to water pump.' – Yang L.
Explore the Land of Lincoln with a TAXA
Having a trailer that can fit in your garage is extremely convenient when you live in a large city like Chicago. TAXA mobile habitats are easy-to-stow, versatile camper trailers with all you'll need for a well-prepared camping trip. Check out our full line-up of camper trailers and start roaming in style!