There are plenty of beautiful campgrounds in the San Francisco area where you can take your TAXA for a short getaway. These sites allow you to take advantage of the mild central California weather and the varied seasonal wildlife that exists in the area. Check out the top 10 TAXA-friendly campsites in the San Francisco area.
A central spot for campers from all over California, Samuel P. Taylor State Park is located among the majestic Redwoods. Known for its wide selection of hiking trails, including the wheel-chair accessible South Creek Trail, this campsite is a favorite for those who love to walk among nature. This campground fills up quickly, so reservations are recommended.
Price: $35
Number of sites: 59
RV sites: Yes (max length 30')
Hookups: No
Fires allowed: Yes
Pets allowed: Yes
"One of the easiest accessed and most beautiful campgrounds in the state and it is literally just outside the city. Campsites are well maintained and under beautiful and huge trees." –Hayley K.
This unique RV site is located on a 60' bluff that overlooks the Pacific Ocean. San Francisco RV Resort is only 15 miles from many of the bay's popular tourist attractions like Fisherman's Wharf, Alcatraz, and the Golden Gate Bridge. With spectacular views of the sunrise and sunset over the ocean, easy access to the city of San Francisco and the nearby beach, this RV park is great for those taking a day trip to the city or passing through on a road trip.
Price: $20-100
Number of sites: 162
RV sites: Yes (max length 66')
Hookups: Yes
Fires allowed: No
Pets allowed: Yes
"Spots are tight. Staff is great! Laundry hot tub pool are always clean. Right on the ocean (on a cliff) !" –Corrie G.
A perfect location for your TAXA getaway, Anthony Chabot Family Campground has full hookups, restrooms, and hot showers. Spend the day hiking and biking on the many surrounding trails or fishing at Lake Chabot. If you go with 11 or more people, you have access to the group sites, which have picnic tables, a fire ring, water, and vault toilets.
Price: $40
Number of sites: 75
RV sites: Yes (max length 40')
Hookups: Yes
Fires allowed: Yes
Pets allowed: Yes
"Great family campground with many trails around. Very clean amenities, great park rangers. All sites have a fire ring and picnic table. Definitely recommend!" –Luciana X.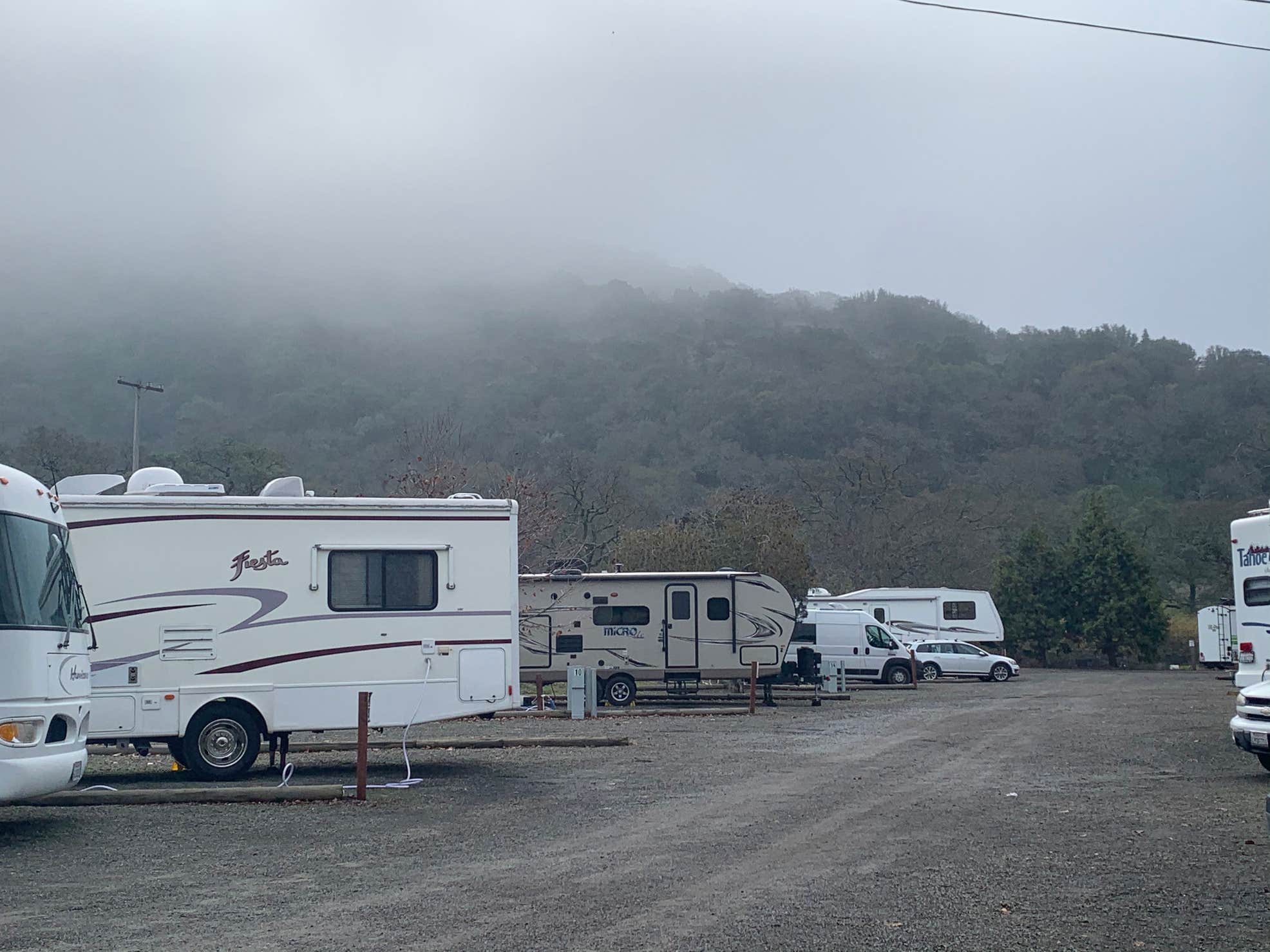 This location is a beautiful, serene spot to camp. Skyline Wilderness Park boasts 25 miles of trails that everyone from beginners to advanced hikers will enjoy. The temperate weather makes this campground an ideal place to enjoy cool evenings and warm days. Visit the Martha Walker Native Habitat Garden to see plants and flowers unique to California.
Price: $30-55
Number of sites: 39
RV sites: Yes (max length 50')
Hookups: Yes
Fires allowed: Yes
Pets allowed: Yes
"Nice, clean place with beautiful hiking trails. The garden is very cute, perfect for a quiet walk or meditation. Sites are close to each other. This place is a good getaway into nature." – Adriana
When you stay at the Francis Bay Campground at Half Moon Bay, you'll find miles of idyllic beaches closeby where you can walk, jog, picnic, fish, and sunbathe. Pets and fires are allowed on the campgrounds, however they are not permitted on the nearby beaches. Some campsites have electric hookups for RVs, but water and sewer are not available. Most campsites have outside showers and flush toilets for your convenience.
Price: $40-80
Number of sites: 52
RV sites: Yes (max length 40')
Hookups: Yes
Fires allowed: Yes
Pets allowed: Yes
"Not a very easy State Park to get reservations, but being persistent is do worth it. Was unable to get front-row beach view, but was still totally worth it for dog- walks. –Doris V.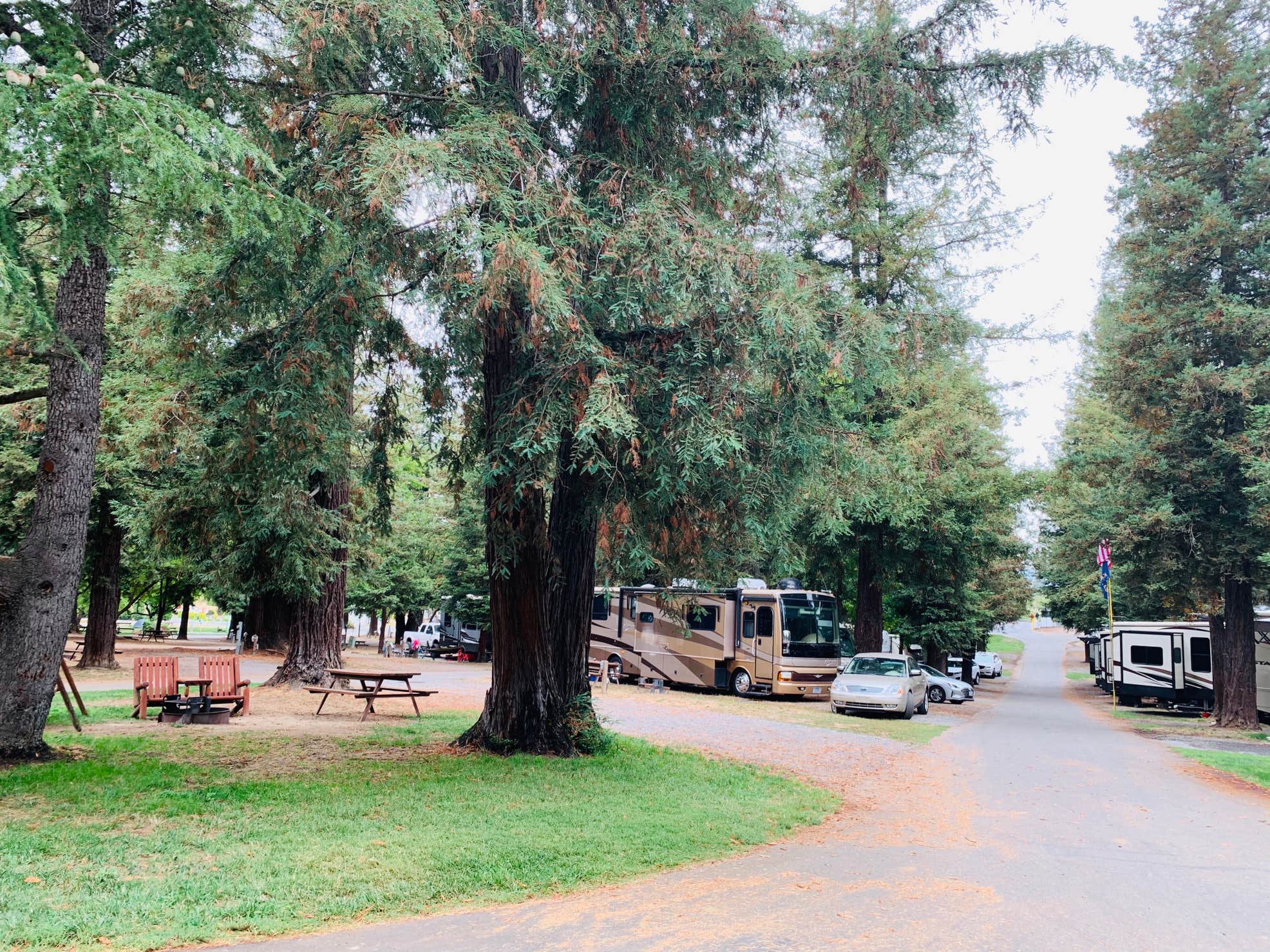 The San Francisco North-Petaluma KOA campsite is a multi-camp area that houses RVs, tents, and cabins. Just north of the Golden Gate Bridge and nearby wineries, this location is ideal for those who want to relax in the country yet still have access to shopping, sightseeing, and food. The Graton Resort & Casino is a short drive away as are beautiful natural areas with giant redwoods and sandy beaches.
Price: $70-140
Number of sites: 302
RV sites: Yes (max length 55')
Hookups: Yes
Fires allowed: Yes
Pets allowed: Yes
"We stayed 3 days over Labor Day and were so impressed! They were full but everything was safe, clean and organized. Woody, the manager, was very helpful and accommodating! We had a beautiful site under shade trees and a grassy area ! Lovely time." – Linda W.
The Olema Campground is located near the Point Reyes National Seashore, about 37 miles from San Francisco. This location has been around since 1969 and features scenic areas where you can watch birds and other wildlife, go hiking, kayaking, or visit the beach. Rustic yet equipped with hookups for your RV, this campground is a great choice in the Point Reyes area.
Price: $50-70
Number of sites: 187
RV sites: Yes (max length 50')
Hookups: Yes
Fires allowed: Yes
Pets allowed: Yes
"Lots of guests with dogs and kids, all pretty quiet and well behaved. Would come back. Grassy, plenty of trees and surrounding nature. Right on Highway 1, but limited traffic so not noisy." – Maria M.
This campground boasts 673 acres of redwood trees and nature trails. It includes two separate camping areas, Azalea Flat and Sequoia Flat, so make sure to check the exact amenities of each site as they may differ. The San Mateo County Memorial Park features a picnic area, showers, and restrooms, however, there are no hookups available for RVs. Located in a rugged area, you'll find yourself feeling close to nature as you traverse the famous Mt. Ellen and Tan Oak nature trails and stand among the Redwoods. A great place for relaxing and enjoying nature, these campsites are a good choice for a weekend getaway.
Price: $25-30
Number of sites: 158
RV sites: Yes (max length 35')
Hookups: No
Fires allowed: Yes
Pets allowed: No
"Great place for camping or just getting out for the day with family and friends." – Erik V.
This first-come, first-served RV park is the perfect place to park on your California road trip to or from San Francisco. Located near picturesque Half Moon Bay, Pillar Point RV Park offers 49 RV sites with full hookups along with complimentary Wi-Fi and cable TV. The park is kid and dog friendly with plenty of space to play. Guests will enjoy relaxing in the garden or looking out over the ocean at sunset.
Price: $75-100
Number of sites: 49
RV sites: Yes (max length 40')
Hookups: Yes
Fires allowed: No
Pets allowed: Yes
"Loved the view but sleeping near a highway is a little loud at night… nice place to go explore the beach and trails." – Jesus R.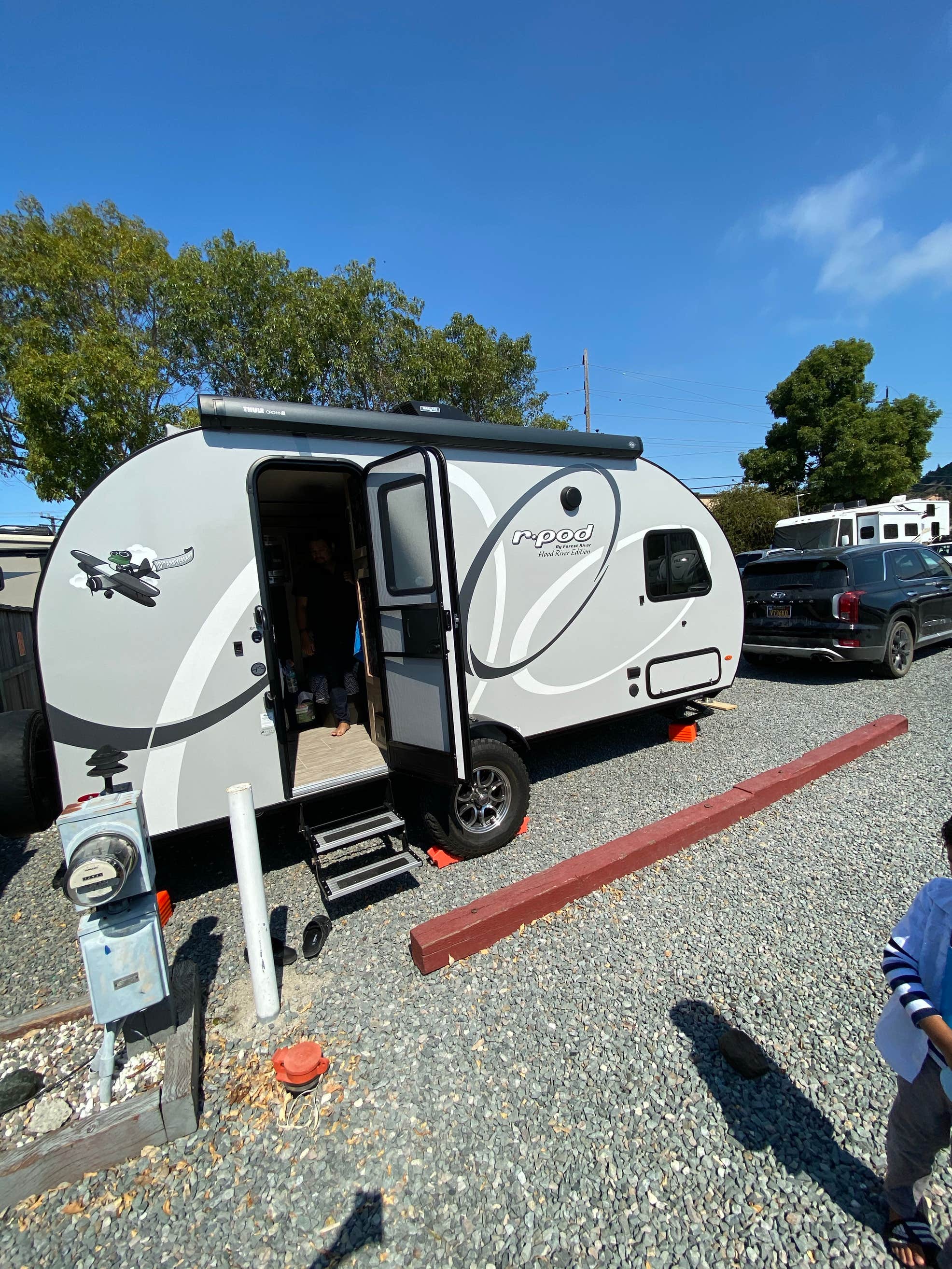 Marin Park is less of a rustic campground than an RV park with hookups, however, don't let this stop you from visiting this spot. Located just a ferry ride away from San Francisco, this is the perfect place to stop on your coastal RV road trip. The site includes Wi-Fi, hookups, and a dog walking area for your convenience.
Price: $50-90
Number of sites: 87
RV sites: Yes (max length 50')
Hookups: Yes
Fires allowed: No
Pets allowed: Yes
"This RV Park gets 5 stars purely for its location. Drive in, park and then walk to all the sights you want to see in San Francisco. A short 10 minute walk from the RV park is the ferry that will drop you off downtown San Francisco." – Jeff T.
These top 10 campsites near San Francisco are just a handful of the great options for where to stay while exploring in the area. To explore more sites, visit The Dyrt's full list of the best camping spots near San Francisco.