The Seattle area has gorgeous camping and recreation, especially around some of the state parks. However, the Puget Sound running through the middle of the metro area makes it tricky to get to some destinations quickly. Squeezing in a quick weekend getaway in your TAXA is easy with our list of trailer-friendly RV campsites within an hour's drive from downtown Seattle.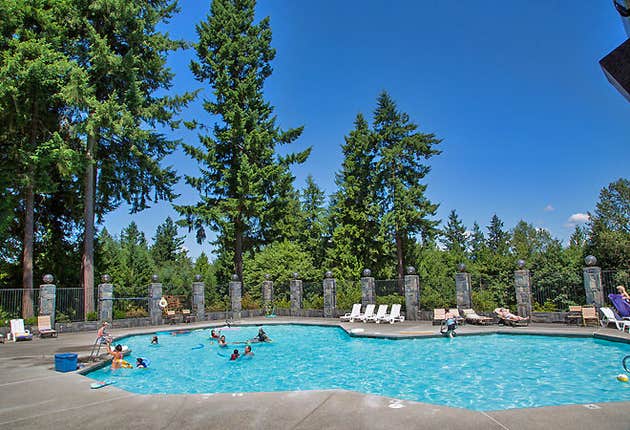 Tall Chief is a stellar getaway location because of its proximity to Seattle and its vast range of amenities. Bring your own equipment for volleyball, basketball, horseshoes, and more across a variety of recreation spaces. There's also a sauna and pool, plus plenty of shopping a few miles away. This is the optimal spot for a getaway that still has family-friendly activities.
Price: $45-214
Number of sites: 113
RV sites: Yes (max length 40')
Hookups: Yes
Fires allowed: Yes
Pets allowed: Yes
"Helpful, friendly staff. Large private sites. It feels like you are deep in the PNW rainforest but you are close to amenities and shopping." – Adele W.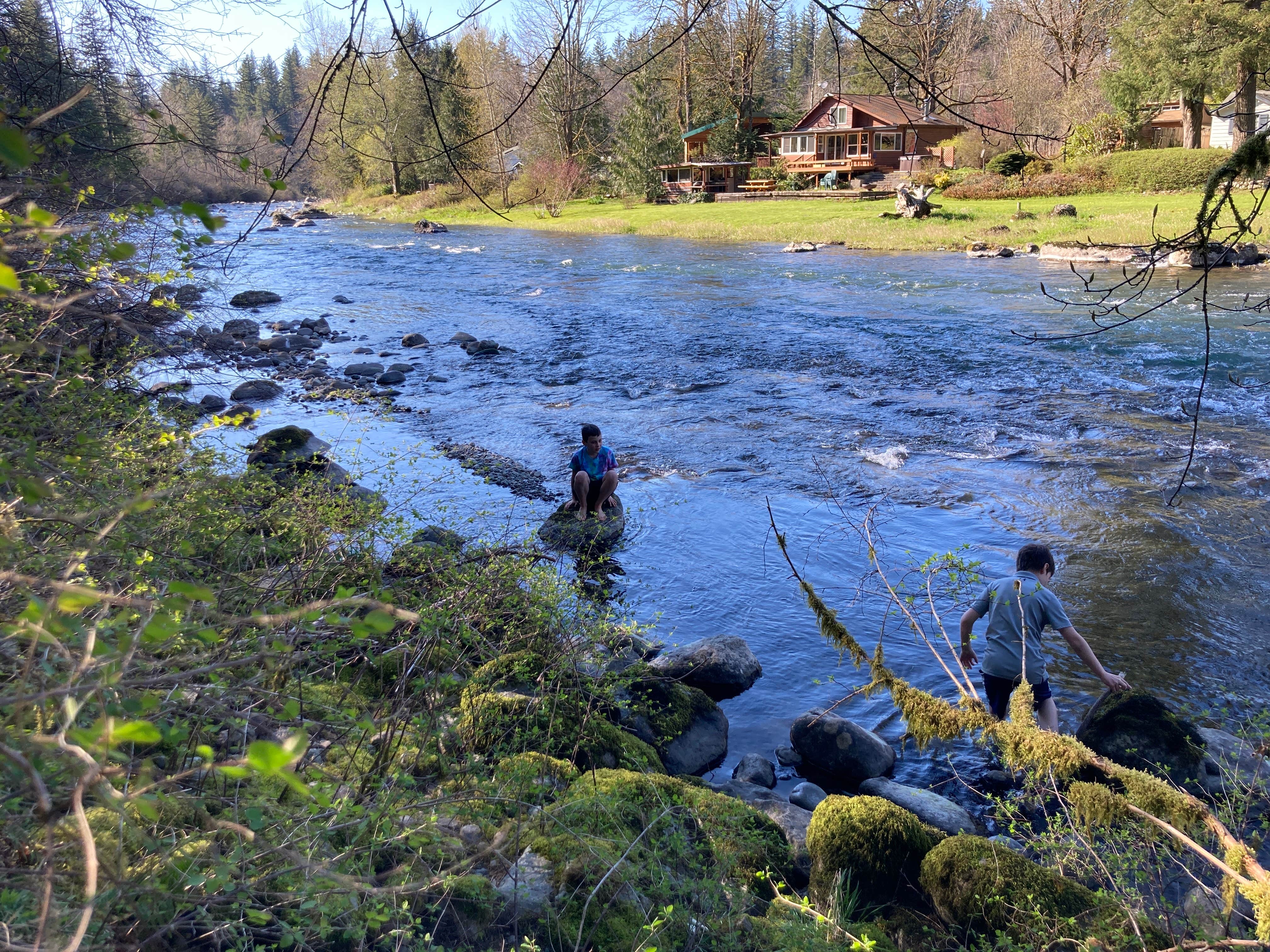 Kanaskat-Palmer State Park contains some of the most beautiful areas of the Green River Gorge, and the convenient campsite makes it even more perfect for a getaway. You can go whitewater rafting or simply wade in the river shallows after a long day of hiking. RV sites only have partial hookups, but the bathrooms are incredibly clean, and the site staff are friendly.
Price: $35-79
Number of sites: 50
RV sites: Yes (max length 65')
Hookups: Yes
Fires allowed: Yes
Pets allowed: Yes
"This is a great campground with 30 amp hookups in certain loops. No city water hookup, but just filled our fresh water tank." – Dan S.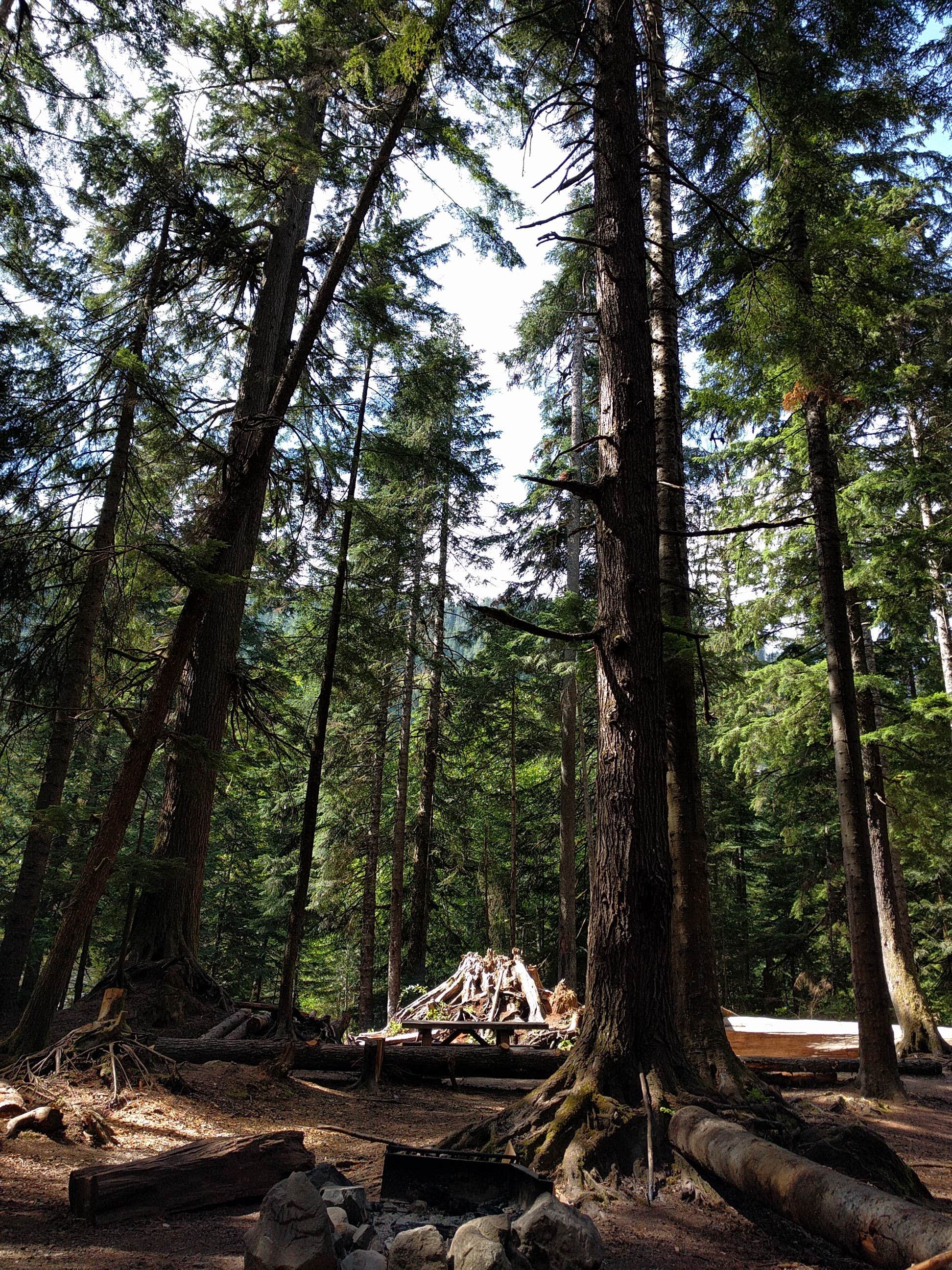 At just under 50 miles from downtown Seattle, Denny Creek Campground is one of the farthest away on this list. However, it gives you prime access to hiking through massive trees in the Snoqualmie River valley. There is also skiing and snowshoeing nearby in the winter months. When making your reservation, double-check with the staff to ensure your TAXA will fit in the space, as some spaces are small.
Price: $13-54
Number of sites: 33
RV sites: Yes (max length 40')
Hookups: No
Fires allowed: Yes
Pets allowed: Yes
"Our picnic table had cut flowers in a recycled pop bottle from our hosts, and there was a leveled pad for our tent. One of the best functionally designed campsites we've ever had." – Ryan W.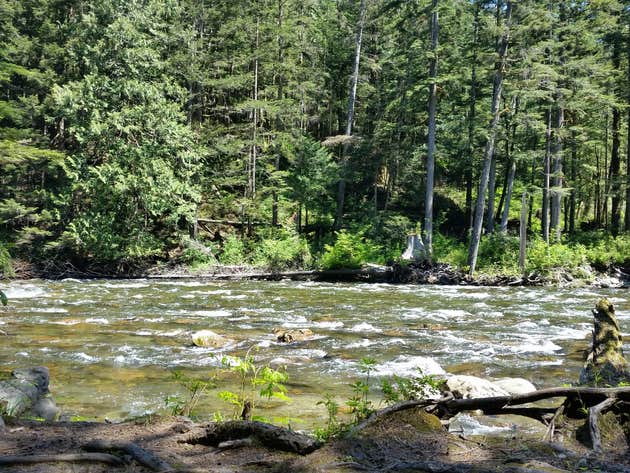 Tinkham Campground doesn't open until late June each year, but it's worth the wait if you want a quiet location. There are enough trailheads within driving distance to keep avid hikers satisfied for days. Although the campground appears small and rustic at first glance, it does have some spots that are large enough for a TAXA. The basic amenities are clean and reliable.
Price: $20-22
Number of sites: 47
RV sites: Yes (max length 45')
Hookups: No
Fires allowed: Yes
Pets allowed: Yes
"The sizes vary for the size of group you need. It is close to the highway, but the river in the spring covers up the sound of the highway." – Megan S.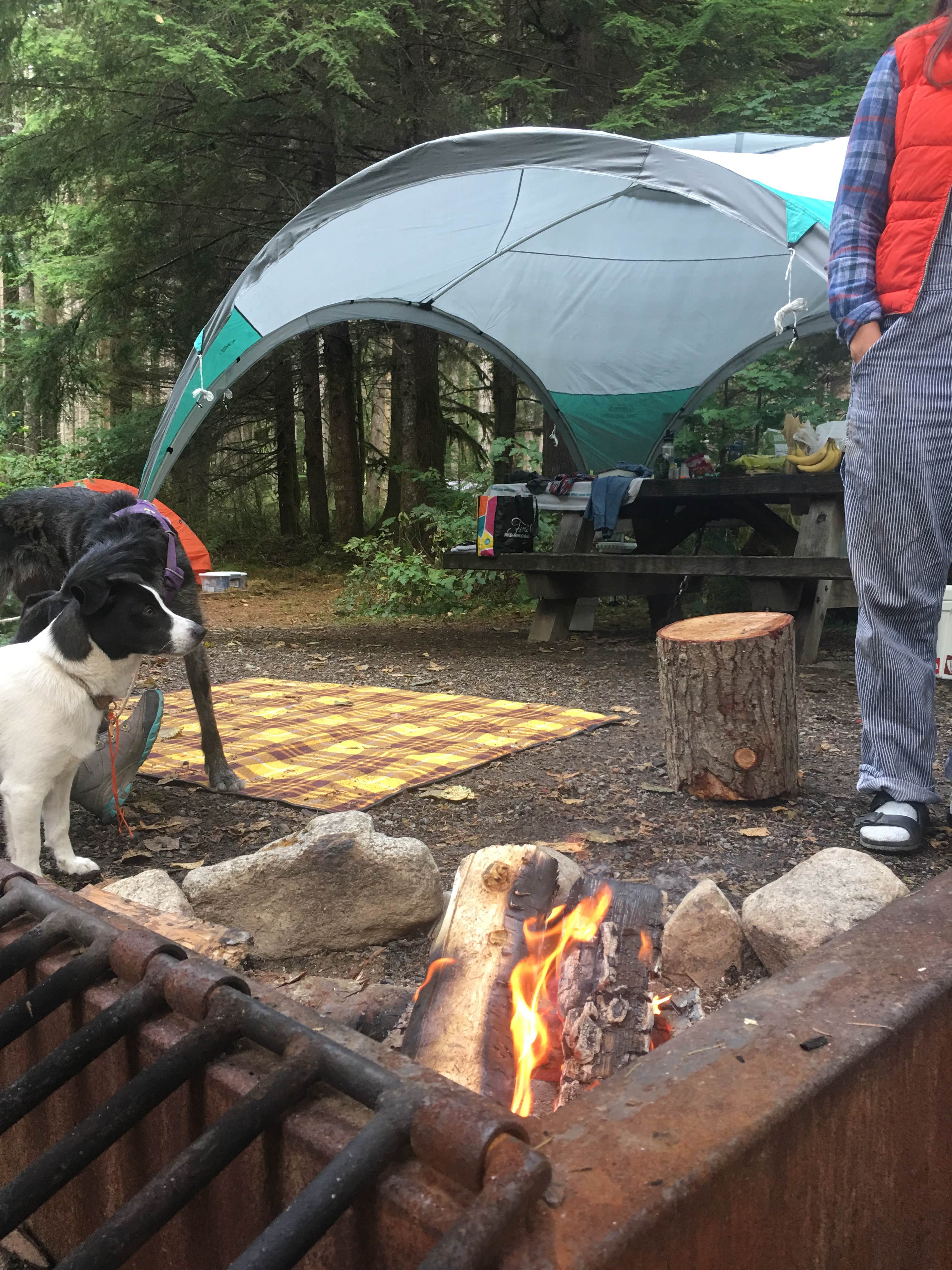 Like Tinkham, Middle Fork Campground opens later in the summer than most local campgrounds. It is rustic and has only basic water and pit restrooms, but you get to experience nature at its finest in exchange. Campers report being able to explore freely and pick berries. The campground is next to a very small river fork, but you can hike right to the middle fork of the Snoqualmie River and follow it for miles.
Price: $20-67
Number of sites: 35
RV sites: Yes (max length 46')
Hookups: No
Fires allowed: Yes
Pets allowed: Yes
"With so many campgrounds, I expected it to be very loud. It was not. Camp hosts were super nice and selling wood on-site." – Ryan F.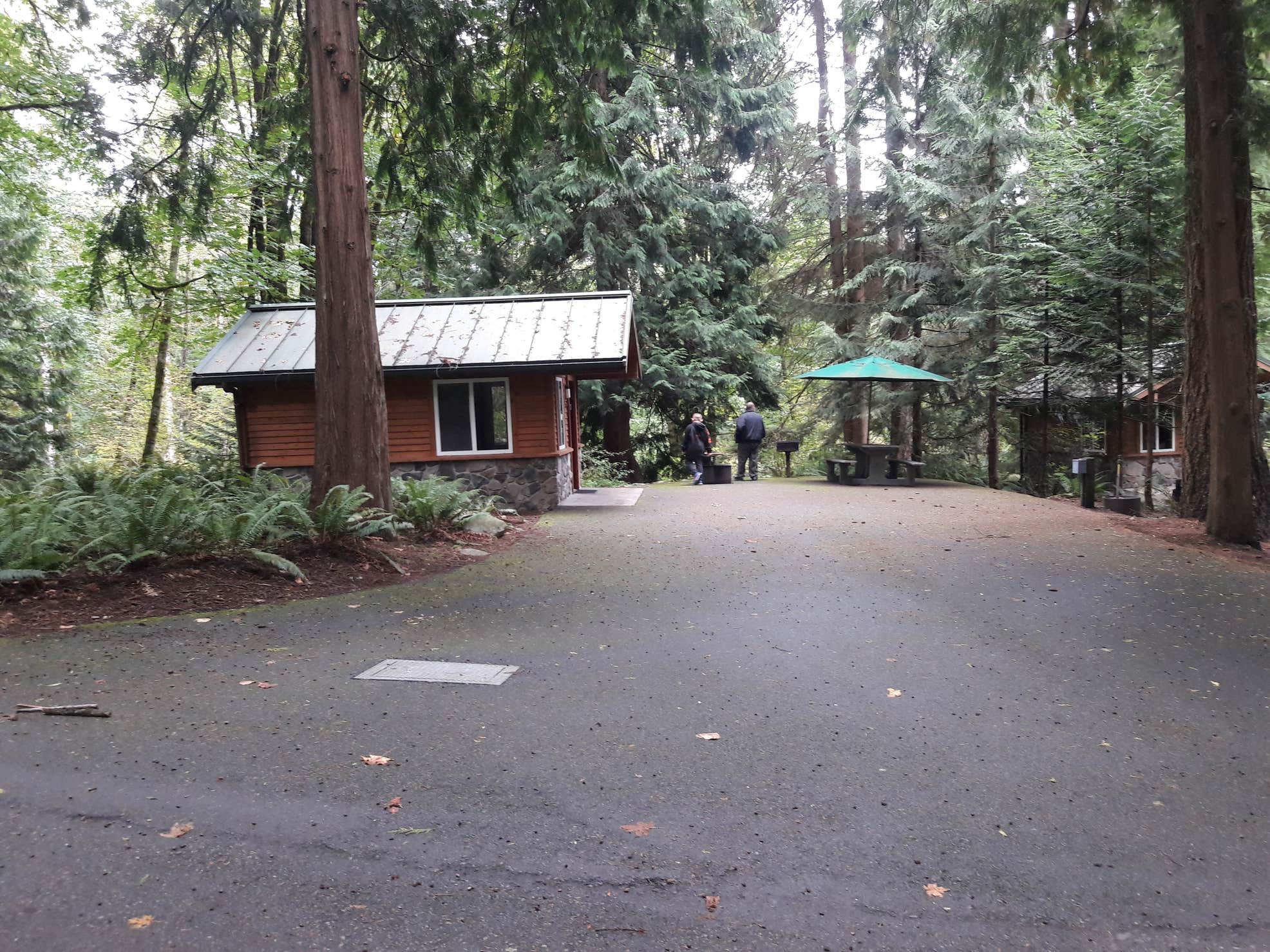 If you want a lake to explore, Flowing Lake County Park is the perfect camping destination for you. Unlike most lakes in the area, Flowing Lake allows motorized watercraft, including water skiing. The park is popular with both campers and boaters, but since the sites are open from March to November, you'll have plenty of time to make a reservation. Take the time to explore as much of the park's 185 acres as you can.
Price: $35-40
Number of sites: 48
RV sites: Yes (max length 40')
Hookups: Yes
Fires allowed: Yes
Pets allowed: Yes
"Great county operated campground campsites are spacious and private. Reserve ahead; very popular especially during the summer." – Mindy P.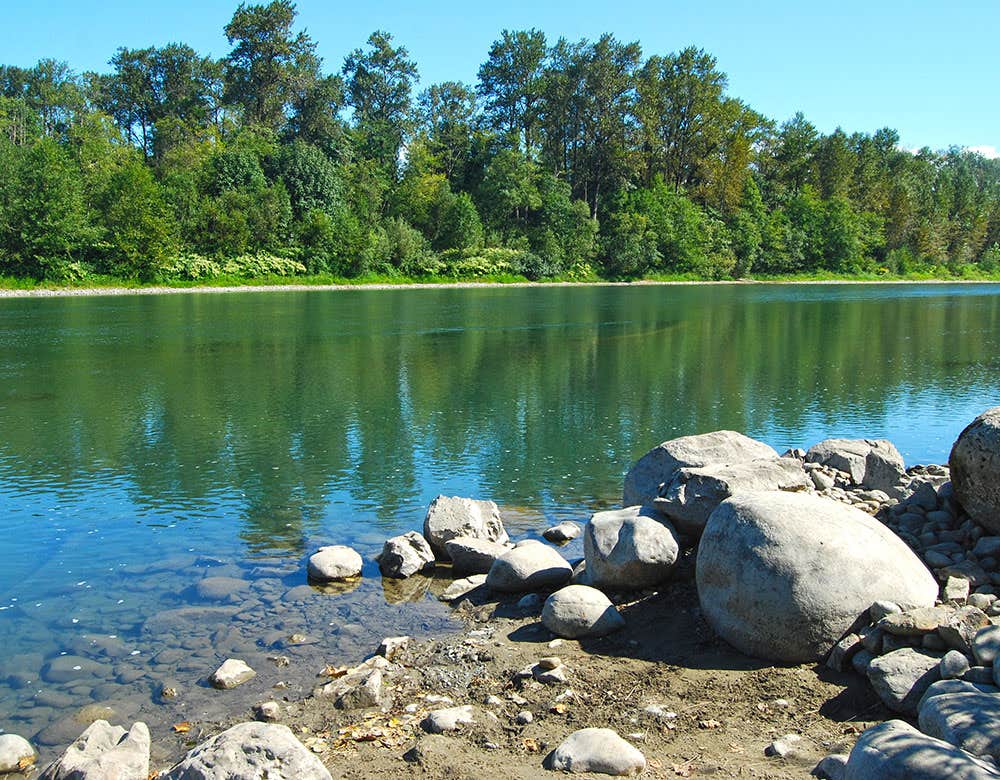 If you want a balance of natural water access and swimming pools, Thunderbird RV and Camping Resort is the perfect destination for you. This family-friendly spot has a huge range of amenities, including Wi-Fi, allowing your party members who aren't nature enthusiasts to still have fun. The campground has a dog park and playground to enable your family to stay active even after you've explored all the nearby trails.
Price: $67-152
Number of sites: 92
RV sites: Yes (max length 45')
Hookups: Yes
Fires allowed: Yes
Pets allowed: Yes
"WiFi wasn't the best but hot spots worked well enough. Showers and restrooms were clean." – Gregg K.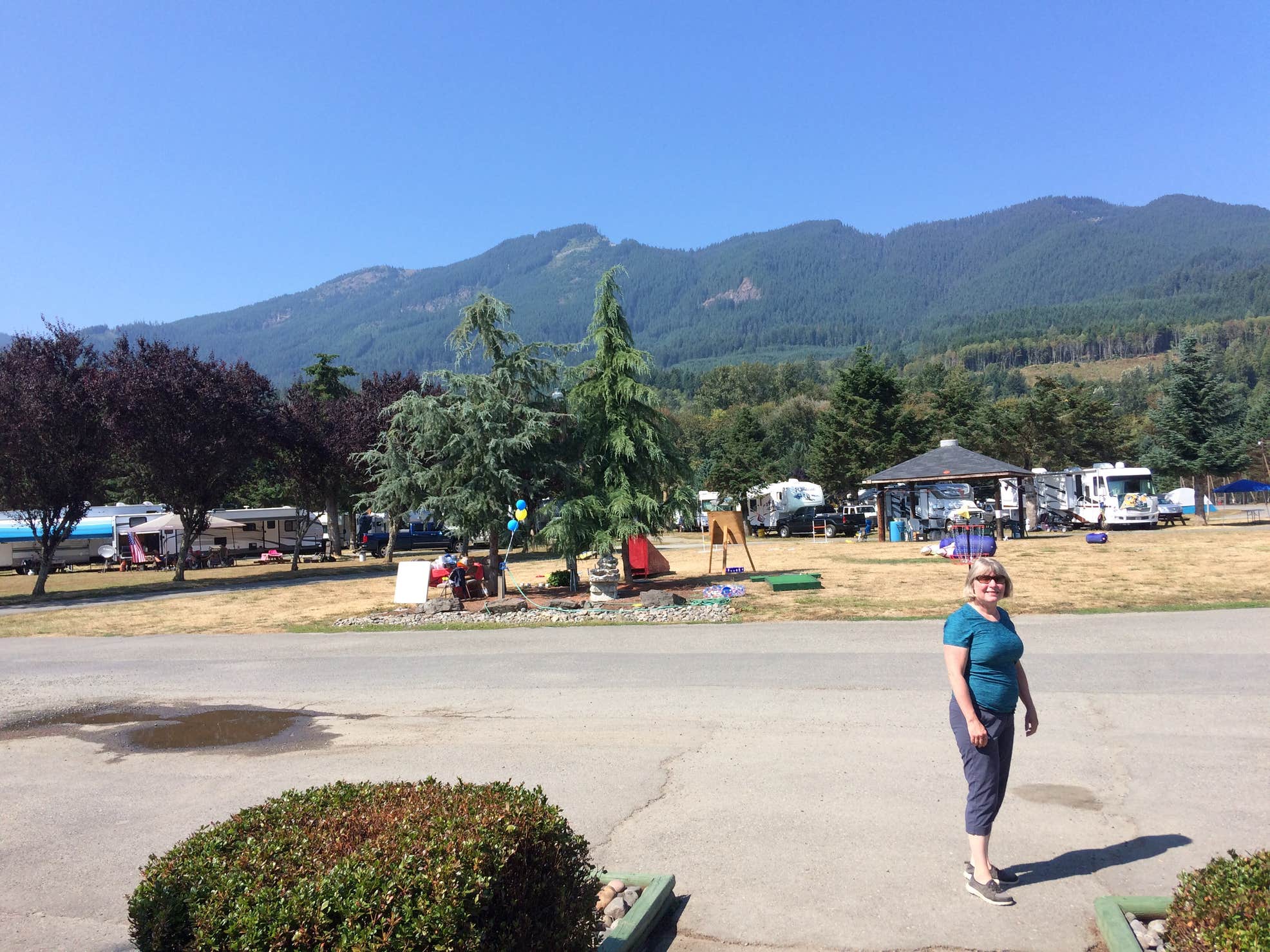 Maple Grove RV Resort is the gold standard for having a base of operations during your weekend getaway. This beautiful resort is just 20 miles from downtown Seattle, and it's easy to get to since it's almost directly north. It has clean restrooms and excellent laundry facilities so you can take care of any last-minute laundry needs. Head to the nearby parks or museums during the day.
Price: $20-70
Number of sites: 87
RV sites: Yes (max length 55')
Hookups: Yes
Fires allowed: No
Pets allowed: Yes
"Friendly staff. Private but got a couple nights free. Easy walk into town and right next to the river." – Michael S.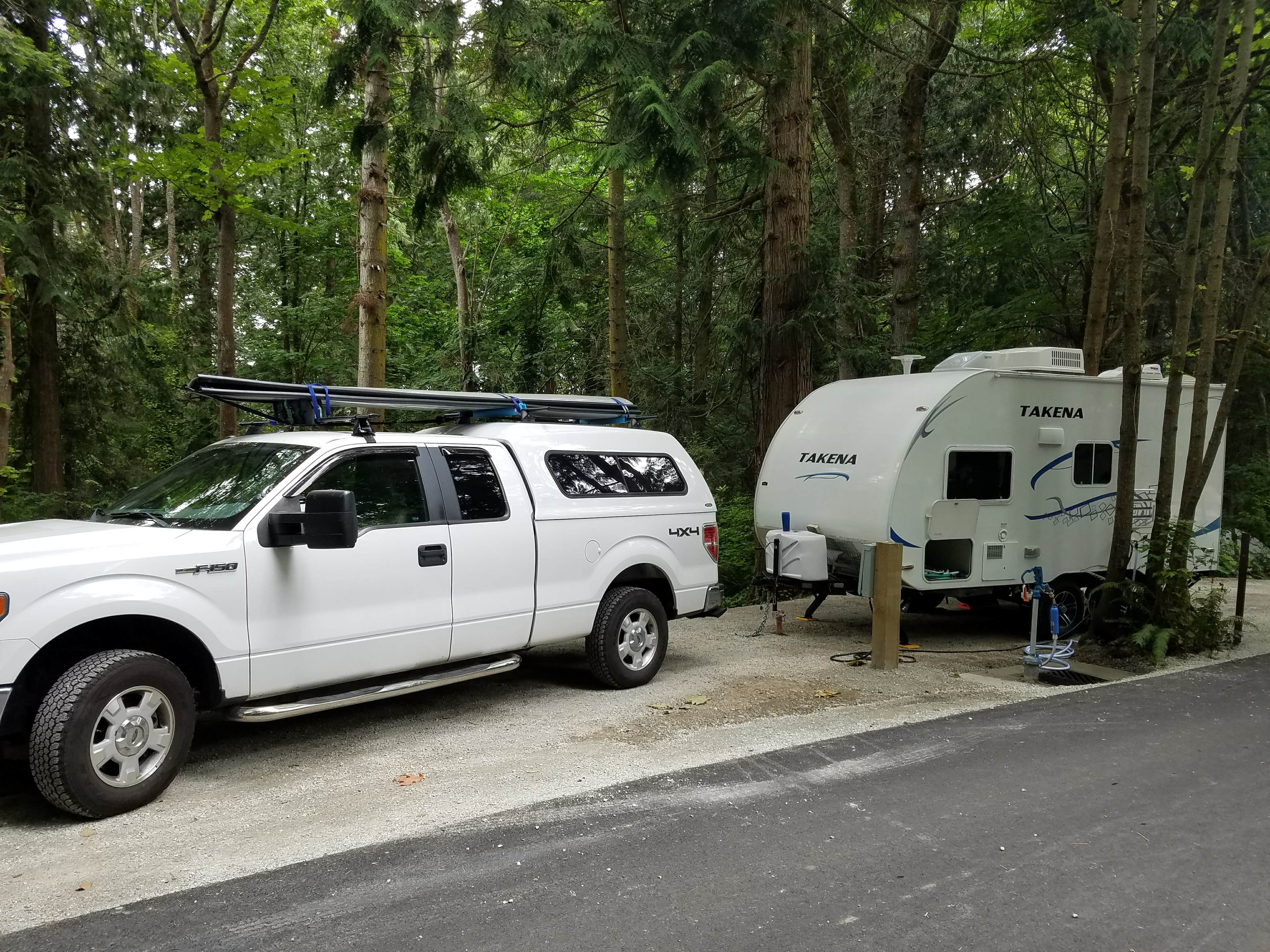 This park is far north of downtown Seattle, but it still takes only an hour to get to when traffic is light. The park is close to the bay so you can kayak and fish. It's a great place to cook some fresh seafood since crabbing is permitted off the pier. Since there are relatively few RV spots available, you'll need to make reservations early, but you'll get a quiet environment as your reward. The picnic shelters and boat launch are in excellent condition, so you can maximize your summer fun.
Price: $40-55
Number of sites: 30
RV sites: Yes (max length 45')
Hookups: Yes
Fires allowed: Yes
Pets allowed: Yes
"Some bathrooms have water flush toilets. There's a playground and the shore to keep the kids busy and fishing for us." – Kim B.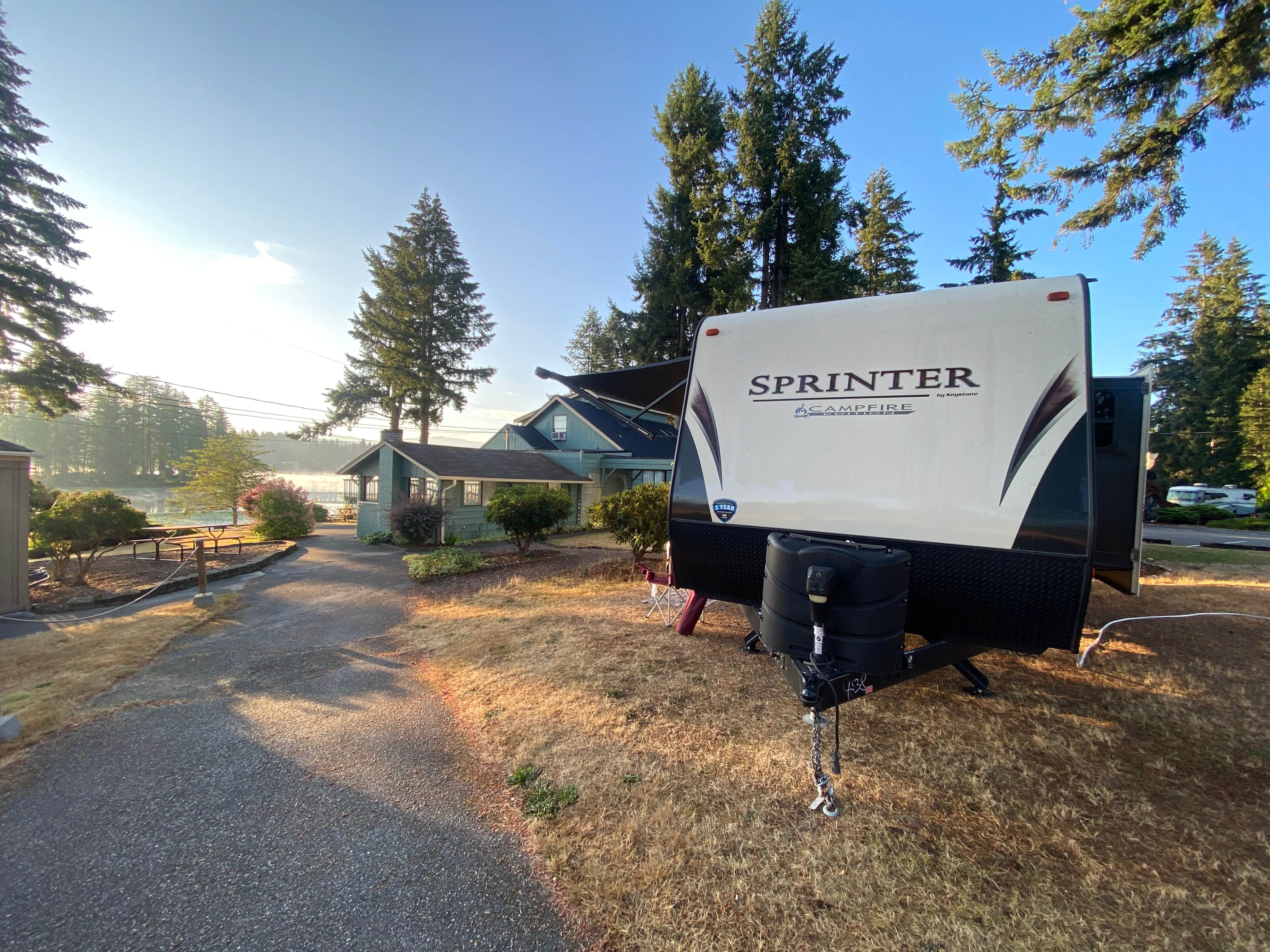 The site is rustic and only has basic amenities but offers beautiful views of the lake in the morning. Lake Sawyer Resort is the perfect escape from the city of Seattle in your TAXA, located in Black Diamond, Washington. This is a year-round RV resort with 10 acres of nature to explore and enjoy. Pets are welcome at the RV park, and you have the option of 15/20/30-amp hookups. Lake Sawyer RV resort has basic shower and bathroom facilities, plus pull-through sites.
Price: $35-60
Number of sites: 115
RV sites: Yes (max length 45')
Hookups: Yes
Fires allowed: Yes
Pets allowed: Yes
"I'm giving this a 5 star simply because it's close enough to get shopping and things done if you need to but the natural setting of the lake is epic. Misty mornings and gorgeous sunsets. Loved our spot right next to the lake." – Sarah R.
Even if you live deep in the heart of Seattle, there are more TAXA getaways within an hour's drive than you think. Keep an open mind and try new places that are off the beaten path. Check out The Dyrt's full list of campsites in the Seattle area for more ideas.