The Overland Explorer
By TAXA Habitat Specialists \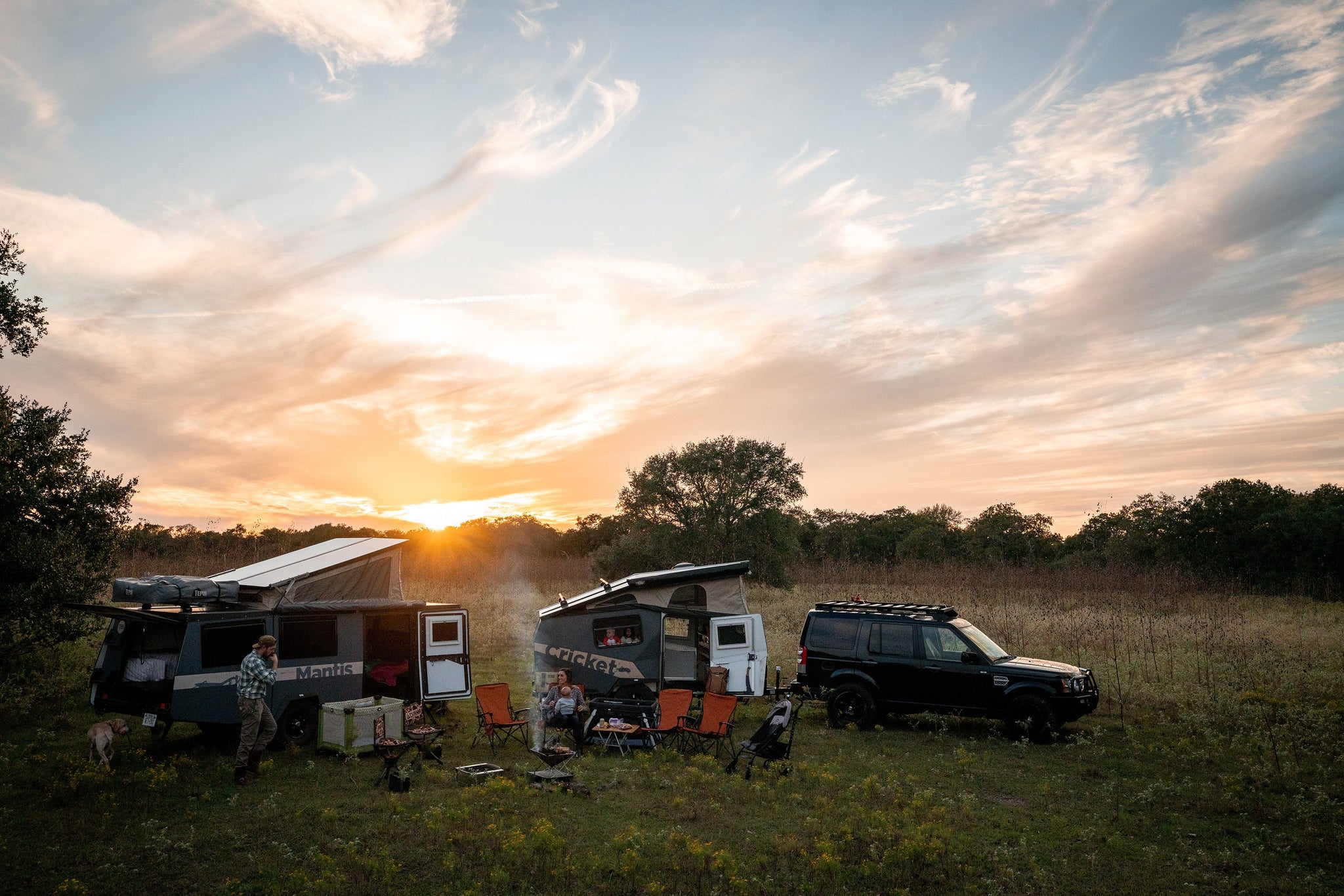 Self-guided adventuring on land is often referred to as overlanding. This term has become a bit off a buzzword, but it has an important meaning. It describes an avenue to experience the outdoors free of packaging. It's just you and the wild. Naturally then, overland explorer vehicles are either a means of transport or habitat to accommodate such adventures. While these vehicles are an important part of overlanding, discussing them in great detail has unfortunately grown to have negative implications in the camping world though.
The overland vehicle conversation often devolves into a nauseating comparison of beefed-up specs without mentioning meaningful applications. It's more is more at its worst. Of course, a list of features only tells half the overlanding story, focusing on the how but not on the why. This is a problem. To fix this, here's a look at the overland explorer that begins and ends with the camper rather than the vehicle.
Who is an Overland Explorer?
An overland explorer is anyone seeking to explore independently. This often involves off-roading or dispersed camping. However, these are not requirements. In fact, there are none. Overland explorers may choose to adventure for a few nights to a few weeks or even longer. The duration is not important. It's not about competition or even achievement, far from it in fact.
Rather, overland explorers seek to engage with the natural world in a more reactive manner. Let the wild come at you as it will. This mindset aspires to adventure without preconceptions. As a result, they hope to create more authentic connections with the environment based on raw, renewed discoveries. The journey is the reward.
Overland Explorer Obstacles
The Road (or lack of it)
Upon deciding to self-adventure, an overlander must select a destination to explore. It all starts with somewhere.
However, reaching a location that welcomes self-guided adventuring more than likely involves traveling on several different terrains. Some mixture of pavement, rock, sand, gravel, and grass.
Now, consider all the variances in texture and elevation on this self-made path. In order to travel effectively, the overland explorer must outmaneuver some obstacles while trampling others.
Weather / Debris
Due to lack of proper clearances, remote trails and campsites heighten the chances of physical impact with a vehicle or other equipment. Stray rocks and pebbles might seem like no big deal, but they can take their toll over time. The same can be said of places affected by heat, cold, or moisture. They weaken or degrade manmade structures.
In order to remain functional out in the wild, the overland explorer must protect all vital assets across a wide array of conditions.
Dispersed Hazards
Living away from safety nets demands not only planning but mobile capability. An overland explorer must find a way to transport all utilities as well as resources. This means storing and preserving enough food, water, and power to last the expedition.
The Overland Explorer Vehicle Toolkit
Go Anywhere
In response to these obstacles, an overland explorer vehicle needs to take precautions against the rocky road ahead.
This process moves from the ground up. For example, TAXA trailers include 15″ alloy wheels and all-terrain tires with a 5 year manufacturer warranty. From there, TAXA overland models boast between 14″ and 18″ of ground clearance depending on the model. This choice reduces the chances of getting stuck or dragging the trailer against uneven ground.
Finally, the Lock 'N' Roll hitch design provides extra give without losing precision. It flaunts 360 degrees of rotation and 3 axis movement. This can be a lifesaver when navigating tight or windy paths.
As a whole, these features equip our trailers to predict the unpredictable in order to reflect the fluid mindset of the overland explorer.
Remote Ready
In remote situations, an overland vehicle must transform into a home and hub for resources. Efficiency is the name of the game.
For this reason, the TAXA Mantis Overland packs in 21 cubic feet of underbed storage, a full kitchen, sleeping area for 4 plus adults, and other premium accessories such as a wet bath, 8,000 BTU AC, and Truma furnace. This package delivers at 19′ in length and less than 3,500 lbs of dry weight.
Additionally, all TAXA models strategically build-in external water systems and solar inlets for off-grid power. This not only relieves explorers of the chore of transporting those solutions but also saves them precious storage space in doing so.
For a more hands-on look at TAXA power, check out this video here.
Hyper-Longevity
An overland vehicle must adhere to certain standards in order to contend with the rugged realities of self-guided adventuring.
As a result, we at TAXA take special care in how we construct our trailers. We build each habitat with proven materials such as powder-coated steel and high grade laser-cut aluminum. These create durable structures capable of not only lasting but performing.
We also hand-make each trailer one a time at our facility in Houston. This ensures quality and connection with our customers. By doing things this way, we feel confident our vehicles will empower explorers for years if not decades to come.
Overland Explorer Recap
Overlanding is independent land-based exploration. This involves certain obstacles for campers. These obstacles can vary in nature from roadside inconsistencies to demands posed by prolonged camping. In response, overland explorer vehicles function as robust toolkits. For each problem faced by the explorer, the overland vehicle includes a seamless solution that empowers adventurers rather than distracting them.
We at TAXA pride ourselves in this last part especially. We build quality, functional vehicles specifically to maximize engagement with the natural world. For more info on our overland offerings, check out the Mantis Overland, Cricket Overland, or TigerMoth Overland.