The Best Camping Gear for Families
By TAXA Habitat Specialists \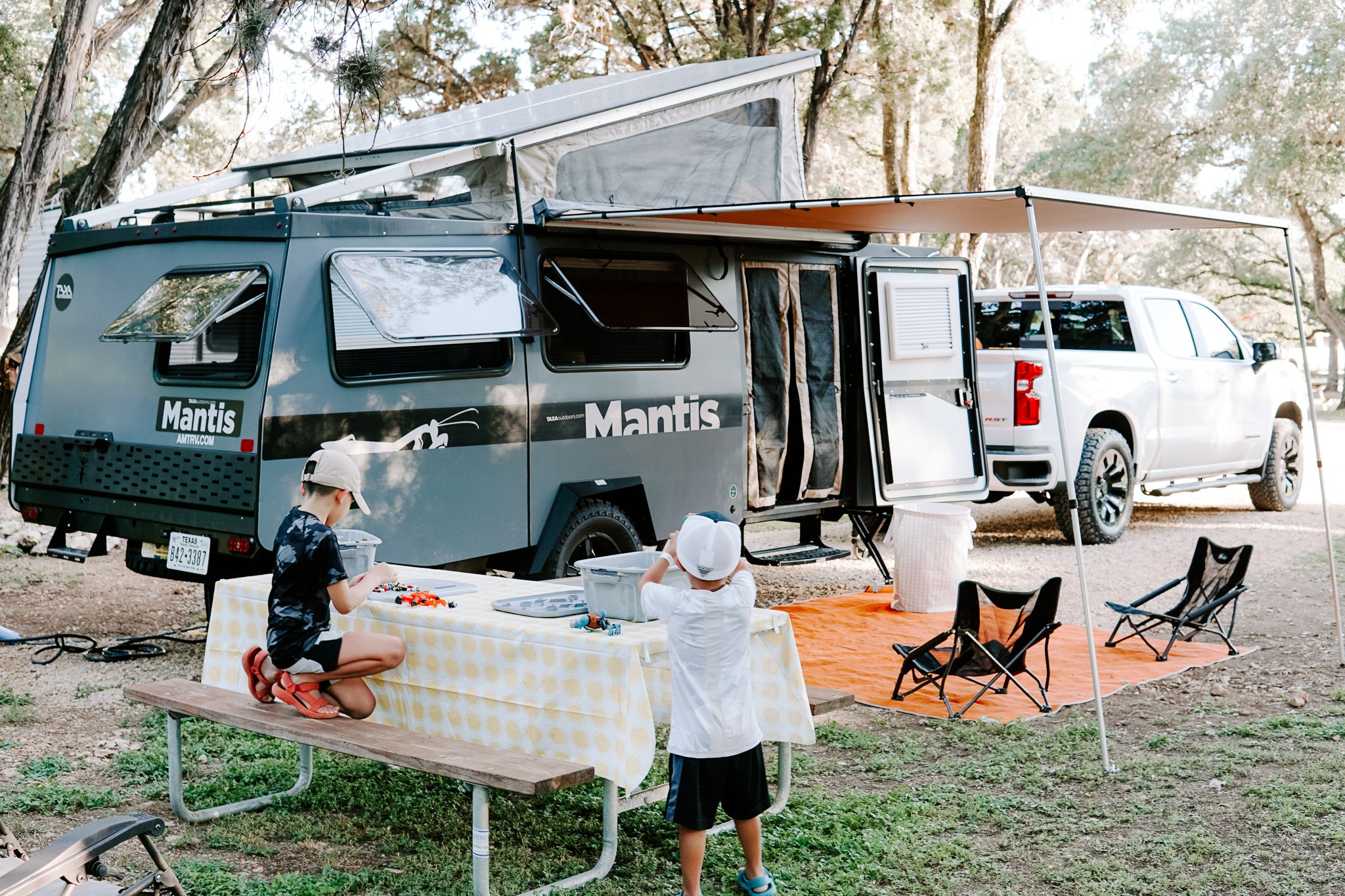 Approaching the outdoors changes just a bit while camping with family. Immersion remains the goal, and adventure still sits on the horizon. However, elements of risk or blatant discomfort are usually limited. Activities often err on the side of slow and steady exploration over those that might elicit an adrenaline rush. The packing list for families mirrors this same idea. It might seem a bit conservative and even overkill at times. Even so, it will keep the group's focus where it should be, the adventure up ahead. With this in mind, if you're about to take the fam on an expedition into the unknown, here is our list of the best camping gear for families.
The Best Daytime Camping Gear for Families
Essentials
These should go without saying and will vary wildly, so most will be left to your discretion. However, as far as friendly reminders go, think about climate fluctuations throughout the day, possible precipitation, and specific activity demands. In reality, these are the items designed to keep everyone's baseline intact and morale up no matter what the agenda.
Appropriate Clothing
Water Bottles/Canteens
Bug Spray
Out and About
Now we're moving! Subsequently, these necessities empower families for adventures away from the campsite. In essence, find a way to carry items while mobile. Protect your family from the sun, and know where you're going as best as possible.
Backpack
Hiking Shoes
Hat
Sunglasses
Sunscreen
Map/Compass/GPS
Fun and Games
Recreational accessories undoubtedly provide a happy medium between activity and restfulness. With this in mind, storage requirements and campsite restrictions play a major role in what makes sense to bring. Consequently, use your best judgment based on those factors along with the ages and abilities of your family.
Spikeball (or other ball)
Cards
Frisbee
Bikes/Boards
Portable Speaker
Just Chilling
Adventuring can be exhausting. Logically then, the difference between a subpar and a killer campsite is its ability to invite solace regardless of the time or temperature. Consider solutions to immerse your family with the environment as much as possible, even while resting. For instance, gathering outside versus in through the use of a canopy or awning, such as those included with the Mantis or Cricket, can maximize outside exposure without sacrificing comfort.
Canopy/Awning
Hammock
Foldable Chairs
The Best Restroom Camping Gear for Families
Essentials
Once again, these should be pretty self-explanatory. However, mileage may vary based on location and duration of the trip. In any case, come up with solutions to expel dirt/waste along with wetting and drying.
Bathing Sponges
Towels
Toothbrush and Toothpaste
Toilet Paper or Wet Wipes
Disposal Container
Dry Wash
Some campsites lack running water. Under these circumstances, dry bathing might be the way to go. Even so, consider it prudent to pack extra water if possible in these situations should moisture be needed to finish the job.
Dry Wash Cleaner
Extra Water
Wet Wash
On the other hand, some destinations or mobile habitats offer running water even amidst the great outdoors. The TAXA Mantis, for one, boasts a robust 22 gallon grey water supply to supplement its 20 gallon fresh water tank. The base model also comes with a Truma Combi Eco Furnace & Water Heater System and exterior hot/cold shower with a cassette toilet option if needed.
Shampoo
Soap
Cassette Toilet and Shower
The Best Mealtime Camping Gear for Families
Campsite mealtime necessities run pretty standard across the board. However, prep areas, appliances, and disposal containers will vary significantly based on the setting.
Once again, TAXA campers make family adventuring that much easier by building in solutions for cooking, dining, and storing waste. The Cricket features a two-burner stove and covered sink while the Mantis flaunts a full galley kitchen, birch-wood cabinetry, and a 16 gallon trash can.
Food
Water
Cooler
Camping Stove
Dishes/Utensils/Pots/Pans
Hand Sanitizer
Foldable Table or Picnic Mat
Wipes, Napkins, Paper Towels
Trash Bags/Container
The Best Nighttime Camping Gear for Families
Essentials
Obviously, most nighttime necessities revolve around getting quality sleep and navigating the obstacle of darkness. In essence, find a way to use the campsite until it's time to sign off. Then, strive for comfort as best as possible.
Sleeping Bags/Bedding/Pillows
Lanterns/Flashlights/Additional Lighting
Extra Warm Clothes or Climate Control (Heaters/Fans/AC)
Tent Camping
Tent campers have a few more things to bring along than the rest of us. If applicable, don't forget all necessities to build and secure the tent not to mention appropriate barriers to minimize discomfort due to the ground or the weather.
Tarp
Mattress
Mallet
Extra Stakes or Poles
Extras
If anyone in the family snores, wants to start a fire, or requires prolonged electricity, here are some don't forget's. In case of the latter of those three, TAXA campers have you covered with our pre-wired solar input system. With the help of the vehicle battery, these ensure 7+ days of off-grid power!
Earplugs
Fire Supplies (Wood, Starter, Mobile Pit)
Power Supply
The Best Safety Camping Gear for Families
Last but not least, pack all necessary items to ensure safety. In detail, this could mean everything from whistles if someone gets lost, animal repellent if lockers for scented items are unavailable, or duct tape if anything breaks.
For additional safety tips, here are some suggestions from the National Parks Service.
First Aid Kit
Whistles
Prescription Medications and Pain Reliever
Animal Repellent
Duct Tape
Recap
Family camping is a great way to experience the outdoors while making memories with the ones we love. The best way to enjoy family camping is through diligently considering the the individuals involved, opportunities for exploration and recreation, as well as the outside environment.
Consequently, TAXA prides itself in limiting anxieties behind the packing list and directing attention to the natural world.
For more information on which family-sized camper best meets your needs, try our habitat quiz.