What to Look for When Buying a Travel Trailer (Updated 2023)
By TAXA Habitat Specialists \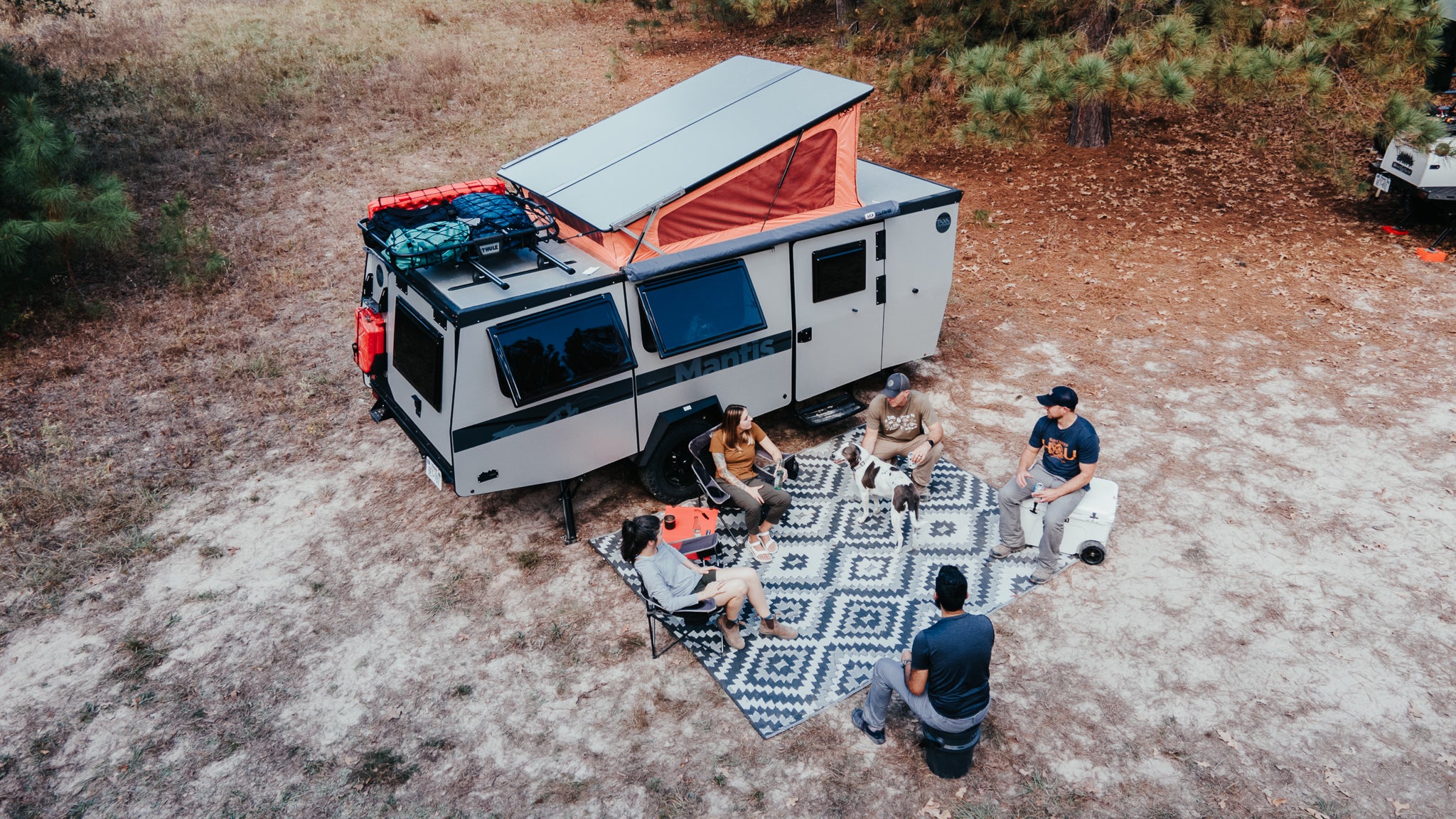 The travel trailer market is rapidly growing. Every year, new styles, models, and brands emerge. With so many consumer variables though, the options might seem overwhelming. With this in mind, here are some distinctions to help determine your version of the "best travel trailer."
When it Comes to Size
Some of the first factors that are considered when buying any vehicle have to do with size. Before getting into the subjective, these numbers will tell you in simple terms if an option is too large, can't be towed, or simply doesn't have enough storage space for your needs.
Weight
The primary size factor to consider is weight. A trailer won't be terribly useful if you can't tow it safely, so it's important to find something within your vehicle's capability. To know what your vehicle is able to tow, here's a towing capacity lookup tool.
For more information on the different measurements for trailer weight (as well as what to expect from different trailer categories), check out this guide.
Footprint
Understandably, there are similar concerns about vehicle footprint. For instance, does your destination have size restrictions? What about your garage? How many people do you hope to accommodate? Doing this homework beforehand ensures your travel trailer search remains practical and realistic from the start. For example, our own lineup of travel trailers and campers ranges from the 19ft Mantis down to the 13ft TigerMoth (we also have a utility trailer-like habitat called Woolly Bear that comes in at less than 11ft).
If you're looking for a smaller trailer, we have a more detailed guide on that category here.
Storage Capacity
Now consider your ideal trip in this vehicle. How much cargo will you need? Are these items big and bulky (like winter clothes)? Could they be packed into smaller compartments? Storage space varies wildly from vehicle to vehicle. Use this to guide you towards options with robust capacity if you tend to pack heavy or take extended excursions.
When it Comes to Design
Moving into how the trailer operates and functions, design is a critical component of your decision. While how it looks on the outside is definitely a consideration, we're talking about the functional design of a trailer. This is how it combines multiple rooms into a single, how it handles different environments, and how easily it adapts to your needs.
Efficiency
Travel demands downsizing in one way or another. As a result, travel trailers reflect an attempt at creating home amidst these limitations, which includes storage space, living area, or towable weight. With that said, TAXA habitats disguise constraint as opportunity by seamlessly combining spaces, all while minimizing bulk and keeping the design functional.
Rugged Requirements
Many travel trailers excel in domestic features but lack the specs to handle rough terrains. If you're planning on dispersed camping or overlanding, will the tires and material last the test of time? To illustrate, Cricket Overland features an axle-less wheel design along with Cooper AT3 LT off-road tires. These modifications ensure a smooth ride on the roughest of roads without sacrificing comfort, and the chassis is durable enough for anything thrown at it.
Modularity
Adventuring outdoors exposes travel trailers to diverse sets of challenges over time. For example, many trips hinge on meeting seasonal, geographic, or cargo requirements. Because of this, we equip our habitats with the ability to adapt. This means designing flexible storage spaces, transformative dining and living areas, and valuable optional upgrades.
Perhaps your adventures tend to vary. Maybe you sometimes enjoy minimalist solo trips, while other times you prefer group expeditions that require lots of gear. In this case, definitely consider a trailer with modular sleeping, living, or storage space to accommodate as needed.
When it Comes to Build Quality
A great design is nothing without solid build quality. This is what gives a trailer its longevity and ability to reduce maintenance and upkeep costs. Not only that, but it reduces the risk of breaking down in the middle of a trip.
Craftsmanship
Some trailers achieve a sleek look but fail when tested in the field. Typically, this problem arises due to a hasty build along a cramped assembly line. For more information on where builds go wrong, check out this article from Curbed. On the opposite end of the spectrum, TAXA Outdoors takes a more personal approach. Our teams build habitats one by one, exclusively in our Houston, Texas factory.
Performance Materials
In addition to taking the craftsman approach, TAXA Outdoors utilizes quality materials that stand the test of time, including durable powder-coated steel on all chassis. Our fenders and gravel guards are also powder-coated steel, and we build the Cricket and TigerMoth skeleton with high-grade laser-cut aluminum and Aluminum Composite (ASTM B209) panels. These materials provide a lightweight eco-friendly framework for vehicles and ultimately pay dividends in safety, longevity, and energy efficiency.
When it Comes to Amenities
Typically considered the "add-ons," amenities can be a big deal, depending on what you're looking for in a trailer, as well as where you're going. Some might find any amenities unnecessary luxuries, while others might be surprised not to see them as standard requirements. Wherever you land, these are what can make or break your trips — so keep them in mind when choosing.
If you're looking for smaller amenities and accessories to upgrade your camping trip, see our guide here.
Restroom
How picky are you about restroom options? Are you content with mobile camping solutions? Do you require a sink, shower, and running water? Just as preferences vary, so do the vehicles themselves. Some vehicles have full bathrooms, some have none, and others have features like wet baths that sit somewhere in between.
Kitchen
A few trailers include full kitchens — however, many offer limited cooking options. If you are someone who needs a stove, cooler, or countertop, ensure that your trailer has you covered. If this isn't a dealbreaker, look at the options and solutions that other trailers provide (TAXA Cricket has a large kitchen counter with two burners and a sink, while TigerMoth keeps things more compact with a slide-out setup).
Power
Most modern travel trailers include a temporary power solution. Even so, consider the length of your planned expeditions and always overestimate the amount of required power; no one wants to realize they didn't account for an extra device or additional lighting needed in a storm. If your power needs seem robust, research travel trailers with an easily swappable battery or solar capabilities. For example, most TAXA habitats are pre-wired for solar input.
Extras
All things considered, what other extras do you need? Will your adventures require additional heat, cooling, ventilation, or an awning? Would you prefer a trailer with supplementary lighting or ample windows? Noting add-on capability and inherent limitations might narrow down the search that much more.
When it Comes to Brand Philosophy
Lastly, you can narrow your list by looking not at the vehicles themselves, but their brands. Brands have different philosophies and approaches to making trailers, but they generally fall into two categories:
No Place Like Home
Travel trailers integrate some version of a kitchen, bathroom, bed, and living area into a compact space on wheels. That's roughly four rooms in one. With the wrong design decisions, this idea could easily turn into a mess. However, the best travel trailers find a way to turn this concept into a functional, comfortable home. In essence, elite adventure vehicles should deliver performance all while accounting for human needs and comfort as well.
Out is In™
Some vehicles excel in comfortable living space. In doing so though, they forget to create a bridge with the surrounding environment. The best travel trailers manage to do both. TAXA habitats encourage connection with the outdoors and inspire curiosity to explore. They provide everything you need, but nothing more — so you can connect with your environment and fully appreciate your journey.
Find the Best Travel Trailer for You
Options abound these days while looking for a quality travel trailer but the best ones manage to accomplish lots with little. It combines spaces, limits bulk, and adapts based on the environment. Its manufacturers build it with care. They assemble the vehicle precisely, using only the best materials for maximum performance. Finally, this trailer finds a balance between exploration and comfort. It delivers the feeling of home without sacrificing intimacy with the outdoors.
TAXA Outdoors believes that our vehicles excel in all of these categories and more. Our campers combine purposeful design with quality construction. In doing so, we maximize space, value, and engagement with the natural world. For more information on which model is right for you, take our TAXA Habitats Quiz to get tailored suggestions on which vehicles best fit your needs.