Overland Travel Trailer
By TAXA Habitat Specialists \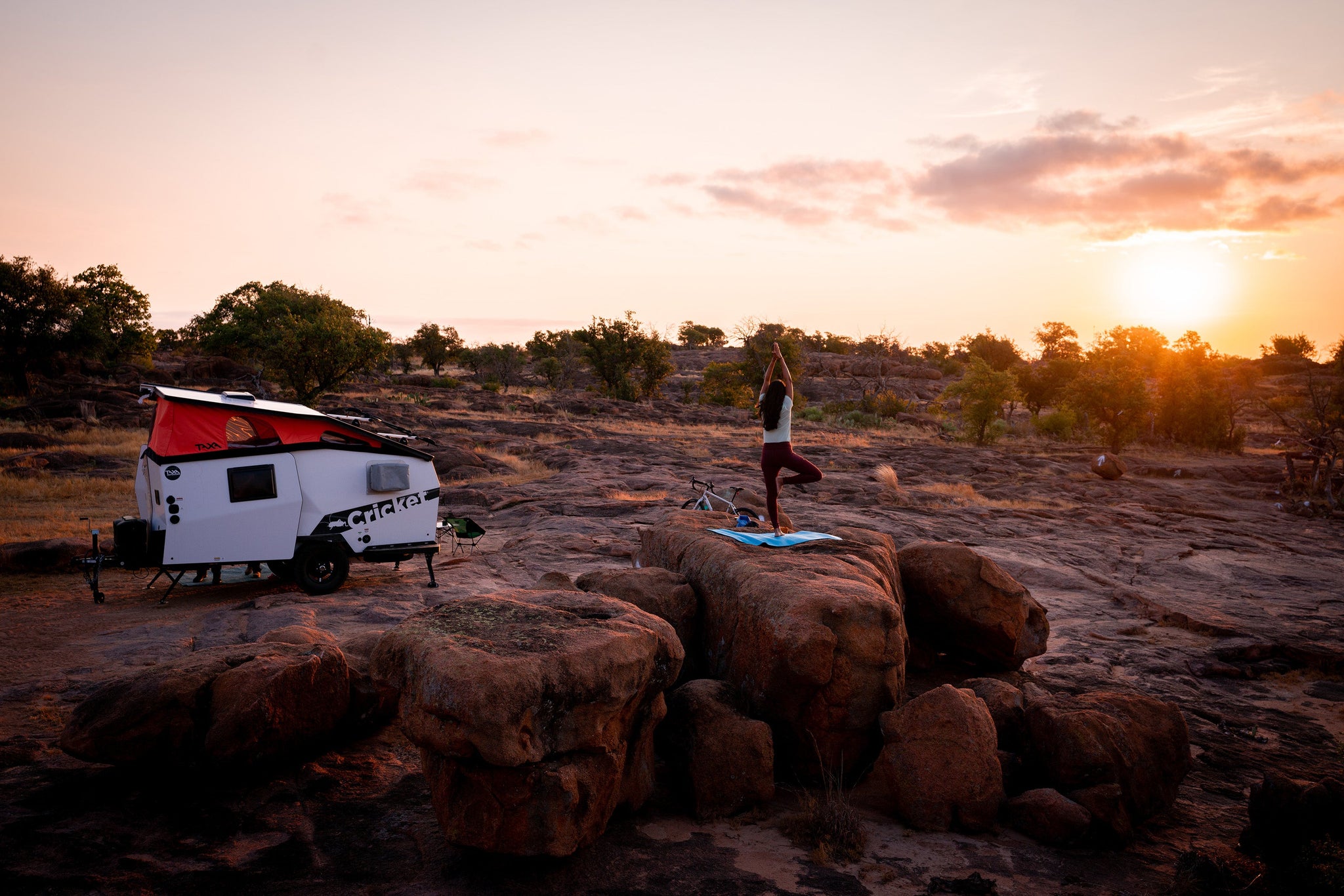 Many adventure vehicle brands are starting to include overland travel trailer offerings. This is exciting! These vehicles provide far more options for explorers than traditional campers do. Gone are the days of limiting campsite restrictions. The wild has no limits. Now, travelers have the freedom to explore as they please due the unique features flaunted by overland trailers.
To start, these vehicles are built for rougher conditions. Tough materials allow them to take on all terrains and climates. Overland trailers also boast more robust survival solutions than normal trailers. This opens up the possibility for longer trips. As a whole, these vehicles have one goal in mind, to empower adventurers looking to explore the outdoors independently.
What is Overlanding?
Overlanding is a relatively new term to describe the simple act of self-guided adventuring on land. Overlanding often involves treks to remote destinations. It also implies the use off-roading and overnight camping. Some of these trips last a weekend. Some go on for long periods of time and span large distances. While overlanding might sound grandiose, it doesn't have to be. In fact, many would argue that overlanding is more of a mindset than anything.
This mindset celebrates the act of exploring. Anyone willing to engage with the natural world in an independent manner can overland. Thus, its goal transcends competition or achievement. Instead, overlanding rewards through enrichment. It aims to expand perspectives. By infusing history, wildlife, and self-sufficiency into explorers, overlanding creates renewed connections with the outdoors.
For a more in-depth look at the idea, check out our article covering what overlanding is and everything you need to know.
Overland Travel Trailer Distinctions
Based on that definition, an overland travel trailer must stand out in a few key ways. For one, overland trailers have several recovery points. This helps retrieve the trailer should it ever get stuck between a rock and a hard place during a tow. On a similar note, the ground clearance is higher than that of a normal trailer. This choice reduces scraping on uneven ground. TAXA Outdoors creates our overland habitats with axle-less suspension and increased ground clearance.
Additionally, these vehicles boast super flexible suspensions. The frame's ability to provide give and rotate liberally becomes vital while trampling tough terrains. Logically, overland travel trailers also have all-terrain tires. The thick material on these tires resists puncture even among jagged rocks or otherwise sharp objects.
For example, the TAXA Cricket Overland, pictured below, sports LT 225/75R16 tires. These have stone ejector ledges built into the grooves. This nifty bit of tire tech protects against stones drilling into the carcass. As a result, travelers experience a more even tread and enhanced traction over time.
What to look for in an Overland Travel Trailer
Sturdy Materials
An overland travel trailer will not last long without the right materials. Given the sizable investment of a travel trailer, make sure the manufacturer does not skimp on build quality. Do some research. Ask a few questions. Why did they include the materials that they did? Do these materials stand up over time? Will they degrade or corrode under certain conditions?
Generally speaking, seek out vehicles made from steel and aluminum. These tend to have the best luck minimizing damage and maximizing lifespan.
Rugged Design
As mentioned above, overland travel trailers require design mods to make sense in the real world. Identify vehicles with built-in recovery points. Overland trailers should also clear the ground by at least a foot as a general rule. TAXA Overland models feature 14″-18″ ground clearance.
While not required, efficiently sized vehicles tend to have advantages. Compact and lightweight trailers typically respond better to tension. Not to mention, they require less energy to haul and power once on site.
Remote Essentials
Elite overland trailers shine in remote expeditions. This happens because these vehicles think ahead where other don't. In essence, the manufacturers address eating, sleeping, and using the restroom in the design itself. What and where are the water sources? How well does the trailer merge storage with sleeping areas? How does the kitchen or trailer in general provide heat?
Prolonged trips will almost always require additional power. A spare battery or generator might suffice for a while. However. they still have limitations. Not to mention, those take up valuable storage space. Given this reality, vehicles which offer solar input or other sustainable solutions tend to have an advantage. TAXA Overland models feature built-in electrical systems, external water systems and pre-wired solar inlets so you can exist off the grid for 7+ days.
Overland Travel Trailer Recap
Overlanding involves self-guided exploration of the wild. In order to meet pertinent demands, TAXA Outdoors builds overland travel trailers a little differently than our standard models.
These trailers use efficiency and rugged design to withstand tough conditions. They also come equipped with solutions necessary for prolonged survival in remote locations. Trailers which focus design into these elements are the most relevant to the overland explorer.
We at TAXA pride ourselves in encouraging exploration and connection with the natural world. Our campers combine purposeful design with quality construction. In doing so, we maximize space, value, and engagement with the natural world. For more info on our overland offerings, check out the Mantis Overland, Cricket Overland, or TigerMoth Overland.