Custom Trailers for Camping & Overlanding: Ideas & Features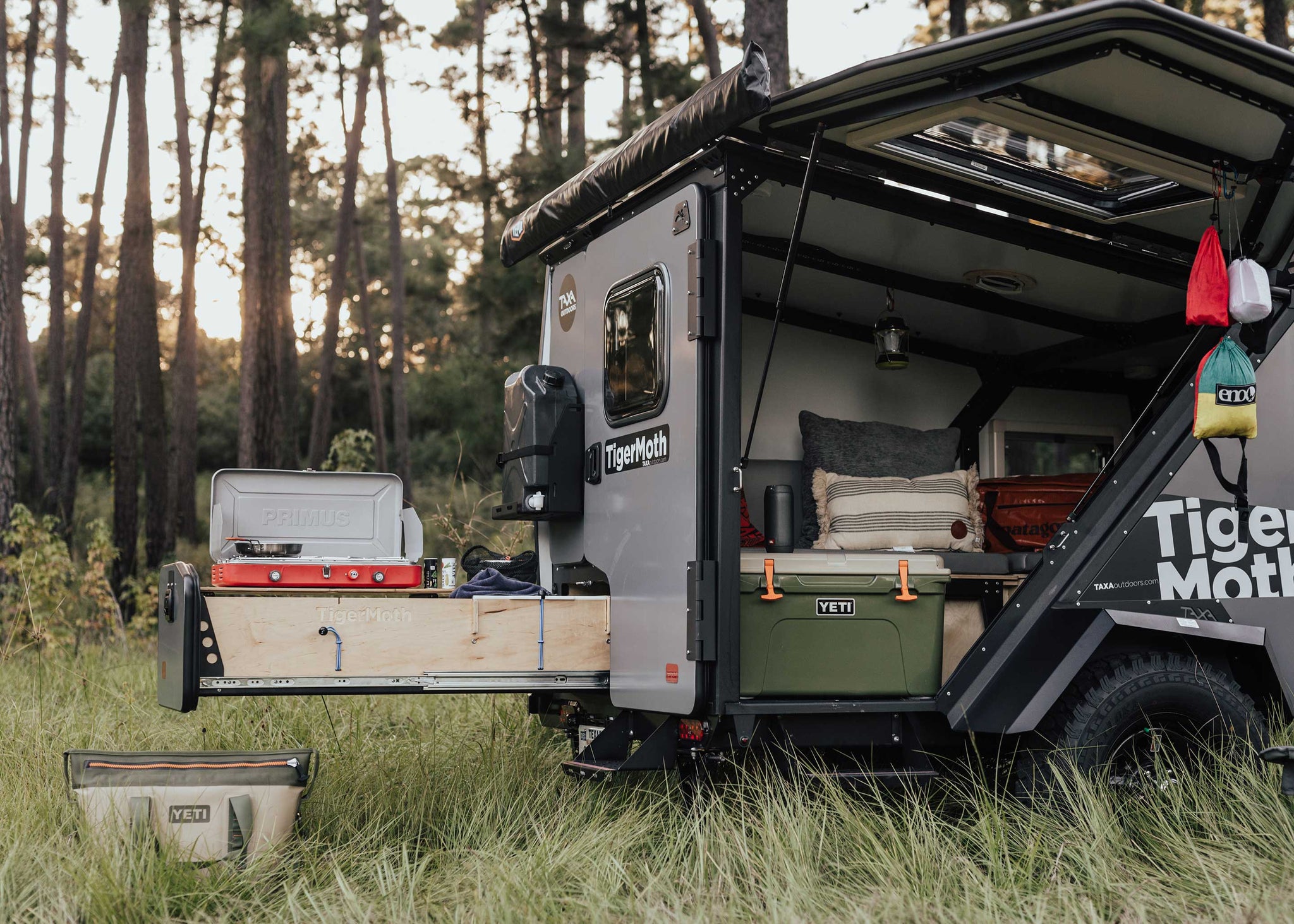 Creating a custom trailer for camping and overlanding can actually encourage you to spend more time out-of-doors, not less. A bunk bed system can ensure you get the rest you need to tackle the next adventure; appropriate mosquito netting means you'll be more comfortable sitting and playing outside; a portable toilet setup can get rid of one of the biggest nuisances for life on the road.
Here at TAXA, our customizable trailers are built with utility, safety, and comfort in mind so that you can focus on your journey, not logistics. We created this guide to help you find and create the custom camper trailer of your dreams.
Should I buy a customizable trailer or DIY a trailer?
Overlanders are, in general, committed to self-sufficiency, and as such may be more inclined than the average person to build their own custom trailer. If this is you, we applaud your tenacity.
However, it's important to consider the expertise and time needed to build a trailer that's suited to overlanding, which often involves offroading and may take place in harsh conditions.
For many people, especially beginning overlanders, those requirements are not tenable — or even desirable. After all, the point of overlanding and camping is to be out in the great beyond, not squirreled away in your garage. And fortunately, today's overlanding trailers have more customization options than ever before.
Chances are you already know which camp (as it were) you're in. It's just a matter of committing to DIY or a buy-and-customize option.
What to consider before buying a custom trailer
When looking at custom trailers or trailers with customizable add-ons, you'll want to make sure that its base specifications meet your needs. Some questions to ask yourself as you're starting to explore your options include:
How many adults and/or kids do you plan on traveling with on a regular basis?
What type of tow vehicle do I have/plan on purchasing and what is that vehicle's tow rating?
What do you intend to use your trailer for, and where do you intend to go? (The specs you'll want for a trailer intended for use as a home office will differ from those for a camper taken offroading.)
Do you plan on bringing additional cargo like sporting equipment or camping furniture?
Do you plan on cooking inside or outside of your trailer?
Do you plan on storing your trailer in your garage and, if so, what are the space limitations involved?
Are there features you can't live without, like a shower or A/C?
Answering these questions can help you better understand the size requirements/limitations, cargo needs, durability, etc. you'll need to keep in mind as you search. When you have these basics laid out, you'll be more informed as you begin comparing trailers.
To help you get started, we recommend taking our Habitat quiz, which asks all of the questions above and more, and then suggests a trailer based on your answers. Alternatively, you may find it useful to look at the specifications of the TAXA Cricket Habitat (pictured right), which you can also download here, as a starting point for your search. The Cricket Habitat is our mid-size trailer. It's 15 ft. in length, which allows it to easily fit in a standard garage, and has the capability to sleep 2 adults and 2 children.
Features to look for in custom trailers
1. Smart modularity within the base structure
The best way to ensure that your trailer can be modified to meet your unique needs is to invest in one that was built with the need for modularity in mind. TAXA's Habitats are NASA-inspired and feature design elements that accommodate varying lifestyles and needs. These elements vary from smart kitchen storage to pop-up capabilities that increase living space.
Never heard of a pop-up camper? Here are some helpful pop-up camper pros and cons.
2. Additional sleeping spaces
If you like to adventure with family and friends, your trailer will need space for co-travelers to sleep. Look for trailers that can accommodate additional beds. For example, depending on the TAXA Habitat you choose, you may have the option to add:
3. Adjustable cargo capabilities
When you need to bring extra tools along to enhance your experience, you'll want a trailer that can carry what you need. In addition to looking into your trailer's internal and external cargo capacity, you'll also want to consider whether you'll want or need to add storage features like a bike rack or basket storage.
4. Amenities and accessories
Not everyone enjoys roughing it — and even for those who do, having a few camper trailer accessories along your journey can be the difference between a miserable day spent inside your trailer, hiding from the elements, and a relaxed day navigating the elements with smart gear.
For example, you don't have to be a gear junkie to see the virtue of making sure your trailer can accommodate a mosquito net room in which you could cook or play cards outside worry-free in the most mosquito-ridden climate.
5. Options for inspiration and play
With more and more companies encouraging you to design your own trailer online, there's been an increase in custom features that you can integrate before your trailer even arrives at your doorstep. Many of these features are utilitarian, but some are often just plain fun.
For example, TAXA released a camo wrap series that came with an enhanced wheel upgrade, and we also offer a pride edition of our Habitats. Our Woolly Bear tailgate edition can be purchased in custom team colors, and the pro tailgater package comes with cold storage upgrade, an upgraded 180-degree awning, cooking tools, solar power, and more. Game time!
Customizing a Trailer with Habitats at TAXA Outdoors
At TAXA, we are dedicated to helping you find the best camper trailer for your needs, whether you're on the hunt for custom trailers with all the useful bells and whistles or something more simple.
All of our trailers, including our Mantis Overland, Cricket Overland, TigerMoth Overland, and Woolly Bear Overland Habitats, come with base specs and features but include customizable options.
Depending on the Habitat you may choose, these may include many of the features mentioned above as well as a portable propane package, a wet bath with shower & cassette toilet, and so much more.
Ready to start building your custom trailer? Simply start by comparing our Habitats to find which trailer is right for you and then add custom upgrades.