Your Football Championship 2023 Tailgate Guide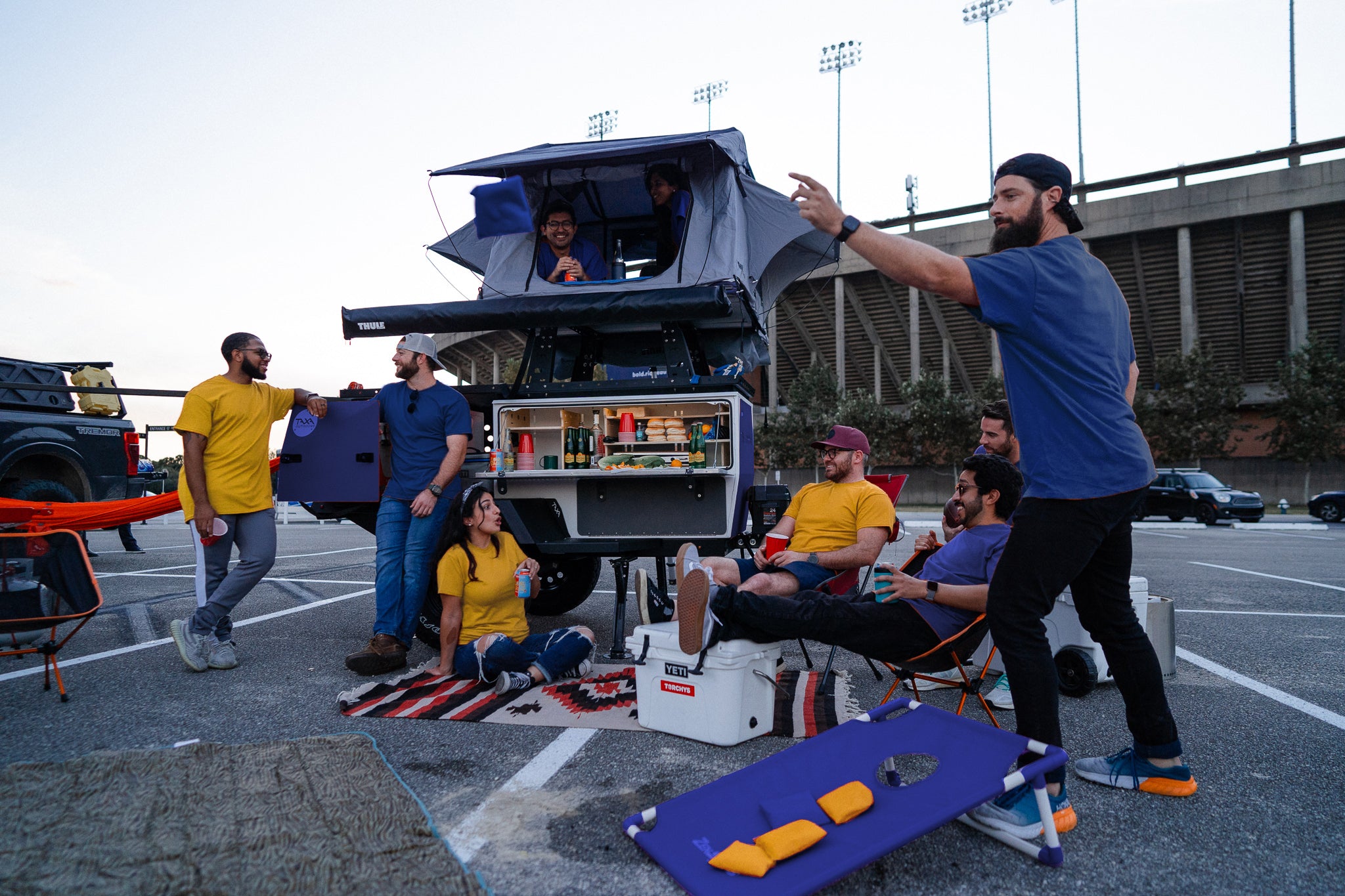 The big game is right around the corner. So far, we've had a dramatic final week of the regular season. Seattle claimed the final playoff spot after one final push from Green Bay. We watched the heart-wrenching moments on the field when Damar Hamlin collapsed during the Cincinnati vs. Buffalo game. Now, we wait to see who will move forward through a formidable playoff line-up; from Kansas City to Tom Brady and Tampa, to Jacksonville's unexpected Cinderella run, it's sure to be an exciting month.
There's no doubt that the 2023 playoffs will be legendary. But don't let the excitement distract you from planning the ultimate gameday tailgate party. From the best food to the silliest games, as well as those traveling to Phoenix for the game in person, your tailgating experience needs to be just as epic as the biggest game of the year.
Where is the final game in 2023?
This year, the game is in Glendale, Arizona, a western suburb of Phoenix, and will take place at State Farm Stadium.
When is the game?
Kickoff will take place on Sunday, February 12, 2023 at 4:30 pm local time. For other time zones across the nation, this is 3:30 pm Pacific, 5:30 pm Central, and 6:30 pm Eastern.
Who's performing at the halftime show?
Rihanna is the main performer for this year's halftime show, though surprise performers will grace the stage alongside her. Last year, Dr. Dre, Eminem, Snoop Dog, and others made appearances for well-known hip-hop and rap hits.
How to tailgate the big game
Even if you can't make it to the big game in person, tailgating can still make the experience worthy of a memorable event. Make your tailgating experience even better with the right music, recipes, activities, and gear.
Can I tailgate at the stadium?
If you're traveling to Glendale for the game, tailgating is NOT allowed in State Farm Stadium's parking lots. This is because the league banned on-location tailgating at the host stadium back in 2007. So unfortunately, there are no official opportunities at the stadium for tailgaters to gather prior to the game.
For a traditional tailgate party, consider parking your camper at a Phoenix-area RV park and pre-gaming there. Then, use a rideshare service to get to the game. If you'd rather have the official experience, ditch your vehicle and catch a nearby sponsored, tailgating event like the 2023 Players Tailgate.
Where to tailgate instead
For those not traveling to Glendale, there are plenty of locations nationwide to join the tailgate frenzy. Green Bay's Lambeau Field hosts a number of events (though it will be chilly). Major cities like Las Vegas (which will host 2024's big game) and Philadelphia also host tailgating events.
Remember, you don't need to attend a big party to properly tailgate. Some of the best pre-game celebrations happen at a friend's house, with a grill and fun activities!
Best pre-game tailgating activities
Speaking of, there are tons of ideas to upgrade any informal tailgates you play. Playing cornhole (or bags, depending on where you're from) or a flag football game can get your whole group relaxed and laughing. Some other tailgating activities to plan for your party are:
Giant Jenga
Cup pong
Flip cup
Oversized Connect Four
Beach bats
Wiffle ball
Bocce ball
Lawn Dominoes
Ladderball
Can Jam
Horseshoes
Tin can bowling
A quarterback challenge, where guests try to throw a football at a target or make a trick shot
Setting up a photo booth is also a memorable addition to your pre-game activities. Purchase some football-themed props in the participating teams' colors (did you know Woolly Bear's Tailgate Edition can also be customized for your team's colors?), dark curtains for a backdrop, and instant print cameras.
Football recipes to tailgate like a pro
A football tailgate party isn't complete if you don't have great food. Sure, you can supply simple snacks, like Doritos, burgers, and classic nachos. However, February's championship game is typically around 3 hours long, and near dinnertime. So, your guests will expect something a little more substantial, especially if your tailgate party begins a few hours before the big game.
Some of our favorite tailgating recipes include:
Loaded carnitas nachos
Beef brisket and bacon burgers
Sweet and spicy chicken wings
Bacon ranch French fries
Reuben-style potato skins
Pulled pork sweet potato barbecue boats
Quinoa burrito bowls
Protein-packed spinach and artichoke dip (use Greek yogurt as your base)
Grilled shrimp skewers
Chipotle salsa, guacamole, and queso
Pot roast wontons stuffed with roast, mashed potatoes, and gravy
Hoping for something that will please the younger generation that's easy to cook in your TAXA habitat or at a tailgate? Consider these simple camping meals for families that can easily slot into your recipe line-up.
Turn your big game party up a notch with the best music
No matter where you're celebrating, your tailgate needs the best soundtrack. Get ready for halftime with Rihanna hits like:
Pon de Replay
Umbrella
Shut Up and Drive
Or classic pump-up music:
Eye of the Tiger – Survivor
The Final Countdown – Europe
Get Ready For This – 2 Unlimited
You might want some country music to fit the football vibe:
Parking Lot Party – Lee Brice
Waiting All Day for Sunday Night – Carrie Underwood
Tennessee Fan – Morgan Wallen
Tips for those traveling to Phoenix
Consider arriving a few days before the game, as festivities begin on February 4th at the Phoenix Convention Center.
Remember — there is no tailgating allowed at the stadium per the league's regulations, so look for other spots you can get ready for the game.
Get a taste for Phoenix life while you're in town at nearby restaurants, like Throne Brewing Company or the Sicilian Butcher.
On game day, the stadium gates open at 12:30 pm local time. Parking passes are digital and you will need to present them on your phone when you arrive.
How to store & transport all the fun
For the best gameday tailgate experience, prepare an exciting soundtrack, new twists on classic recipes, and unique activities. These bulky materials are difficult to store when not in use, and even more difficult to transport to and from the party.
So, consider TAXA's Woolly Bear for all of your football-related adventures (and future tailgating opportunities). Specifically, our Woolly Bear Tailgate Edition, which is designed and upgraded with features for the best outdoor party experience. It's your all-in-one, go-anywhere basecamp with:
Coolers for drinks and food
A Turtlebox Audio Bluetooth waterproof speaker for your playlist
A 180-degree awning to fend off the Phoenix sun
Extra lighting for when the sun sets
An integrated TV mount
A tailgate kitchen with essential cooking supplies
The Tailgate Edition also comes in customizable colors, so you can represent your favorite team (football or otherwise). All of this comes compact in a trailer less than 11ft long, perfect for a parking space or almost any garage when not in use. For this year's big game, tailgate with TAXA Outdoors' Woolly Bear!