Overland Essentials: Gear & Packing Checklist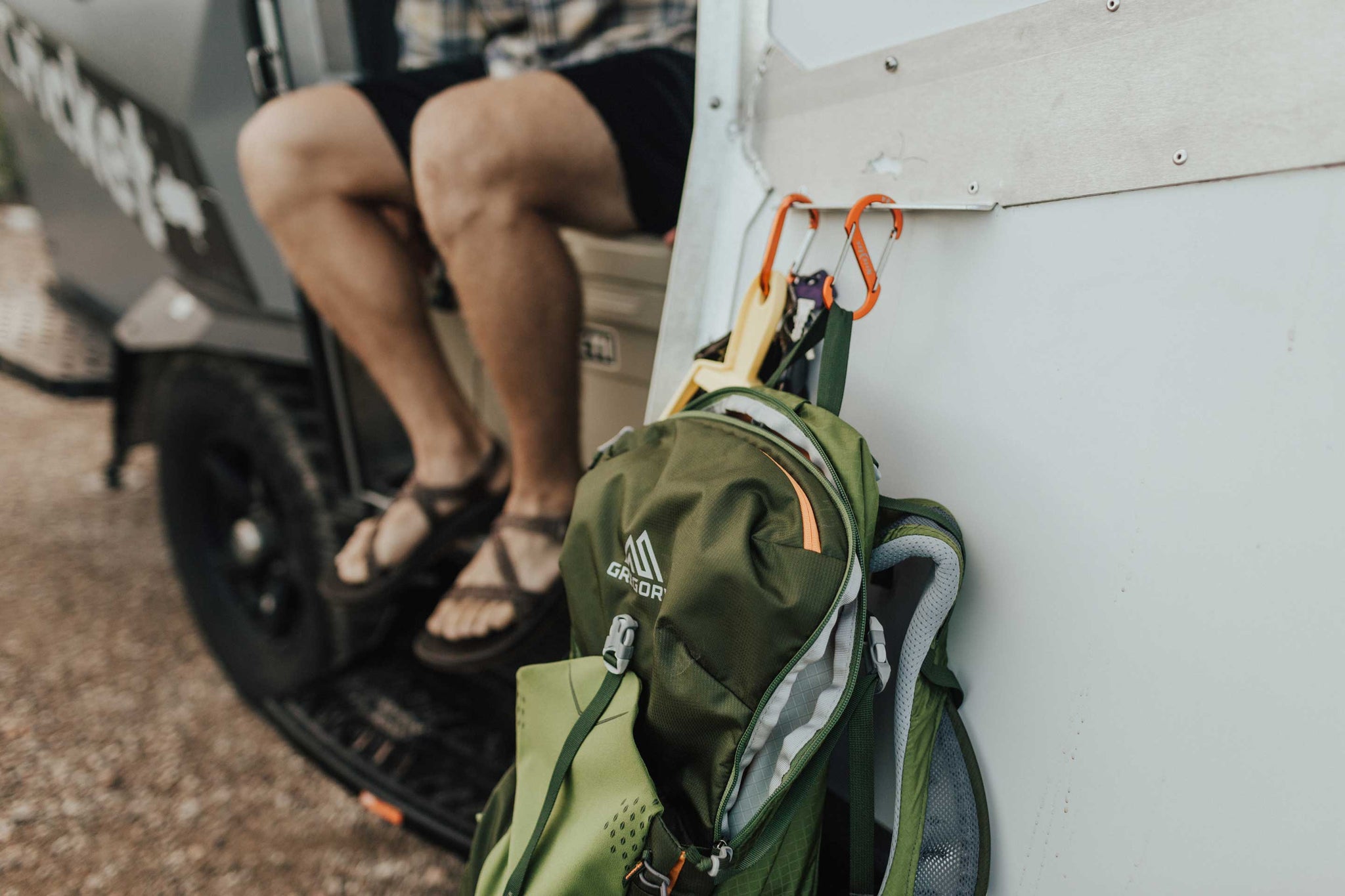 If you're planning to go overlanding across desolate American wilderness, you need to think about packing overland essentials. If it's your first time embarking on such an adventure, you're probably wondering exactly what gear you'll need and how you will possibly store everything while you travel.
By using an overlanding checklist, there's far less chance that you will forget to pack an essential item. After all, you don't want to get 50 miles on the trail and realize you forgot toilet paper or garbage bags that allow you to carry out what you bring in.
We've created the ultimate overlanding essentials gear and packing list with everything you'll need, no matter what terrain or weather you may encounter. We've also uncovered exactly how you can transport all your gear on the trail, without sacrificing quality or sustainability.
Why is packing for overlanding important?
When preparing for an overlanding excursion, packing is extremely important. You might face any number of emergency situations — but as you know, that's part of the adventure. Still, you need to be prepared for any event so that your fun doesn't have to end early.
For example, you may have an equipment failure. Your vehicle could get stuck or break down. You or your traveling companions may face a medical emergency, like getting sick, or suffering an injury or dehydration. You have to consider how you will help yourself and others along the trail.
While many overlanders travel in a pack, there are those who wish to go solo. If you're one of these brave individuals, you'll need to plan how you'll reach emergency services and what extra gear you might need in lieu of another person's help.
Essential overland packing list
Below, we've put together your ultimate overland gear list with ideas of what to pack for almost any circumstance. Remember, you may need different gear depending on your destination. For instance, those overlanding on the Old Spanish National Historic Trail through California probably won't need winter boots, but those traveling in New York's Tug Hill State Forest in February will. From navigation to clothes, begin your overland packing journey here.
Navigation & communication necessities
Handheld radio
Walkie-talkies
Satellite messenger
Cell booster, like weBoost
Paper maps and atlases
GPS
Spotlight
Downloaded maps (not online, in case of no cell reception)
Emergency, safety, & personal care
Sunscreen (for warm or sunny areas)
Bug spray
Bug nets
Toothbrush and toothpaste
Shampoo and conditioner
Soap
Face wash
First aid kit (make sure yours at least has bandages and antibiotic ointment)
Fire extinguisher
Spill kit
Fire blanket
Overland tool kit list & repair supplies
Mallet
Hacksaw
Head lamps
Flashlight
WD40
Crowbar
Lantern
Superglue
Screwdriver and scissors
Chainsaw (either electric or pocket-sized)
Adjustable wrench and torque wrench
A few pairs of heavy duty gloves
Cutting pliers and regular pliers
Duct tape
Paracord and zip ties
Tire repair kit
Tire gauge and portable air compressor
Rapid tire deflators (in case you're in rocky terrain)
Cooking supplies & easy-to-prepare food
Propane adapter
Canned food, like soup, beans, or chicken
Cooler
Forks, spoons, and knives
Cooking utensils, like spatulas and large spoons
Plates and bowls
Pots and pans
Cutting board
Spices, like salt, pepper, and garlic
Food storage containers and aluminum foil
Sandwich bags
Paper towels and napkins
Garbage bags
Coffee and coffee filters
Towels and oven mitts
Measuring cups (if you plan to do some fancy cooking)
Cereal and energy bars
Dish soap
S'mores supplies (with peanut butter if you're looking for a little protein)
Dish scrubbing brush
At least 6 gallons of drinking water, or 1 to 2 gallons for each person per day you're traveling
Water purification kit, if you run out of drinking water or propane
Beer and wine bottle openers
Overland recovery gear
Winch controller
Ratchet straps
Winch damper
Pulley block
Extension rope
Snatch strap
Tree saver
Spare parts, like extra fuses, wheel bearings, and oil
D shackle and soft shackle
Recovery blanket
Traction boards
Jump starter
Shovel
Jack
Power & fuel must-haves
Generator or power station
Solar panels
Fuel cans
Propane
Lighter
Bathroom items
Toilet paper
Toilet bags or portable black tank
Wet wipes
Tissues
Towels
Camping & sleeping accessories
Tent and/or rooftop tent
Sleeping bags
Sleeping pads
Pillows
Comforter, quilt or blanket (wool in cooler temperatures)
Awning
Tent pegs
Chairs and/or stools
Foldable outdoor table
Charging cords for phones and devices
Fan (for hot or muggy weather)
Sleeping bag liner and heater (for cold weather)
Check out our camp packing list for more ideas.
Clothes for every adventure
Duffel bag, suitcase, or backpack
Rain jacket (for destinations with more precipitation)
Sunglasses
Earplugs
T-shirts, tank tops, and long-sleeved shirts for layering
Fleece pullovers, crewnecks, or hoodies
Shorts, jeans, sweatpants, and/or leggings
Hiking boots
Steel-toed boots
Sneakers
Cold weather
Winter boots
Hand warmers
Hats, mittens, and scarves
Wool socks
Down jacket
Hot weather
Fan
Sandals
Beach towels
Swimsuit and swimsuit coverup
Thin long-sleeved shirts and pants (if bugs are relentless)
How to carry all your gear?
After gathering everything within your overlanding equipment list, you'll be faced with another mountainous task — actually packing. Not only will you have to fit all this stuff in your vehicle, you'll also need to be strategic when it comes to perishable items, liquids, and more.
Store items that need to be cool in your fridge or coolers. They will help each other stay cold and fresh.
Use your dish, bath, and beach towels as packaging for more breakable items. That way, you won't need to pack breakables in styrofoam or bubble wrap.
Keep liquids in double, sealable bags. Separate them by function. In other words, keep toiletries together in one bag and cleaning supplies in another.
Utilize your vertical space as much as possible with hooks and straps.
Keep certain emergency items handy, near the top of your gear. This might include your jack, winch, and ratchet straps. Smaller emergency items, like first aid kits, scissors, and garbage bags should go in the glove compartment.
Even with the best packing skills, ultimately you'll need the right overland trailer to store and carry all your equipment. Our Mantis Overland model has 21 cubic feet of under-bed storage, while the Cricket boasts a full-size bed with a 25 cubic-foot storage system.
Although the TigerMoth Overland is compact, its kitchen comes with the space you need to carry the necessary supplies. This pull-out kitchen has two large cubbies perfect for holding pots, pans, plates, and cutlery while traveling.
The Woolly Bear also has storage perks, like a birch plywood kitchen organizer and a 600-lb weight capacity cargo deck made of laser-cut steel. Above all, most TAXA Habitats come equipped with essential gear that you can cross off your list, like a tent, fridge, stove, awnings, tables, chairs, collapsible sink, shower, and toilet.
Get an overlanding trailer that has what you need — and nothing you don't
Overlanding is all about freedom and independence. That principle goes right down to your gear. On the trail, you'll have to make the most of your overland set-up and be self-sufficient to truly experience the outdoors. By providing overland essentials in an extremely functional package and design, TAXA's Habitats are the perfect way to tap into the wilderness. With pop-up capabilities, rooftop tents, and other perks, bring TAXA along on your next trip. Get in touch with our team of specialists or see our habitats in person today!