What to Look for in a Hunting Trailer Camper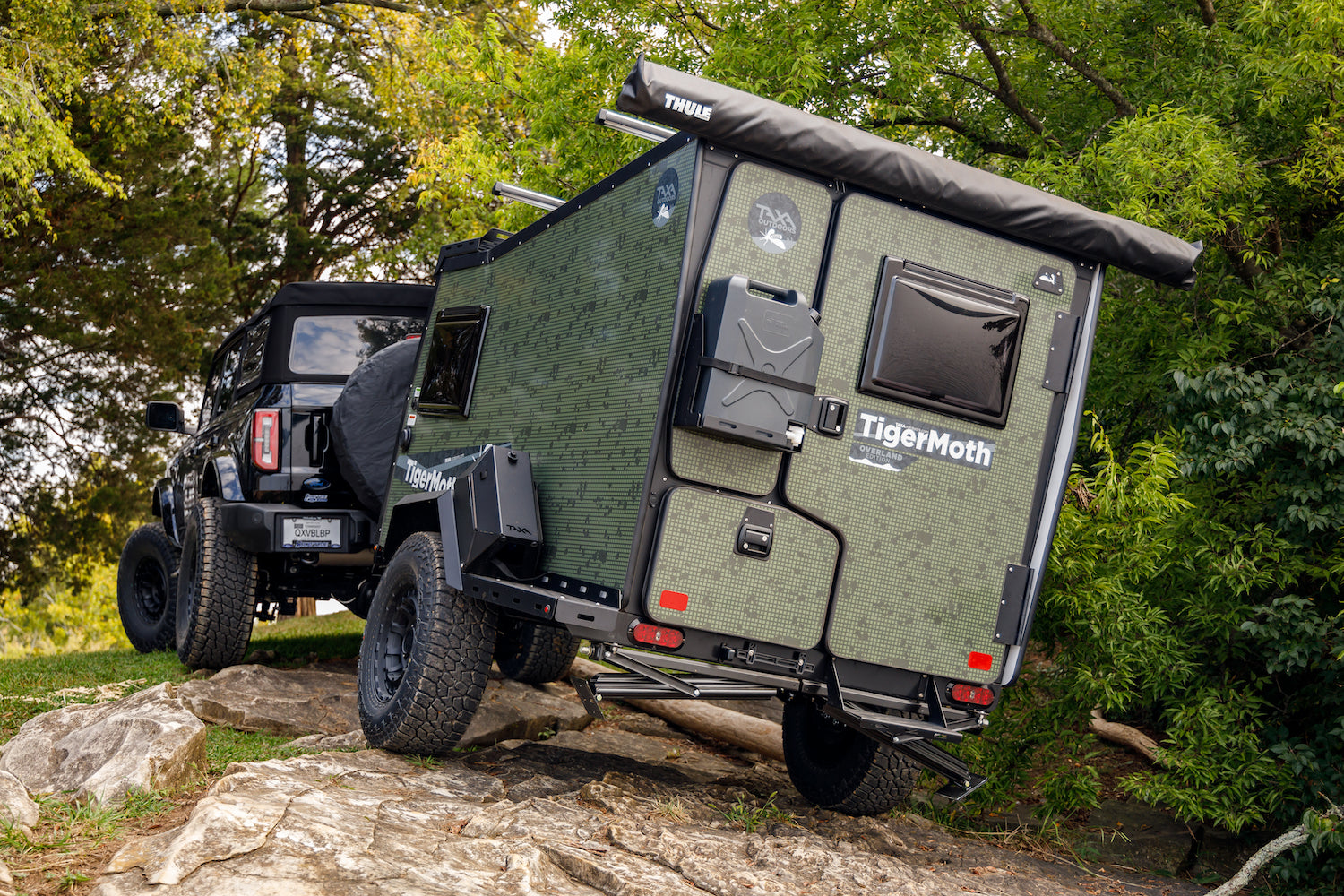 When going on a hunting trip, it's easy to see that bringing a trailer camper is downright practical. However, a camper that's sufficient for hunting is difficult to find. It needs to be able to house everyone in the party and safely carry all the gear along the way. Most importantly, it needs to be versatile enough to travel into hunting grounds and provide a reliable respite against the uncertainties of nature. Some considerations to look for in a hunting camper trailer include form, function, and freedom.
A brief history of camouflage
Camouflage is found naturally in the wilderness; from caterpillars to sharks, camo serves as an adaptive survival technique helping animals avoid predators or catch prey. As far back as 8,000 BCE, hunters used animal skins to disguise their silhouettes, but it wasn't until the 1970s that Jim Crumley designed the familiar patterns we associate with camouflage.
Because the eyesight of deer and other woodland animals isn't made for noticing fine details, camo patterns successfully blur the outlines of larger objects. Additionally, most animals are color blind, allowing high-vis camouflage colors to serve the dual purpose of safety and concealment. If your clothes and gear blend in with your surroundings, why not your camper or hunting trailer? TAXA's Camo Series offers multiple shades and styles of camo to help make your hunter's retreat one with nature.
Features to look for in a hunting trailer
When looking for a camper, you can't necessarily purchase any model and hope it can function properly as a hunting base camp. Certain trailer features benefit a hunter's lifestyle and can make or break a long journey to the hunting grounds. Below is a short list of some helpful considerations to take into account when purchasing a camper for hunting.
Storage for everything you need
Going hunting isn't like your casual camping trip. You need protection from harsh elements and safe places to stash your archery or riflery supplies. Spacious storage in a hunting trailer reduces headaches; additionally, storage should be secure during travel. Thankfully, TAXA's trailers have enough storeroom and carrying capacity for all your required tools, utensils, and hunting gear.
Speaking of storage, a camper that fits in your garage can make your life easier. In the off-season, private storage fees mount up month over month. The ability to store your trailer in the garage until hunting season starts saves money and time.
Safety during transit
Traveling to hunting grounds sometimes requires traversing gravel roads and two tracks. While in transit, you'll want peace of mind that your camper trailer and belongings won't get damaged or disorganized — making storage and suspension designed for rugged terrain priceless commodities.
For instance, overlanding trailers sport a unique suspension system with increased stability over a typical thru-axel design. Not to mention, their tires have adequate tread for most inclement conditions. An overlanding camper's modular storage systems also provide a safe place for all your ubiquitous hunting and camping gear.
Fuel-efficiency
Camper trailers should limit stress on your vehicle's engine. The NASA-inspired engineering and lightweight design of TAXA trailers make for fuel-efficient mobile habitats. Our smallest enclosed camper, TigerMoth, can be pulled by a four-cylinder engine and provides flexible amounts of storage.
Freedom of mobility
A camper trailer should be spacious on the inside but sized reasonably enough to park almost anywhere. In addition to saving money on gas, using a trailer camper for hunting prevents you from paying lodging fees. Instead of making reservations at hotels or motels during a long trip, simply set up camp at a national park or almost anywhere. You also won't have to worry about finding dog-friendly arrangements when bringing your hound.
Packing suggestions for your hunting trailer
Like we said before, going hunting is more involved than camping. Consider what tools you need for a successful hunt, and how to pack them. Save for your choice hunting equipment, here's a short list of some of our recommended hunting essentials:
Multiple layers of clothing
Shovel and fire extinguisher (for preventing wildfires)
Satellite phone or GPS
Practice target
Knife and dressing kit and plastic gloves
Rifle cleaning kit
First aid kit
Roadside kit
Walkie-talkies
Axe for firewood
Lantern and flashlights
Spare batteries
Cooking supplies
A 65-quart cooler (for storing a buck)
You can find a definitive list of everything you need for a long journey here.
Packing for climates
Your hunting trip can be cut short if you're not dressed for the weather. For most states, deer hunting season starts in November; meaning, besides an insulated hunting camper, you'll want plenty of warm layers. Even turkey season in the early spring can get chilly and rainy so ample room in your hunting trailer for clothes is a must.
Extra packing tips
Cooking while hunting is one of life's simple pleasures, but you'll want ready-to-eat snacks as well. Getting plenty of fuel for your hikes and eventual hauls is key to hunting successfully. Beef jerky, cashews, and other non-perishable sources of protein help to save cooler space and maintain energy levels throughout the day.
Enjoy the downtime and take in nature's full glory — hunting is also about connecting with family, friends, and the great outdoors. Some leisure items to consider packing include fishing poles, board games, and a football or frisbee. Packing a quality camera will help capture the trip's highlights.
A hunting lodge on wheels
A good hunting trailer covers all your necessities, like cooking, staying warm, and having a place to sleep. A top-end hunting camper offers all the amenities of a modern cabin while enhancing the outdoor experience. Hot water, a shower, and a bathroom are all features that make a TAXA camo hunting trailer the ideal mobile lodge. Some other advantages of taking TAXA on a hunting trip include:
Controlled climate cabins
A wide range of sleeping options
Optional roof-mounted pop-up tents
Battery-powered coolers
Underbed and rooftop storage
Dining areas
If the whole family is going on a hunting trip, look no further than Mantis. Mantis can fit over four adults and even has storage for a motorbike. No matter how many folks are in your troop or what kind of gear you need, TAXA camo-wrapped habitats can carry you into the hunting season. Check out our habitats here!