Dispersed Camping Guide for the Wayfairing Adventurer
By TAXA Habitat Specialists \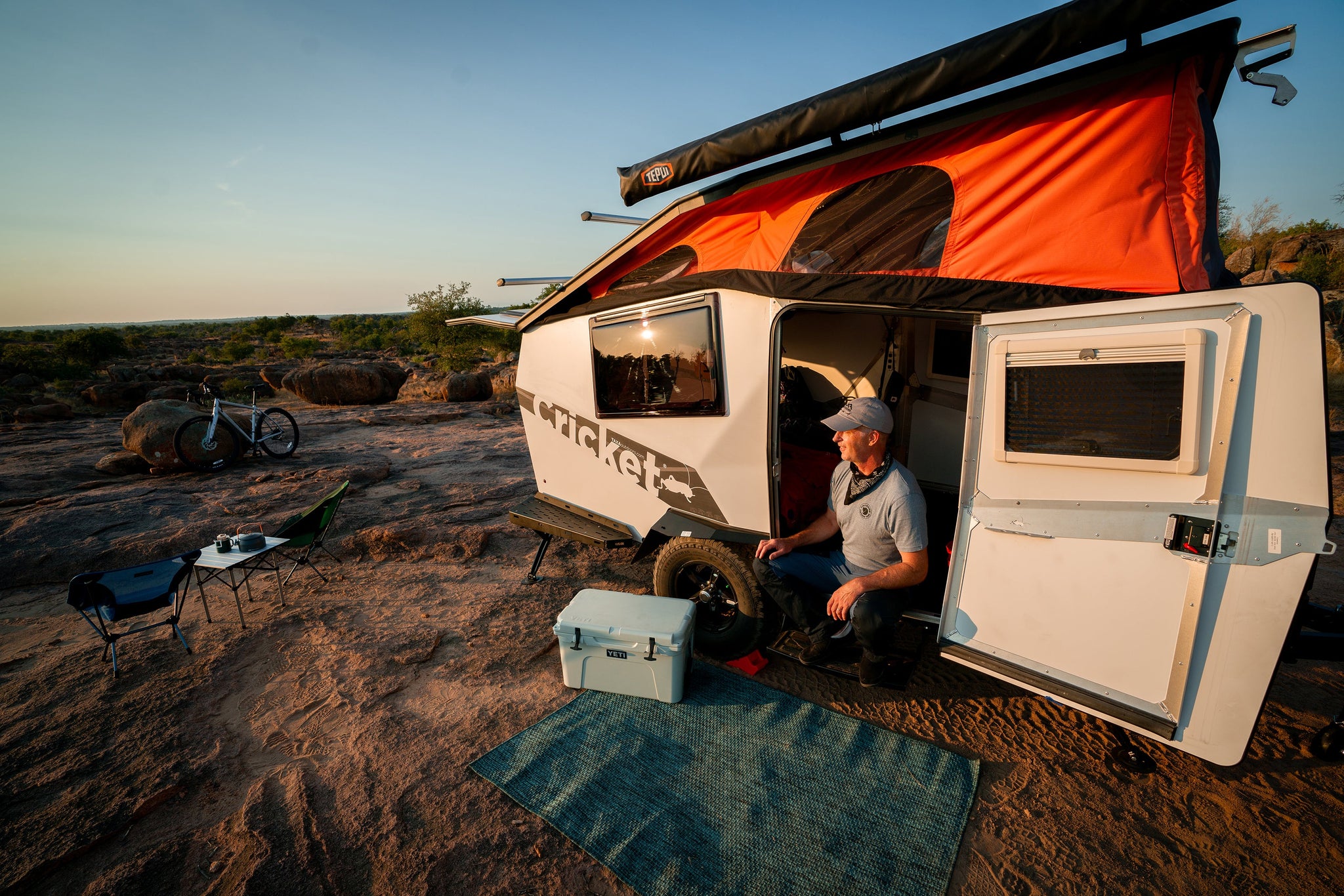 Camping on uninhabited land encourages independence and self-reliance. It challenges explorers to take a step out of their comfort zones and into more natural environments. Dispersed camping fulfills this concept on an even deeper level.
What is dispersed camping?
Dispersed camping describes overnight adventuring without a designated campsite. In other words, it includes everything from trailside camping on public land to overlanding in remote destinations. Traditional campsites undoubtedly have their place — however, dispersed camping offers a unique set of benefits.
Benefits of dispersed camping
Not only will your trip be memorable, but you'll find new ways to be more independent. Dispersed camping can be a learning experience that changes your outlook on life. Being out in nature has therapeutic properties and this type of camping brings them to a whole new level. Besides an immersive experience, dispersed camping offers multiple benefits such as:
Flexibility – snagging a coveted campsite amidst a busy schedule can sometimes make us feel more like travel agents than explorers. Because dispersed camping often doesn't require reservations, this type of adventuring encourages campers to stop, go, and rest as they please.
Savings – Some parks or private territories might still require an entrance fee. However, dispersed campers usually avoid the upcharge of campsite reservations.
Creativity – In a world of neatly packaged tourism experiences, dispersed camping offers the challenge of discovering unique adventures. As a result, this demands improvisation and critical thinking. While potentially difficult, finding your path often leads to great stories and even better memories.
Dispersed camping vs. boondocking
Boondocking refers to camping in an RV or camper trailer without any hookups for electricity or water. You can boondock nearly anywhere, parking lots, public land, or a friend's driveway. Dispersed camping is like boondocking but with any type of campsite (tent or pop-up camper) and is typically done in a national park or on public land.
How to have a successful dispersed camping trip
Dispersed camping is a lot like going swimming without a lifeguard on duty; it's up to you to ensure your own safety and to take care of the necessities. Because towns and stores may be far away, you'll want to be able to cook your food and "take care of business" out in the woods. Planning ahead can save you valuable time and help avoid issues when you finally get out to your campsite.
Pick a camping spot
Lots of natural environments allow for independent campsites. However, each destination has its own regulations. Due to these differences, double-check in advance to ensure what's possible. Some places might require camping passes and others prohibit this practice entirely. If you're planning on a Bureau of Land Management camping trip, then read their guidelines carefully beforehand.
To get into the finer details, try to find stable, high-ground for your campsite. Doing so ensures you have a smaller impact on the environment and a safer site. If you're not sure where to start looking for a campsite, begin by using our guide to help you.
Research how to access your camping spot
It's also important to account for weather, terrain, and local regulations. For example, some destinations will require hiking to potential campsites; others provide access for vehicles via roads or trails. Generally speaking, the larger the vehicle, the fewer your options. With this in mind, be cognizant of size and off-road capability when making a selection.
Take care of camping necessities
To plan effectively, devise solutions specific to the selected environment. In effect, think about how you can master the domain while leaving a minimal impact. Most importantly, make a plan for transporting resources and using the bathroom.
How to use the bathroom during dispersed camping
When you're out in nature, nature calls, and we need a way to answer without proper facilities. Some experienced campers still don't know how to use the bathroom while dispersed camping, so we'll provide some helpful tactics here. First, let's cover the materials you'll need to have a comfortable bathroom experience:
A collapsable camping shovel or trowel
Toilet paper & wet wipes
Disposable plastic bags
Hand sanitizer
You'll be using the materials listed above to either dig a toilet or bag your waste so you don't leave a trace. Of course, if your mobile habitat or RV has a portable bathroom, you won't have to dig a hole; but pack these materials just in case. Now, let's talk about how to safely use the bathroom out in the wild. Here are the main precautions to keep in mind:
Walk 100 paces away from trails and sources of water (250 feet)
Find a spot with direct sunlight (aids in decomposition)
Dig a potty at least six inches deep
Bag your toilet paper and wet wipes
Cover your waste with dirt
It's best to set up a spot for bathroom breaks before nature calls — nothing is more frustrating than digging a hole in a hurried state. Additionally, give yourself time to use the bathroom as it may be difficult in an unfamiliar place. Furthermore, use the buddy system for a safer bathroom experience. We also suggest bringing a portable mosquito repellent so you don't get bitten up while you're off the beaten path.
How to store water and food
Because you're camping without any facilities and possibly no towns nearby, bring plenty of potable water and food. Water is the most important resource to have during a dispersed camping trip, so bring at least one gallon of water per camper per day. Obviously, make sure you top it off before heading to your site.
Being mindful of wildlife, food is best stored in smell-proof containers. As an extra precaution, use bear-proof containers and keep them locked during the night. Placing your food far away from your campsite at night is also a recommended safety measure.
Protect the natural environment
Avoid disturbing the natural wildlife around your makeshift campground. Before choosing a location, research wildlife risks and precautions for the intended site. Stay at least 100 yards away from critters and larger creatures. To further protect wildlife, remember to bring supplies to prevent wildfires.
Prepare for going off-grid
Dehydration and hypothermia are common off-grid camping setbacks — pack enough clothes and stay hydrated. Besides water and food, be sure to bring a first-aid kit. If you're going camping in a dry climate like a desert or a canyon, prepare an exit strategy in case of a flash flood. Also, make sure to check your packing list of camping essentials.
Choose the right habitat for dispersed camping
Dispersed camping provides a unique opportunity for truly independent adventuring. Exploring the wild free of manmade interventions forces campers into a more fluid and immersive experience. With this in mind, dispersed camping also requires additional planning. It demands researching the environment thoroughly, choosing a suitable habitat, and taking survival and preservation measures. TAXA mobile habitats provide all of the space necessary for packing dispersed camping gear and offer overlanding capabilities with an easily-storable design. Find the right habitat for your next dispersed camping adventure today!