Benefits of a Hard-Sided Pop-Up Camper
By TAXA Adventure Specialists \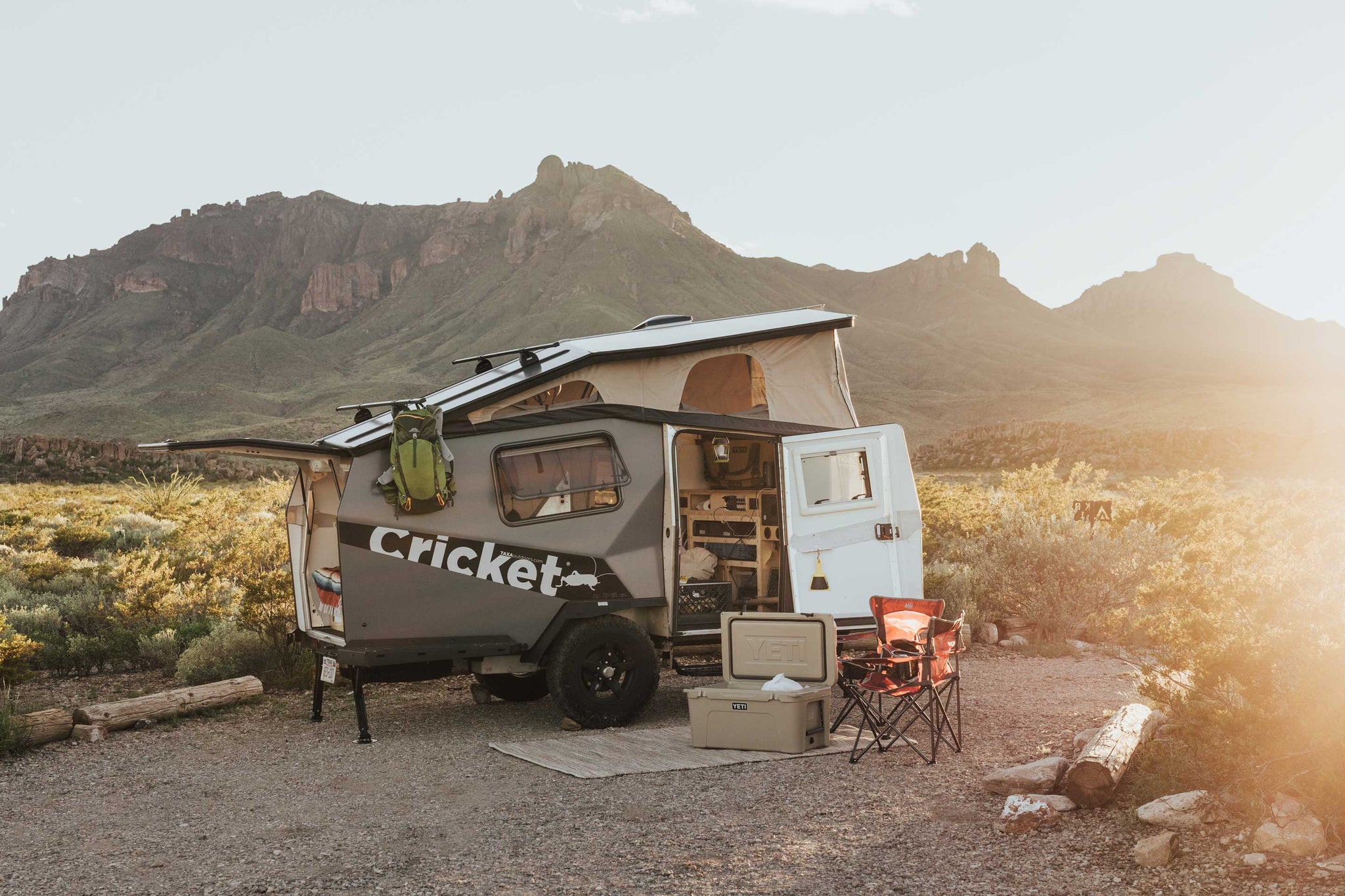 Nothing heals the soul quite like getting out in nature, and doing so in a camper is one of the best ways to be close to the action while still enjoying the creature comforts of home. If you're looking for something rugged that has a leg up over traditional tent campers, a hard-sided pop-up camper combines durability, comfort, and the freedom to explore.
From their robust construction to the convenience they offer travelers of any skill level, hard-sided pop-up campers are designed to elevate any outdoor adventure.
What is a hard-sided pop-up camper?
Unlike traditional tent or canvas-based pop-up campers, hard-sided pop-ups feature solid walls made of materials such as fiberglass, aluminum, or composite panels (but with some parts or features that still "pop up"). These solid walls provide better protection against the elements, increased security, and improved insulation compared to their canvas counterparts. For example, TAXA habitats combine the best of both worlds, offering the strength of a travel trailer through powder-coated steel and aluminum and the flexibility and roof space of traditional mesh or canvas pop-ups.
Advantages vs. traditional pop-ups
If you've been seeing more hard-sided pop-up campers around lately, you're not alone. They've become more popular over the years and are often considered a "hybrid" of tent campers and travel trailers. So what exactly is making these campers a top choice for outdoor enthusiasts everywhere? Let's explore some of their biggest advantages compared to traditional pop-ups.
Better insulated
For those who enjoy a little added comfort while camping, hard-sided pop-ups offer greater insulation than their mesh or canvas counterparts. Unlike traditional pop-ups that may experience heat loss or temperature fluctuations, hard-sided campers offer better temperature control thanks to their solid wall construction. The enhanced insulation of hard-sided pop-up campers allows them to retain heat during the winter and cool air during the summer, guaranteeing a more enjoyable and energy-efficient camping experience. If you're someone that enjoys camping year-round, a hard-sided pop-up is a clear winner.
More durable
When it comes to durability, you'd be hard-pressed to argue that canvas tent trailers will last longer than a hard-sided pop-up. While softer materials in traditional pop-ups are susceptible to issues such as tears from strong winds, water damage, and snags on branches, hard-sided pop-up campers feature sturdy materials that withstand the test of time. This also means they're great at keeping water out, which — as those who've spent the night enduring rainstorms in traditional pop-ups know — can be a big concern.
More likely to have bathrooms
Having a dedicated bathroom setup can make a world of difference regarding camping comfort, and that's where hard-sided pop-up campers shine compared to traditional tent trailers. While a few tent trailers may offer limited bathroom facilities, hard-sided pop-ups are more likely to have what you need. For example, Mantis comes equipped with a shower and available toilet, so you can skip searching for a tree and enjoy the convenience and comfort of having a bathroom, no matter where you are. If you're traveling with friends and family, this added convenience can mean fewer pit stops and more time exploring.
More like home
For those who enjoy spending time in nature but want to bring along a few of the comforts and conveniences of home, a hard-sided pop-up trailer is often more well-appointed than a tent trailer. In addition to being more likely to have bathrooms, hard-sided pop-ups can have additional indoor amenities such as a kitchen with a sink, countertop, stovetop, and refrigerator as well as extra storage compartments, convertible seating areas, and so much more.
Less assembly & disassembly time
One of the biggest disadvantages of pop-ups is their needed assembly. The lengthy setup and takedown processes typically associated with traditional pop-ups can be exhausting. Rather than having to deal with extending poles or fighting with unwieldy fabrics when it's windy outside, hard-sided pop-ups offer a refreshing alternative. Innovative designs and a small yet mighty footprint allow for a streamlined setup that saves time while camping but makes it easy to store when you're back home. Some hard-sided pop-ups, like Cricket, can be easily stored within a garage for added convenience.
More likely to be allowed in National Parks
When staying at certain campgrounds and national parks, soft-sided pop-up campers may face restrictions for safety reasons, particularly concerning wildlife activity such as bears. While sometimes disappointing, these limitations are in place to protect campers and prevent food smells from attracting animals. But for those bringing along hard-sided pop-up campers, you have an advantage — these restrictions are often for soft-sided campers only. With a hard-sided pop-up camper, you can strike the perfect balance between convenience and campground compliance, opening up endless possibilities for memorable outdoor adventures for you and your family.
More secure & private
If you've ever camped in a tent, you know that sometimes they don't offer the best privacy. Due to their construction and design, the level of safety and security provided by hard-sided pop-ups wins over their soft-sided counterparts. Features such as door and window locks, strong wall panels, and steel chassis are designed to give you peace of mind when out in the wild. Whether you're concerned about inclement weather and loud noise or curious animals and unwanted visitors, hard-sided pop-up campers can give you shelter and keep you and your belongings safe.
Get a spacious habitat this summer
Make this summer one to remember by choosing a hard-sided pop-up camper for all your outdoor adventures. From indoor bathrooms to long-lasting construction, they offer a range of features designed to elevate your camping experience. TAXA habitats like Cricket and Mantis are sleek, spacious hybrids that blend functionality, durability, and privacy. Made from high-quality materials with sustainability in mind, these hard-sided pop-ups are not only built to last, but also minimize their environmental impact.
To learn more,
talk with one of our habitat specialists today
to see which hard-sided pop-up camper is best for your needs. No matter where the road takes you, having a TAXA habitat along for the ride guarantees a good time and immersive adventure.