Camping With Dogs: Guardian's Guide & Travel Tips
By Monica Weber \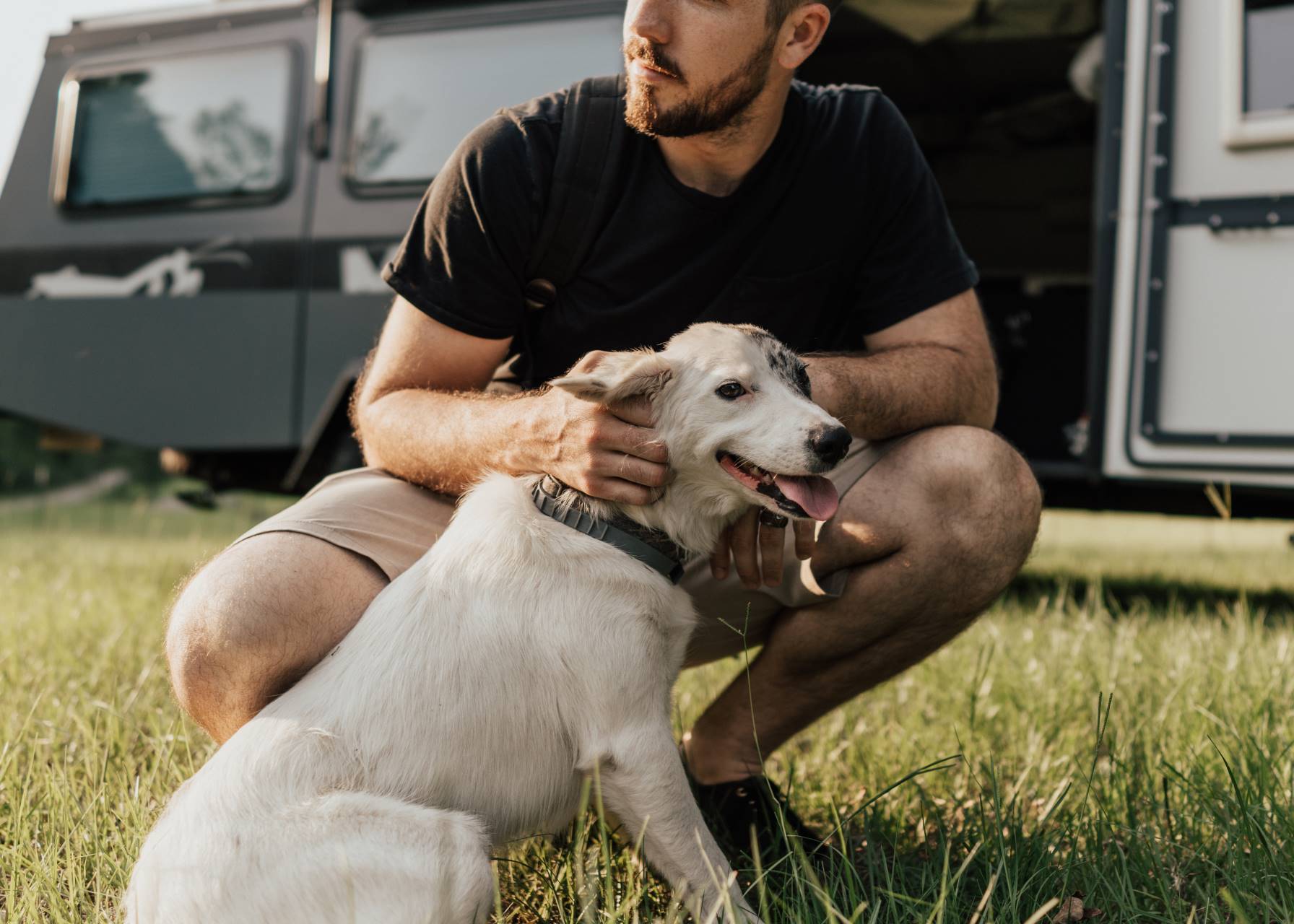 We always try to bring the dogs with us wherever we go camping, and they seem to enjoy it as much as we do! Camping with our dogs helped us find time to bond – and we also discovered a few helpful tricks to have a more comfortable camping trip with the pups. Our bulldog loves campsites with water but our two pugs enjoy lounging near the campfire, so we like to take a little extra time when choosing a campsite.
Finding dog-friendly campgrounds
Thankfully, it's not too difficult finding dog-friendly campgrounds around North America. For instance, the majority of national parks in the United States allow dogs at their campsites. However, leash policies might differ between parks – some areas allow dogs to run free in the off-season while others enforce a tether all year round.
On top of that, take into account regional wildlife and what type of camping style you prefer before deciding on a destination. Consider how your dog reacts to other animals and if they will be sleeping in a tent, in your car, or in a camper trailer. Finally, even if a campground is dog-friendly, they could require visitors to use a hard-sided camper for added security, so it's beneficial to research the site restrictions ahead of time.
Bringing your dog camping for the first time
Before you take your dog camping for the first time, make sure they're ready for the trails. For safety, dogs should be up to date on vaccinations, have flea and tick preventatives, wear ID tags, and have learned to come back when called. To prepare them for the trip, you can take them on nature walks and boondocking in your backyard. This way, your hound can get accustomed to your camping style and you'll get a better idea of what gear to pack.
7 tips to make camping with dogs easier
Bringing your dog camping adds extra responsibility and requires a little more planning than usual. First-time dog campers might find that visiting a campsite with a wide array of amenities can help alleviate some of the stress. No matter what kind of adventure you choose, the following tips and tricks will make your life easier when camping with dogs.
1. Bring the right camping gear for dogs 
Our first tip is the most essential; making sure you have the necessary gear can make or break any camping trip. With dogs, a packing list can get somewhat extensive, so we wanted to simplify things for you. Below are the items we always pack for any camping trip with our pups.
Food & collapsible dog bowls
Lots of food and snacks will keep your dogs happy during your camping trip, so packing extra never hurts. Some campers prefer to hitch a cargo harness to their dog and make them carry their own snacks. We always keep the dog food in Snapware containers in a large tote bag next to their bowls. Two of our dogs use a slow bowl at home, and we were even able to find a slow bowl that collapses!
Lights & a bear bell
Our youngest likes to go exploring and having the little light on his harness makes it easy to spot him while he's sniffing around. A bear bell is more so for fellow campers; unfortunately, not every camper wants to meet our beautiful pups, and a bear bell can alert them that a dog is headed their way.  
Leash System
Again, with our youngest pup having the tendency to wander off, I don't want to have to worry about that while I'm making dinner or relaxing by the fire. We recommend using a tether line or leash tied to a tree or anchored into the ground with enough length so your dog to find a comfy spot. We tie our tether line between the trailer to a tree, making sure our pup has shade and water. I feel better knowing he's safely attached and has room to walk around a bit without going too far. 
Dog first aid kit
We have first aid for ourselves, so why not carry extra for the dogs? Being a vet tech, I always carry extra medications or dog first aid supplies, just in case. Things like: Benadryl in case of an allergic reaction, Rimadyl in case Petey is sore after swimming, eye flush, Chlorhexidine wipes in case someone gets a wound, and tweezers to pick off ticks. To start your own dog first aid kit for camping, consider the following:
Tweezers designed for ticks

- are curved, precise tweezers for speedy tick removal

Conforming bandages

- stick to themselves and not fur for a better hold

A towel or blanket

- can keep your dog warm and dry 

Antibiotic ointment

- Neosporin and most topical medications can be used on dogs

Hydrogen peroxide

- to disinfect any cuts, scrapes, or stings

Wet wipes

- good for cleaning areas before disinfecting

A soft muzzle

- recommended if your pup gets a little nippy during medical care

A spare leash

- useful if your lead breaks or another camper needs one
Alternatively, you can find first aid kits with supplies specifically for dogs. Some prepackaged dog first aid kits come with all the items listed above and more. It may be over the top, but it's better to pack these items just in case. 
Toys for playing
Toys can be a good distraction if your hound is getting overwhelmed at the campground. Camping can be overly stimulating especially if it's your dog's first time – a familiar toy helps ground them and lets them focus on a comforting activity. Moreover, tiring them out during the day with activities ensures they'll be well-behaved near night time. Playtime is also a great way to bond with your pup and makes them look forward to the next camping trip.
Boots, coats, and blankets
If it's going to be colder where you're camping, boots and a coat are going to make your dog's experience much more enjoyable. Some areas in the United States can see drastic temperature drops at night, so extra layers come in handy. For blankets, you can bring a quilt, a thermal blanket, or use an old sleeping bag. We recommend getting a sleeping bag made with synthetic down and polyester - these insulate much better than other types under wet conditions.
2. Camping dog bedding options
We have a nice Ruffwear mat for the dogs to lay on next to the fire. It folds up and packs away nicely, and adds some additional comfort for them. We also keep our dogs in a crate in the car at night; if you plan on doing this where it's warmer, you can get screens for your car windows. When it's a little colder, we also cover the crates with a blanket to keep the warmth in. Whether your dog is sleeping in a tent or on the floor of a camper, pack some bedding options to keep them comfy throughout the night.
3. Watch out for wildlife
Even at leashless sites, there can be lots of other animals that your dog might want to chase. Protect your dog and local wildlife by staying vigilant on the trails and at camp. It might be worth mentioning that some dog obedience programs also train snake aversion; useful if you're camping in the southern half of the United States. Another good command for your dog to learn is, "leave it" – which can stop them from biting something that could make them sick or hurt them (like a porcupine).
4. Load up equipment safely
Packing a car with camping gear while making sure your dog can ride along safely can be troublesome. If your dogs are riding in the rear seats, then we recommend packing gear in the rear footwells. Afterward, laying a large blanket or seat cover over the gear will prevent your dogs from rolling off the seats if you need to make a sudden stop.
5. Keep your dogs warm & dry
Keeping dogs comfortable makes it more likely that they'll want to come with you on the next camping trip. For winter campers, remember to bring a coat, boots, and a thermal blanket to keep your dog warm – you can find coats designed for your dog's fur type online. RV owners can also insulate their campers for a more cozy camping experience. Whatever your camping style, we suggest bringing a spare towel and blanket for each dog.
6. Think of the terrain
Hiking trails can be difficult for some four-legged companions, if you're unsure if your dog can handle a path then it's best to not push your luck. Larger dogs are also harder to carry over obstacles so consider your own limitations as well as the dog's before planning a hiking route. Dog boots can also protect your dog's pads on more rocky trails, leading to a more pleasant hike.
7. Plan ahead
Always be aware of the rules of the parks you're planning to visit – call, or go online to find out before you show up. If you don't know what the conditions will be, or if pets are allowed, you may want to get a dog sitter or board them. It's a lot of extra work bringing your pets with you, especially if you have multiple dogs, but it's worth it!
Summary of the basics
Safety is an important factor for having a successful trip with dogs. Being a responsible guardian and making sure you're equipped to deal with whatever might come your way ensures more trips in the future. In brief, when camping with dogs:
Don't let them run off

Don't let them overheat or get too cold

Don't give them food they don't usually eat

Do update their vaccinations and preventative meds

Do pack your dog's essential camping gear

Do keep them comfortable and engaged
Find the perfect camping companion
Some dogs are more comfortable on rough terrain and others prefer to stay at the campsite – the same can be said for camper trailers. Certain models are better for overlanding while others can host a whole camping troupe for multiple nights. No matter what kind of camping you're planning, or what gear you need to pack, a towable trailer can elevate your outdoor game. Find out the benefits of owning a TAXA adventure trailer today!