Ultimate Tailgate Setup Ideas: Essential Supplies, Upgrades, & Tips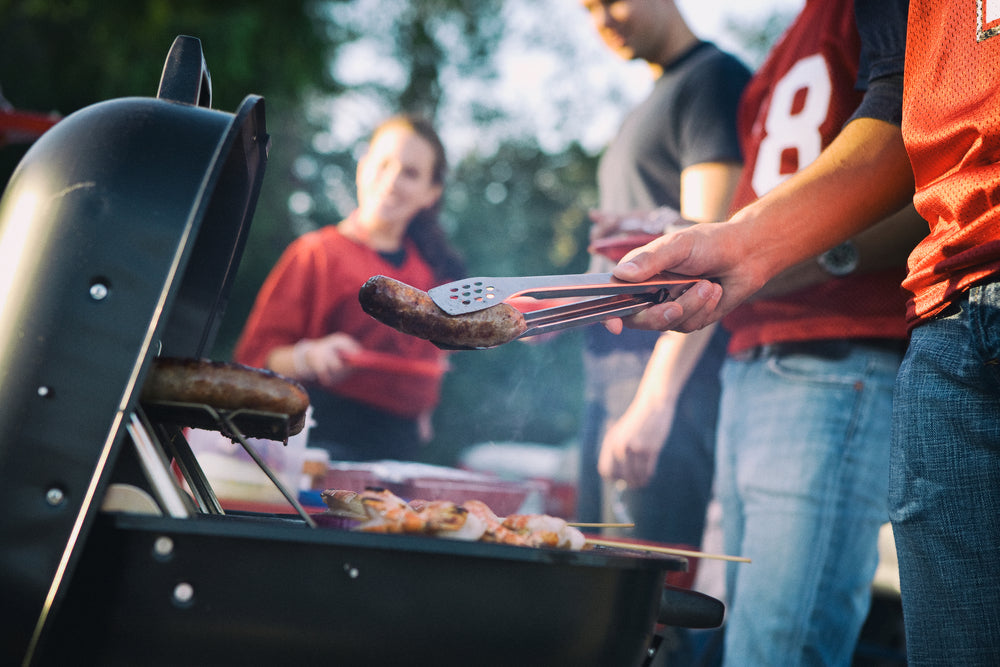 We're now in full swing of both college football and NFL seasons, so what better time to make sure that your tailgating experience is the best that it can be? Whether you're brand new to taking part or are a veteran tailgater that already has an established setup, we're going to cover everything from the basics to big upgrades you can make to get the most out of game days.
New to tailgating?
One of the biggest traditions in sports, many consider tailgating to be an essential part of the experience. For those who are new to the tradition, tailgating is essentially the pre-game festivities where everyone grills, eats, and drinks together outside the stadium before a game. The name comes from gathering around the open tailgates of cars, which typically have food and music. It's evolved to be bigger and better over the decades, with trailers, RVs, and even entire "villages" made from tents and vehicles showing up rain or shine. There's no sports experience quite like tailgating before a big game, so let's take a look at what you need to do before going to your first one (or how to upgrade an existing setup).
Tailgating essentials
There are a few items that no tailgate is complete without, and they should be top of mind when preparing your setup. Each of these is necessary to have a solid tailgate party before the game starts.
Food & drinks
First and foremost is the heart of every tailgate — the food and drinks. Grilling options like hot dogs, burgers, and wings are usually the go-to for food. We recommend sticking primarily with finger foods for simplicity and minimizing the utensils you'll have to bring. Other snacks to consider are chips and dip, pasta, sandwiches, and more. Having a cooler full of cold drinks is another staple of tailgating setups. These can be sodas, beers, or a number of other options that really depend on who you're with. Just make sure to keep the drinks cold and the food fresh!
Table & chairs
Tailgating can go on for hours, and when you consider the several hours for the game afterward, it can end up being a very long day. Tables will make it easier to organize and set up your food, while chairs allow people to get off their feet. These are essential to keeping everyone's energy up before the game starts, and help you clean and pack up.
Games
Another common sight at tailgating are the games that people play as they're eating and talking. Lawn games such as Jenga and cornhole are always great options, but don't count out other games like Spikeball, Kan Jam, or simply catch with a football. These make sure that everyone has something to do, and also act as great ways to meet new people from other tailgating groups.
Utility cart
Lastly, you'll definitely need something to carry all of your supplies to and from the game. For those with larger cars, fitting everything in your trunk might be feasible, but carpooling with others can severely limit your space. This is why utility carts, even small ones, have become increasingly popular for tailgating, and just make everything easier. Set up, organization, and storage space are improved by having a separate trailer or cart that you can put everything in and tow.
How to upgrade your tailgating setup
We've gone through the essentials, but there's so much more that you can do to take your tailgate setup to the next level. While the following items aren't something that every tailgater needs, they certainly make a huge improvement in the experience.
Grill or kitchen
Coming with premade food is great, but grilling fresh burgers, making desserts, or even your own cocktails make the experience even better. Many people bring their own standalone grills to set up, just make sure you don't forget the fuel (most likely charcoal or propane)! Having an actual kitchen setup also provides more room for organizing and preparing everything you bring, and is sure to bring over people from other groups.
Music
Speakers, whether for your game day playlist or the broadcast audio, are a crucial quality of life upgrade that immediately helps any setup. The biggest key in deciding on a speaker to use is to make sure that it's wireless and weatherproof. This will ensure that it'll work in any conditions and you can position it wherever you need.
Power
As we mentioned earlier, these can end up being long days for everyone. Having some sort of power source that you can use to charge phones and run appliances, lights, and more can be a lifesaver.
Tent or awning
Particularly for those hot August games, having shade from the beating sun is a huge relief. Tents and awnings also provide benefits in less-than-idea conditions as well, protecting from rain and helping cut down on the wind. Coverings are a great call, regardless of the conditions you're tailgating in.
Heater or fans
Another comfort factor that will depend on where and what time of year you're tailgating is temperature control. Tailgating in Buffalo for Bills games in December could probably be improved with a space heater of some sort. But for those pregaming at Cowboys games in August, fans and shade will make the summer heat a little more bearable.
Lights
For games that start in the late afternoon or evening, lights will make sure that you can continue enjoying the tailgating as the sun goes down. The flashlight on your phone will only do so much, so having more powerful lights on your setup will not only help the festivities continue, but also help you find your way back out once the game is over.
Tailgating trailer
While a utility cart can carry a few things and is a good place to start, having a more capable trailer or camper that you use for tailgating can bring the biggest improvement to your setup. Many trailers come with a lot of the features we've discussed here, and leave you with all of the room you need in your car for people, pets, and more. For instance, our Woolly Bear Tailgate Edition has you covered on almost everything you need for tailgating, all you need to bring is the food and cornhole.
Team spirit
Last but certainly not least on our list of ways to upgrade your tailgating, team spirit can come in a lot of different forms. Some might argue that this should be an essential, but for the casual tailgater who might just be getting started, they might not have a team yet. It also varies widely how fans go about their team spirit, from branded vehicles to simply having jerseys and everything in between. The more items you have to show your team spirit, the better!
Full checklist of supplies
Now that we've gone through the top considerations for your tailgating setup, here's a full list of everything we've discussed and more, so you don't forget anything on game day:
Food options (typically finger foods)
Condiments
Grill and charcoal or propane for fuel
Kitchen utensils and supplies (tongs, spatulas, etc.)
Plates and napkins
Drinks
Cooler(s)
Plastic bins for organization and trash
Cleaning supplies (gloves, wipes, hand sanitizer, etc.)
Tent or awning for shade
Folding table(s)
Foldable chairs
Lawn games (cornhole, Jenga, etc.)
Portable speaker (preferably weatherproof)
Sunscreen
Team gear and colors (flags, banners, napkins, etc.)
Generator or other source of power (preferably with outlets for chargers)
Heater or fans (depending on your weather)
Blankets for cold weather or night games
Lighting for night games
Not everyone will need all of these, but using this list as a guide for packing and preparation will make sure that you never leave something behind.
Habitats for anything outside
The best way to take a huge leap forward with your tailgating experience is with an upgrade like TAXA's Woolly Bear. Not only does it come with features like a fridge, grill, cooking set, awning, wireless and waterproof speaker, TV mount, plenty of storage, and much more, but it's customizable to your team's colors. Truly the key to your ultimate tailgate setup, it even stores in any standard garage for the offseasons.
Not just limited to tailgating, these rugged habitats and campers are great companions for almost any outdoor or adventurous activity. From camping and nature photography to tailgating and festivals, they're adaptable to much more than just hiking or staying in a tent. Learn more about the Woolly Bear habitat or our financing options today!