What Size Camper Should Your Family Get?
By TAXA Habitat Specialists \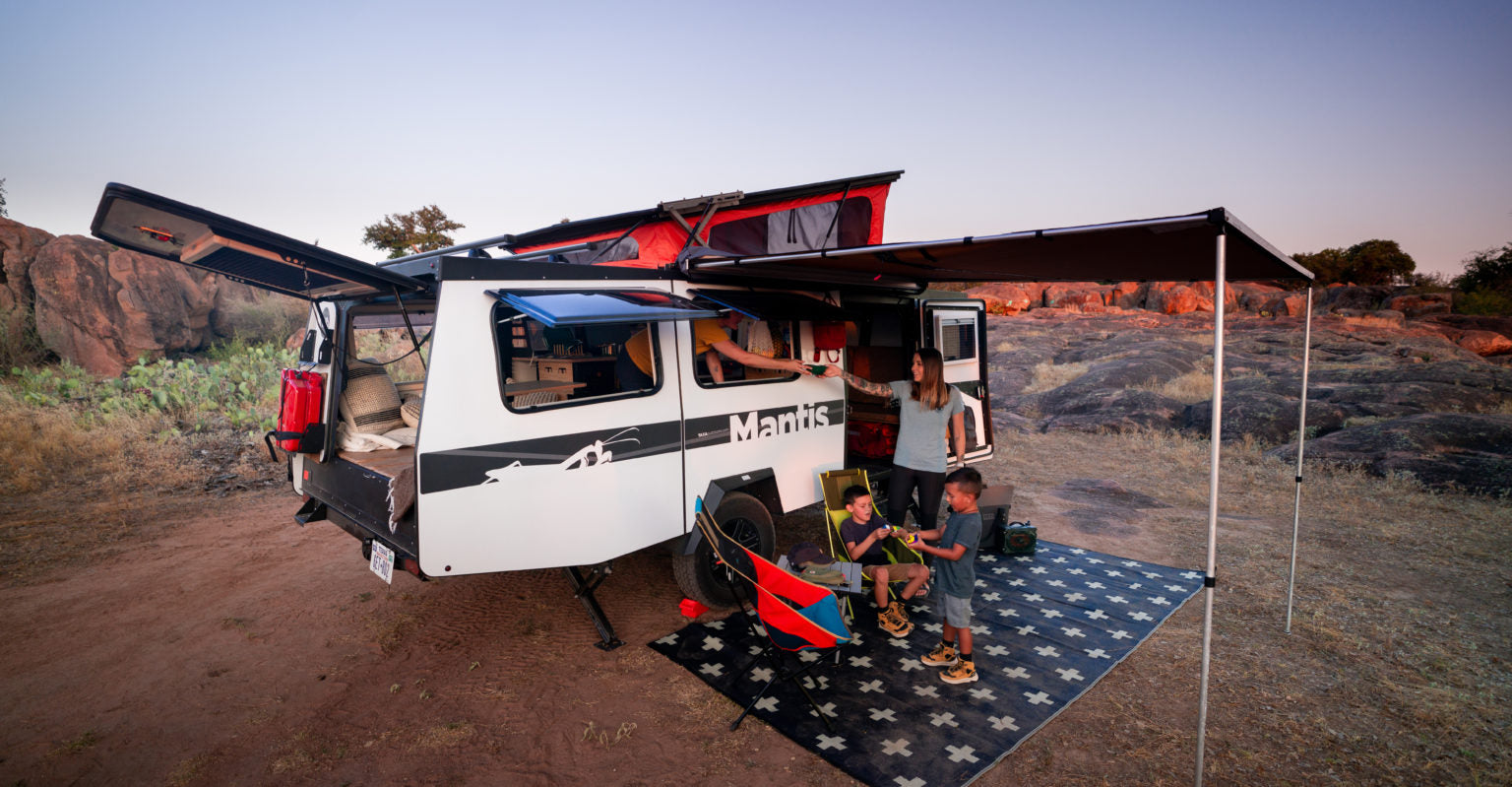 An informed buying decision could be the difference between a restful stay with the family at a campground, or an abrupt end to festivities. Finding the best RV for your family requires careful consideration of key elements before settling on a purchase. Whether planning a weekend getaway or a road trip, a camper trailer with bunk beds for kids, places to store toys or games, and a family dining space can make any trip more enjoyable.
Family adventure vehicle sizes
Determining the ideal size of a camper or trailer for your family is a key consideration when embarking on your outdoor adventures. The right size for your family will depend on factors like the number of people, the ages of your children, and the specific activities you're planning during your trips. Here are some guidelines to help you find the right size trailer for your family:
Small & compact campers (under 20 ft)

Best for:

Small families/couples or those seeking a compact and maneuverable option.

These trailers typically accommodate two to four people comfortably and provide essential amenities such as storage space, a sleeping area, small kitchenette, and sometimes compact bathroom facilities. They are

easy to tow and maneuver

, and are suitable for families who prioritize sleeping arrangements and basic living necessities. For example,

Cricket

is just 15ft long but can have two hanging berths for children to sleep, expanding the capacity to four people.

Medium campers (20-30 ft)

Best for:

Families with more members or those desiring additional space and amenities for comfort and convenience.

Mid-size trailers can comfortably accommodate four to six people and offer expanded amenities such as more storage, larger sleeping areas, a fully equipped kitchen, and a bathroom with shower facilities. They're still relatively easy to tow, and provide a more spacious environment for eating, playing, and relaxing inside the camper.

Large campers (over 30 ft)

Best for:

Larger families or those who prefer ample living space.

These trailers, measuring 30 feet or more, often come with separate sleeping areas, a spacious living and dining area, a well-equipped kitchen, a full-sized bathroom, and lots of storage space. Some models also feature slide-outs or expandable sections, providing additional room to stretch out during extended trips. However, it's important to be mindful that they're

more difficult to tow and maneuver

, and can encourage campers to stay inside rather than enjoying the destination.
It's also worth mentioning that some trailers use their space more efficiently than others, so review floor plans carefully while considering the sizes of potential trailers. We recommend taking the time to review multiple options and consider finding a versatile camper that embraces the essentials while taking a clutter-free approach to interior design. Plus, certain travel trailer options feature extendable and collapsible designs which save on weight while adding to the overall interior space.
Headroom & open designs
Often overlooked aspects when reviewing camper floor plans are the maneuverability of the layout and interior vertical height – both play significant roles in camper livability. Look for campers with ample room for family members to maneuver around each other, especially in spots like the dining area and kitchen. To avoid ducking while moving around your camper, you can look for adventure vehicles with rooftop pop-up features. Both Mantis and Cricket showcase open and expandable designs that can accommodate taller family members.
Also, you can even find travel trailers with large bay doors that allow you to make the surrounding wilderness part of your living space. An open-design family camper is less likely to trap unpleasant odors compared to an encapsulated design. Moreover, moving freely between outside activities and your camper's interior helps make packing, cooking, and getting rest easier throughout the day.
Bed sizes & capacities
Comfortable sleeping options ensure restful nights for everyone at camp. The ideal travel trailer for a family typically offers a spacious bed for parents and a smaller bunk or convertible bed for the kids. Consider your family's preferences and needs when assessing bed sizes and floor plans. Some examples of bed arrangements for family travel trailers are:
Hanging bunk beds

- these are perfect for kids and smaller individuals – the minimalist and efficient bed design helps to save space during the day.

Standard bunk beds

- even in large family trailers, bunk beds average around two feet in width and about six feet in length, making them suitable sleeping options for most family members.

Full bed with storage

- larger trailers usually have a full-size bed with storage underneath to keep cargo safe during transit.
Family-friendly amenities
Although most campers for families have a variety of amenities, try to cover the bare essentials without going overboard. A few key amenities to look for include:
Other features to consider
Remember to prioritize your family's unique needs and preferences while exploring different camper trailer options. For example, suppose some family members are more susceptible to cold temperatures and you plan to camp in colder months. In that case, a smaller camper with adequate insulation might be cozier than a larger camper with more space. Other considerations for features to look for in a family travel trailer are:
Workspaces

-

working while camping

or finishing school assignments is more enjoyable with a designated workstation and desk.

Air conditioning

- an

AC unit adds extra comfort

to a family vacation, especially when faced with high humidity or a lack of shade. In general, smaller campers are easier to insulate and cool than overscaled options.

Solar power convertibility

- families that have to use more power can save money on campground electrical hookup fees by being more self-sufficient with

solar power

. 

Storability

- typically an afterthought, but ensuring your family's RV

can fit in your garage

or driveway can save you from accumulating pricey storage fees.

Upkeep costs

- a smaller family travel trailer is typically less expensive to

find replacement parts

for and repair than a large RV.
Try out a family travel trailer today
Are you stuck in the forest of indecision, trying to find a path to the right purchase? Thankfully, a TAXA guide is just a click away and ready to help you make an informed choice in finding the right travel trailer for your family. They can impart their years of
camping
and
trailer boondocking
knowledge in minutes over the phone or via chat.
Call a TAXA guide or schedule a meeting online today!