A Checklist For Life on the Road in your Habitat
By TAXA Habitat Specialists \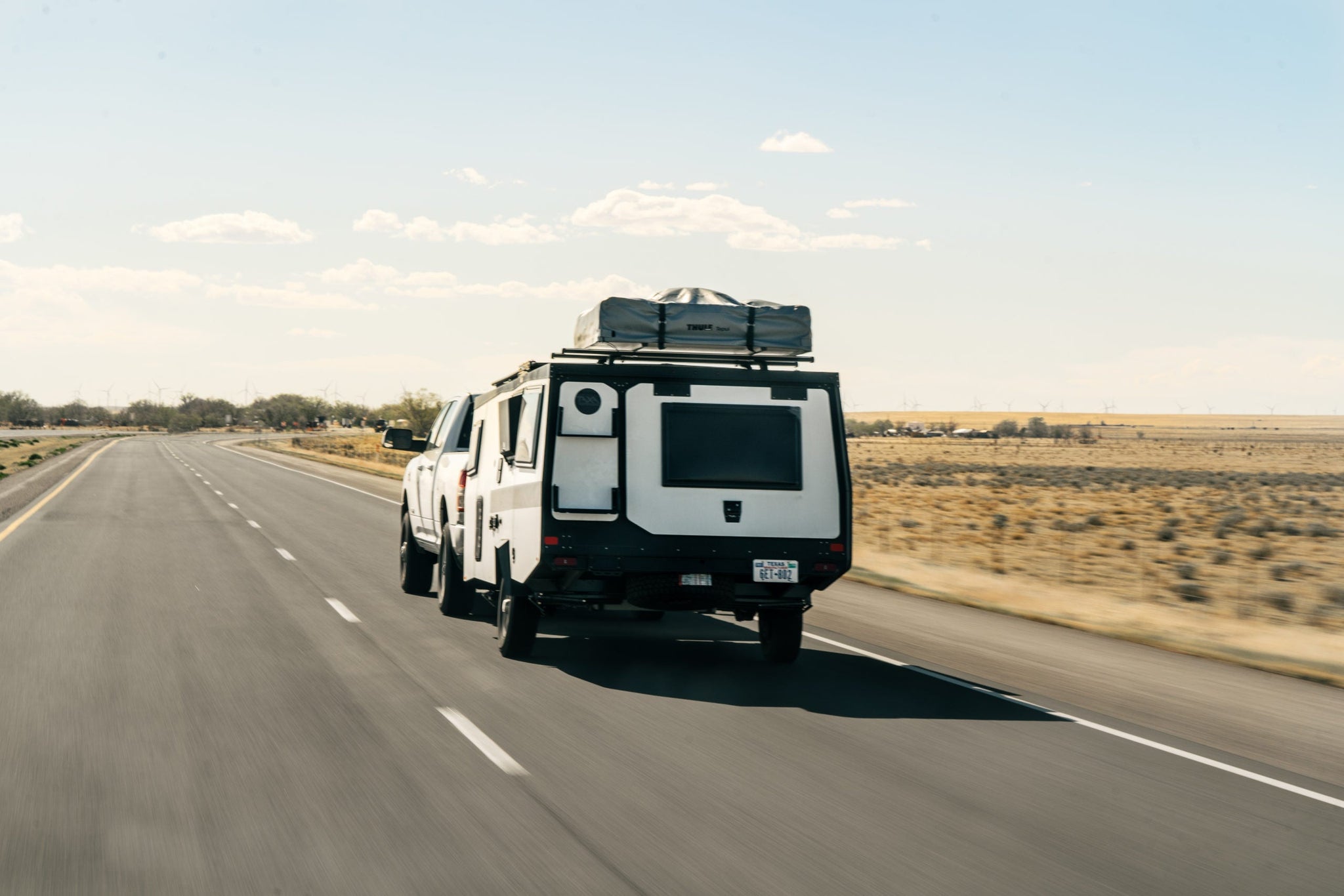 Packing for a road trip shouldn't be stressful and time-consuming. TAXA is founded on the ethos of less is more, and while it may feel as though you need to take your entire house into your habitat, we promise it will be a more meaningful experience with only the essentials. We at TAXA have put together essentials in a curated checklist for life on the road in your habitat so you can think less about packing and more about adventuring.
Essentials Checklist for Life on the Road
We can all agree a good night's rest is essential for having fun, so make sure you have the perfect night's rest with a sleeping pad! Most TAXA owners agree that one of these options provide as good of a night of rest as their mattress at home. Options may be found at REI and Amazon.
Working on the Road Checklist for life on the Road
Maybe you were looking to escape screens while on the road, but zoom meetings and endless emails are calling for your immediate attention. That's okay– check out these gadgets! Working from your habitat can be as easy as 1- 2- 3.
2. Power systems: Adapter
We understand the importance of having your devices charged. Not only do you get to take your calls with ease, but you also save yourself from the frantic search when your device is running on its last 2%. This is where the adapter comes in. Charge your phone with ease, and leave your technology worries behind!
Learn more about TAXA compatible power systems from a TAXA Explorer.
3. Charging block
Are you planning to embark on a long hike? Or perhaps your camp spots are without power hookups? This charging block will keep all your devices charged. Charge your phone, camera batteries, or even a handheld fan all at once.
4. Lightweight Compact Camping Chairs
There's nothing better than finding the perfect spot, looking over the horizon, and enjoying the epic views. You'll never want to leave your perfect spot if you're seated in one of these lightweight compact chairs that are perfect for packing. Amazon and Helinox have a wide range of selections to choose from.
5. Sand towel
The more time outside the better while on the road, make sure you pack the perfect sand free mat to keep the dirt away from you so you can enjoy water resistant, sand free, quick dry time, and ultra durability. What more could you ask for in a camping mat?
6. Hand held vacuum
Just because you're camping doesn't mean your habitat can't be kept clean. Staying tidy is an important consideration for your checklist for life on the road. In the event you need to clean up between the nooks and crannies of your habitat, a handheld vacuum works fantastic! This is especially useful if you are travelling with children, or if you plan on being on the road for a long period of time. Here we have two options: Dyson and Hotor
7. Shower/Bathroom Pop up tent
Finding privacy outdoors can be quite tricky, and sometimes all you want is a quick shower. Having a portable privacy shelter is crucial when you're planning to be on the road, and it is versatile for your various adventures: Dressing room, shower, sun shield, etc. Plus, these are easy to set up and teardown.
8. Hammocks
The perfect accessory for hanging out can sometimes be as simple as a hammock clipped between two trees. Did you know our Mantis can fit a full-sized hammock? These lightweight options are a great way to enjoy nature with family and friends. We included kids-sized hammocks for your little campers, too!
9. Bungee net
With influences from his time at NASA, Garrett designed TAXA habitats with connection points in mind. These points can be found throughout the unit, and can be used to hold a hammock or bungee nets. This is the perfect addition to tuck an extra blanket, pillow, or hold other items in place.
Campfires and Stoves for Your Checklist for Life on the Road
10. Folding campfire grill
Your habitat comes with a two-burner stove but for those days that are too beautiful to cook inside, we recommend a SNOW PEAK portable grill. This is great for cooking your catch of the day, making bacon, or grilling sausages for breakfast. The folding design also makes it easy to pack flat for storage and carry to your next destination. Budget-friendly options may also be found on Amazon.
11. Camp Fire Options: Solo Stove – Ranger
It's not camping unless you have a campfire going, so we sought out the easiest to pack and clean option. With a Solo Stove, a roaring flame can be achieved nearly anywhere: campsite, beach, or open roads. Perfect to roast marshmallows for that s'more you've been craving all day.
12. Brake Controller: Echo brakes
We love the Curt Echo brake controller, it's simple installation and easy to use app make it perfect for the road. With the Echo trailer brake, you are able to control and monitor trailer brake activities right from your smartphone. Even if Bluetooth gets disconnected, your brake controller continues to function with the most recently programmed settings.
13. Wheel chocks
Safety should be a priority when putting together your checklist for life on the road. To secure your habitat for the duration of your stay, we recommend using wheel chocks. These fun, brightly colored chocks means you'll never lose them on a trip.
14. Solar Panels: GoalZero
If you're going off-grid, power sources can be difficult to locate. But that's what the sun is for, right? There are lots of options on the market. Here we have a 20-watt foldable solar panel that packs flat and is lightweight, so you can move it to where the sun is most intense.
15. Solar Panel- SAE Connector
With TAXA habitats, some portable solar brands need to be adapted to work with the SAE solar plug. Portable solar panels will still need their own charge controller.
16. Electrical Cord
Remember if you want to connect to shore power while on the road then you'll need an electrical cord. A 15 AMP to 30 AMP pigtail is provided with Mantis, Cricket and TigerMoth, so you just need an extension cord!
17. Water hose
Do take advantage of available water sources, and remember to bring a water hose. Whether you're connecting to the campsite water hookup, or filling your fresh water tank for off-grid adventures, you'll never risk drying up.
One of the inconveniences of camping involves deciding where to handle your business. Portable toilets are a great way to solve this issue! With the Dometic 976, your hygienic comfort is guaranteed nearly anywhere in the world. Its compact and powerful design allows it to be stored easily, so you have ample space in your habitat to enjoy your adventure.

We can't wait to see where your next adventure takes you. If you liked our checklist for life on the road, check out our Amazon Page for more helpful accessories!