No Reservations Needed
By TAXA Habitat Specialists \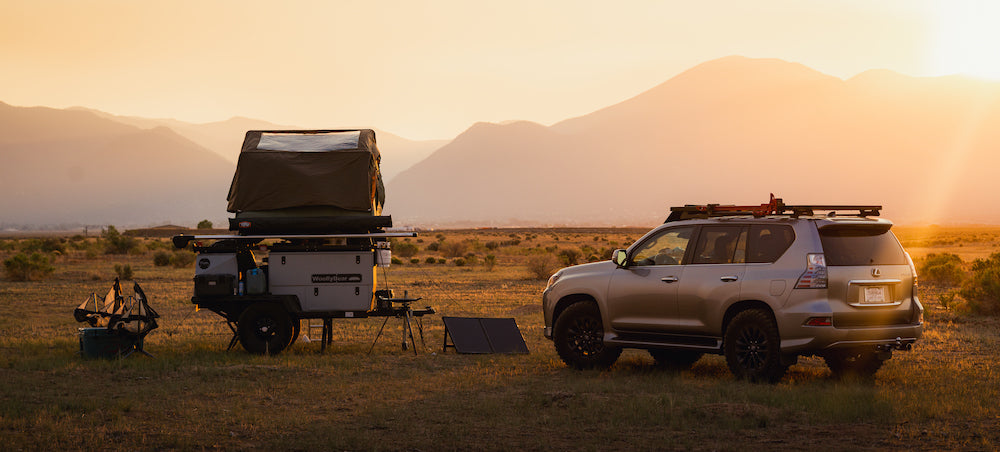 As a result of the current restrictions and precautions around travel, 2020 has unofficially been named the year of camping vacations.
We're big believers that out is in, so we're thrilled that more folks will be adventuring in the outdoors this year. But with more people camping, snagging the best spot for your habitat gets a bit more challenging. Or, it would be if TAXA habitats weren't so well equipped to head off the grid.
Pre-wired solar inlets and a 12V battery system allow your habitat to be self-sufficient, that is to say, no electrical or water hook-ups are needed! TAXA habitats are built to take you further down a dirt road and depending on use, can last anywhere from 2-3 days off grid to upwards of 2 weeks.
Turns out, off-grid camping may just be the answer to getting away from the crowds at established campsites – no reservations needed
Off-grid camping (also known as dispersed camping, boondocking, or dry-camping) refers to camping in non-developed areas. This generally means no amenities like showers or restrooms, no access to potable water or picnic tables, and often times no fire rings (a portable fire ring is great for this reason, but be sure to check fire restrictions and permit requirements). You pack in and pack out everything, and roads to these places can be rough and unmaintained.
One of the best spots for camping off-grid are public lands – beautiful, often secluded places that allow camping in dispersed areas outside of established sites. Though sometimes challenging to find, they are free to use! The two major types of public lands for camping use include National Forests and BLM areas. As each type of land is unique, and not all public lands are suitable for camping with your habitat, do your research to find spots that work for you!
National Forests
US National Forests + Grasslands are excellent for dispersed camping. Public lands managed by the Forest Service, National Forests typically allow you to camp within their boundaries, unless otherwise marked. The rules for dispersed camping in each national forest are different, so you should always check ahead of time.
Spots along forest service roads and pullovers are great for habitat camping, but locating them can be a time consuming task. Always check the local regulations for camping by either stopping in at the nearest ranger station, or calling ahead before you arrive. The National Forest locator is a good tool to get you started.
BLM (Bureau of Land Management)
Similarly, BLM land can be utilized for dispersed camping. Found mostly in the western United States, the public lands are made up of a lot of open desert landscapes. As BLM manages land for a variety of uses (including recreation!), cattle grazing, logging and resource extraction also occur. We suggest a bit of research ahead of time to determine suitability for camping.
Finding BLM land is a little harder than National Forests, as they aren't typically marked on maps. You can use the Public Lands app to find locations of BLM land. The app also offers information on which agencies manage the land, and which field offices you should direct questions to.
In addition to checking local regulations for camping on public lands, remember to be a good steward of the outdoors and practice the 7 Leave No Trace Principles.
7 Leave No Trace Principles
Resources for finding established + off-grid campsites
The Dyrt
Yelp, but for campgrounds.
Read reviews on campsites from previous campers. Find and reserve the right campsite for you, whether that is in an RV park or in a dispersed camping location.
Hipcamp
Bookable campsites on private + public land.
With over 300,000 unique camping experiences, Hipcamp allows you to book ranches, farms, and vineyards, as well as public sites for camping across the U.S.
Campendium
Crowdsourced campsites across the United States.
Crowdsourced information, with lots of reviews for finding the best site. With a section dedicated to free camping, there is a plethora of information, including photos and GPS coordinates. However, bookings are made through external links – campsites are not bookable on Campendium.
Boondocking
A tool for finding free remote campsites.
Helpful in finding free off the grid campsites across the U.S., the app is aggregated from an online database/public forum of boondocking spots searchable by GPS coordinates. Additionally, information on each site and multiple map types appear for the majority of listings.
Recreation.gov
National Parks
Useful for finding and reserving camping in established campgrounds in National Parks.
Reserve America
State Parks
Good tool for reserving spots at established campgrounds in State Parks.
---
We all have a shared responsibility to care for these places and ensure they remain for future generations to enjoy. Lead by example and join us in learning how to recreate responsibly.
Don't forget your downloadable camp packing list.