Woolly Bear - A Family Affair
By TAXA Adventure Specialists \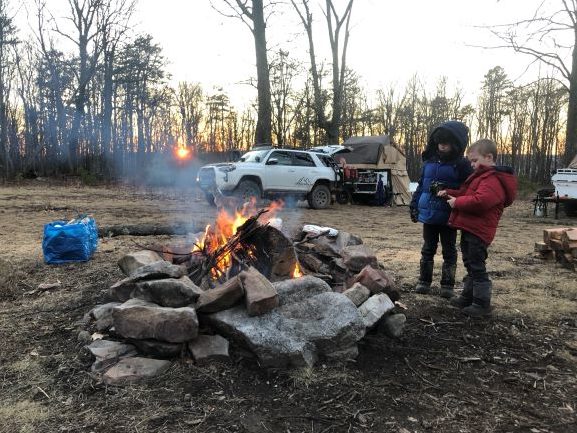 When TAXA Outdoors designed the Woolly Bear habitat, we're sure they had family in mind, just like they do with all of their habitats. However, the compact size of the habitat likely deters some families from considering it as feasible. Among some of the obvious reasons to choose the Woolly Bear such as storability, light weight, and fair price point, we'd like to highlight how the Woolly Bear is well-suited for families.
Our family unit consists of Mom, Dad, son (9) and son (7), and dogs Frost and Jingle. The boys were 4 and 7 when we purchased our habitat. How do we fit six bodies in our Woolly Bear? We are often asked that question when stopped for gas. "Do you sleep in that thing?" "Where's all your stuff?" "What's that thing on top?" That "thing" on top is a large roof top tent! And we sleep INSIDE of that! Then we politely explain that the "white box" is for storing gear and kitchen equipment. Let me break down essentials that contribute to our family camping experience.
First – sleeping quarters. Probably the most important item! TAXA Outdoors offers Woolly Bear options with roof top tents, typically a 2- or 3-person roof top tent. Our particular roof top tent was sourced prior to our trailer purchase having been previously on our vehicle and is a 3+ tent with extended vestibule, CVT Mt. Rainier. We opted to install it directly at the roof rack level on Rhino Rack cross bars rather than the riser option. This puts it at easy-to-access open/close height for my 5'4" stature. When the boys were smaller, all four of us could squeeze in together. As they got bigger, we moved them to cots down in the annex room which zips on the bottom of the roof top tent. This has been great in colder weather when we can use a portable tent heater. The annex we purchased is about 8'x8′ at the footprint and provides some standing room height and plenty of room for two kids on cots, dogs, and some gear to be out of the weather. It is important to note that bedding can be stored inside the RTT which means that is one less thing you need to store in the trailer or in your vehicle, allowing more room other things. We do keep the cots in the trailer since they cannot be stored in the RTT. The annex room attachments are also large when packed up and can fit in the trailer's driver-side storage compartment or in the open storage area. Selection of a roof top tent is essential for camping with kids! Make sure to select one big enough for your growing family with various options for the terrain and climate you plan to camp in.
Second – activities! To keep your sanity, bring plenty of un-plugged activities to keep kids occupied! We keep a variety of card games in our kitchen. We also have one smaller tote box in the storage area under the kitchen with dedicated "camping" toys such as some beach shovels, balls, coloring books and crayons, moveable action figures, and matchbox cars. This box gets rotated out once or twice a season to keep the activities fresh. We keep an eye out at the dollar stores for cheap activities as well. Do not bother spending a lot of money on dedicated camp toys. Sticks are a kids' best friend – you will be amazed at the imagination that blooms when they find a good stick! The Woolly Bear's hitch mount at the rear has also come in handy for bringing their bikes on a hitch bike rack for some trips. As a last resort – the two USB and one AC plugs in the kitchen can keep devices charged for movies and video games.
Third – clothing attire. Due to changing weather conditions in the high country of Colorado, we invested in some puffer coats for the family which can be packed up small and are permanently stored on the trailer. We also purchased a few emergency rain ponchos which live in one of the storage boxes in case of rain. To pack clothes and keep them organized, each family member gets a mesh packing cube. We each have a different color. For a two-night weekend trip, usually one of the smaller cubes is adequate for each kid. Since we do not use the drawer slide out on our Woolly Bear for a cooler or fridge, we use it like a sort of family dresser and keep our clothing organized in the packing cubes there. It is accessible to everyone from the outside, making it easy to quickly grab a change of clothes or an extra layer. For kids, we find it is best to pack at least one extra pair of socks and underwear, and an extra outerwear layer like hooded sweatshirt in addition to normal clothes. Woolly Bear for the win on organized clothing storage!
Next – food! KISS – Keep It Simple Stupid. Just kidding about the stupid part. But really, you are not camping to prepare gourmet meals that the kids just will not eat. There is no microwave for dino nuggets either. Keep it simple with instant mac and cheese, cereal and shelf-stable milk boxes, good ol' PB&J, and hot dogs they can cook over the fire. Extendable roasting forks (Amazon or Walmart) stash away in the kitchen and give each kid the opportunity to participate in preparing their own food. The roasting forks also double for s'mores! Most of our dry goods food storage is in plastic bins sourced at Target in the lower storage compartment under the kitchen. We also keep a full assortment of accessible snacks such as dried fruit, granola bars, Goldfish crackers or Cheez-Its and fruit snacks in a small tote box on the seat between the boys in the vehicle. When they can grab their own snacks, it means more sit and relax time for Mom and Dad. The tote box is so that the snacks do not get crushed (and keeps the dogs and other critters out).
Chairs. We found that it was not worth it to invest in super comfy expensive chairs for the kids because, let us face it, they barely even sit in them!! A few options we have tried include lightweight packable pole chairs, tri pod stools, and even loveseat chairs for campfire snuggles. Each of these three options packs well in the trailer storage and is simple enough that they can set it up and break it down on their own. Again – keep it easy, involve them in the set up and break down chores, sit back and relax!
We have covered all the basics: shelter, clothing, activities, food, and furniture. With the vast amount of storage space on a Woolly Bear trailer and some creative storage hacks, it is possible to travel with this little swiss-army-knife of a habitat and bring the whole crew aboard with no space wasted. As you can see, kids having fun are a big part of having an enjoyable family camping experience and you too can enjoy camping with your family and take all the things in your Woolly Bear. Now go have fun and make some memories!