How To Prep for a Tropical Storm in Your Travel Trailer
By Alexis Chateau \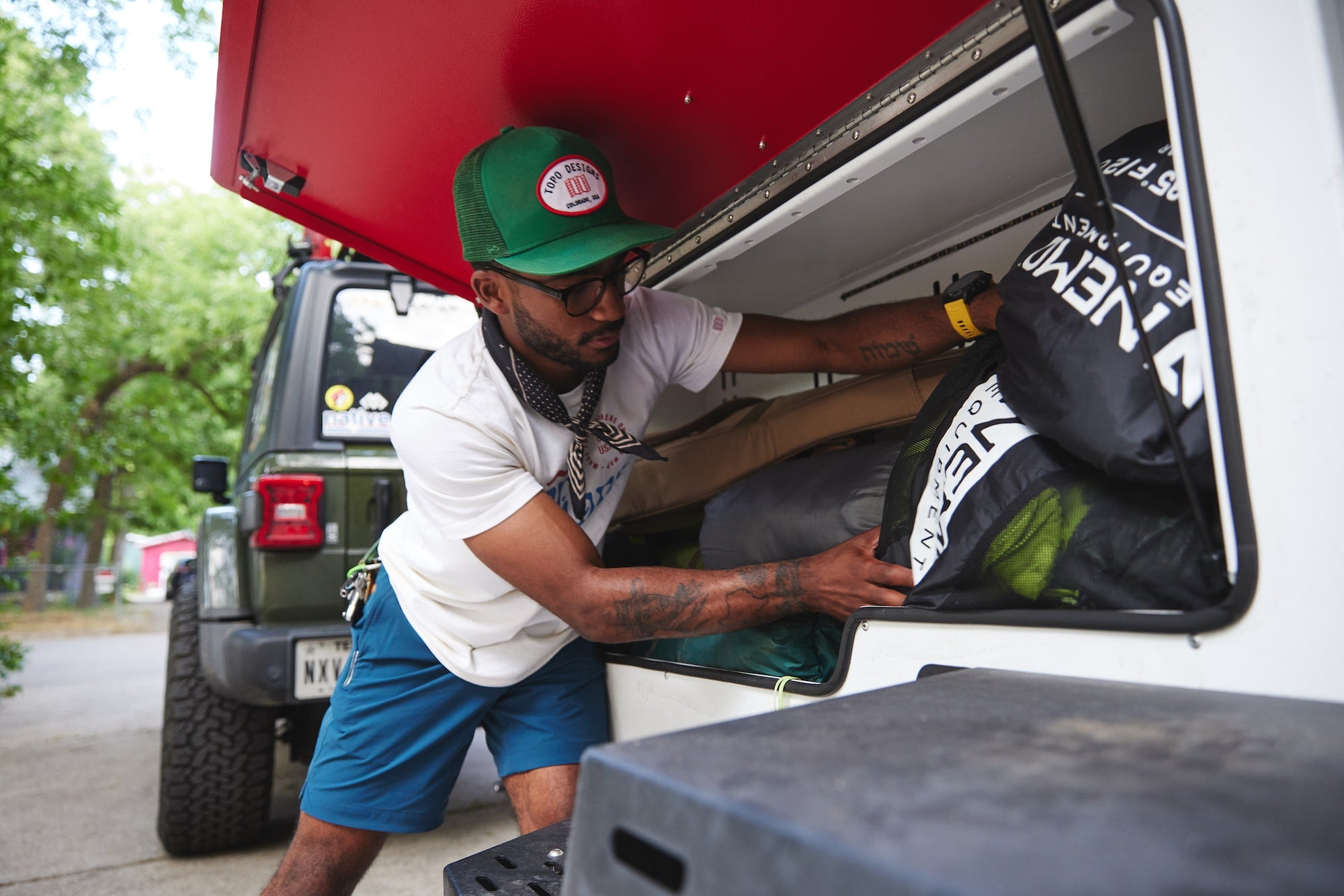 A few weeks ago, I woke up to a weather alert on my phone. Hurricane Kay was on her way! The supermarkets in Sonora were more packed than usual, but that was the only indication that trouble might be afoot. The storm weakened, but winds picked up at 40 miles per hour the following day. Soon, my FJ Cruiser was sitting in three inches of water. So, how do you prep for a tropical storm in your travel trailer?
Leave If You Can
This May, wildfires broke out across New Mexico. It was the state's worst wildfire season in years, and the actual season hadn't even started yet. Concerned tweeps reached out on Twitter to find out if I was still in the Land of Enchantment. Someone responded:
I mean, she has a house on wheels. Won't she just leave?
I laughed when I saw the comment, but they made an excellent point. When natural disasters give forewarning and you have a vacation home on wheels, you can leave. If you don't think your travel trailer can handle what's coming, pack up and head somewhere else.
I chose to stay. This wasn't my first storm in Mexico, so I knew how the area I stay in handles heavy rainfall.
Ensure You Have Supplies
Next, you'll need supplies to hunker down during a storm. Stock up on non-perishable food items, water, batteries, and first-aid supplies. If you have pets, make sure you have enough food and water for them as well.
You might also want to look into the supplies your RV needs. For example, you might need to fill your freshwater tank and get propane. You might also need gas or diesel for your tow vehicle. The last thing you want is to join long lines at the gas station if you need to head out.
Complete Repairs and Maintenance
If you're staying, it's time to get your rig ready for the storm. Check your seals and any weatherproofing done by the manufacturer. If something needs fixing, now is the time to do it. This is also an excellent time to ensure your appliances are in working order. Tropical storms can turn minor problems into big ones, so resist the urge to procrastinate.
Sometimes, you'll need to find short-term fixes for problems you discover. For example, if you find a leak, you might need to seal it with rubber sealant until you can get the issue resolved by a professional.
Pack Up Your Outdoor Gear
You might not need to bring everything inside, but you should check for things that might not do well sitting in water. More importantly, look for items that might take flight in the wind. Naturally, my solar panels were first on the list to come inside. Here are some additional things you might want to bring inside:
Shower tent
Camping chairs
Foldable camping tables
Pet leashes and harnesses
e-Bikes
If you have a pop-up roof on your camper or an outdoor awning, bring them in or take them down. On that note, staying inside a rooftop tent during a tropical storm or hurricane is risky business.
Find Your Wind Blockers
If you have to leave your trailer in a hurry, what are your options? Know the answer to this question before the storm hits.
I occupy a corner lot on premises with concrete walls that extend more than six feet high. This is taller than the FJ Cruiser but shorter than the RV. Still, it's high enough to block the wind from two sides. An absent neighbor had parked her fifth wheel directly across from me, where yet another wall existed. If you aren't currently parked in a spot with convenient wind blockers, move to one.
These might seem minor, but they made all the difference when the winds came. Sustained winds at 40 mph don't feel like much in a house, but you'll feel it in a travel trailer. I woke up at 4 am to the RV shaking side to side. I stayed up for an hour and then went back to bed.
Look for Hazards
The same concrete wall protecting me from wind could become a hazard during heavy rains. In fact, one retaining wall at a storage facility here capsized and took an RV down with it just weeks before this tropical storm. Usually, I park against the wall, but this time, I had parked a reasonable distance ahead to make way for sun-free space on the backend. This now gave me room in case it toppled.
I also looked around for palm trees, light posts, and powerlines. I was fortunate enough to have none of these hazards around the area I occupied. The sea is another hazard worth considering. I chose to stay at an RV park across from the beach―not directly on it. This also benefited me.
Why? That sea swelled with heavy wind and rains and came right in. Several buildings and RVs along the shoreline suffered damage. Always consider water sources when you prep for a tropical storm in your travel trailer.
Prep Your Backup Systems
We all remember New Year's Day 2021 well in Puerto Peñasco. We rang the year in with heavy rains that took out the electricity and the internet. When the lights went out, I didn't worry. I had battery power in the RV and my solar generator in the truck. Well, the joke was on me. There was too much water outside for me to get the generator from the FJ.
So, now I keep the solar generator inside the RV. When I saw the weather alerts, I plugged it in to top off the battery. Surprisingly, despite being a much worse storm than the one we experienced on New Year's Day, we didn't lose electricity. Nevertheless, having the solar generator inside was good peace of mind.
What backup systems do you have? Do you have a gas generator or a solar one? How much water does your RV keep onboard? Will your fridge run on battery power or propane if you lose electricity?
Plan Your Escape
I am friends with the manager of the hotel right next to me, so I knew I could get a room if things worsened. Thankfully, the storm caused no problems that required me to evacuate my travel trailer. However, the following day, the electricity on my lot went out. The heavy rains had gotten into the box and caused damage.
Because I had an escape plan, I was able to call up the manager and get a complimentary room for my adventure kitty and me. Temperatures had returned to the 90s with 80% humidity after the storm, so there was no way we could have remained in the RV with no central air. The repairman fixed the electrical problem by the following morning.
Now, you know how to prep for a tropical storm in your travel trailer!
Tropical storms can put a damper on your travel plans, but most travel trailers hold up just fine. The two keywords are preparation and positioning. If you can master these two essential aspects of tackling a tropical storm, you'll come out with great memories and a fun story to share.
That said, always assess the risks carefully. No one knows your rig better than you do. Tropical storms also tend to increase in strength and could become hurricanes overnight. So, if it doesn't feel right or you worry you could get trapped or flooded, head home or find a new camping spot.
A great way to get a feel for what to do is to talk to seasoned RVers accustomed to tropical storms in that area. They can provide guidance on how to prep for a tropical storm in your travel trailer. Some might even let you move your rig close to them to block the wind. Finally, check the weather reports for recommendations or evacuation warnings.
Whatever you decide, be safe and enjoy the adventure! Need ideas for what to do while it rains? Check out: How To Spend Rainy Days at Camp.