Here's Why Pop-Up Trailers Give You Better MPG
By Alexis Chateau \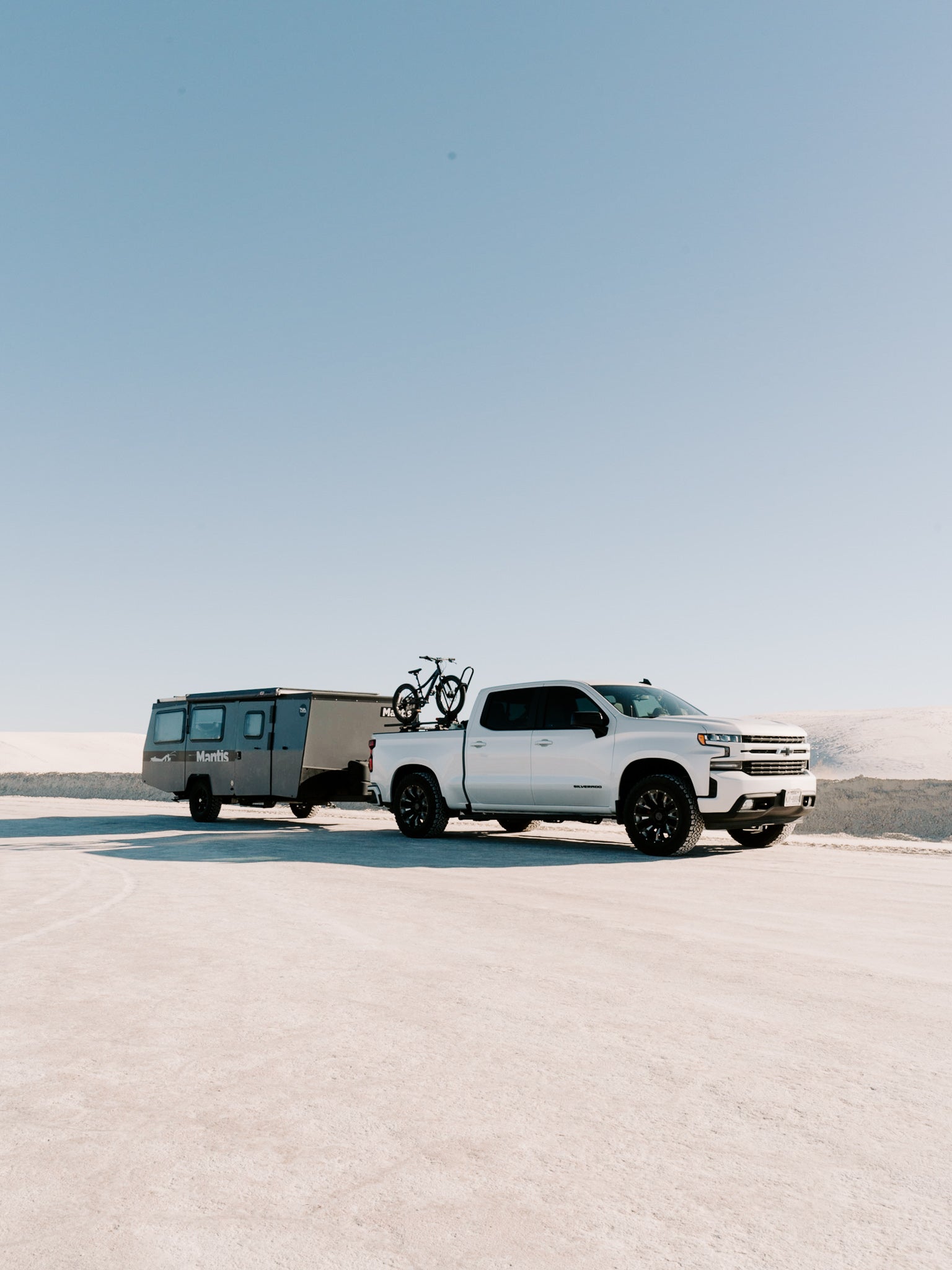 Do you love camping but dread the thought of packing all of your gear into a small tent? Sounds like it's time to upgrade to a travel trailer! Pop-up trailers are becoming increasingly popular because they are easy to set up and provide more living space than traditional tents. But, what many people don't know is that pop-up trailers also offer better fuel economy when compared to other types of campers.
As gas prices soar in America, purchasing a pop-up travel trailer could become a game changer for your RVing goals. So, is a pop-up camper the right option for you?
What Is a Pop-Up Trailer?
A pop-up trailer is a towable RV you can collapse for effortless towing and storage. Pop-ups are lightweight and easy to tow, making them an excellent option for smaller vehicles. When you reach your destination, simply set up the camper by expanding the roof, and voila! You're all set.
Why Do Pop-Up Trailers Provide Better MPG?
When I first considered purchasing an FJ Cruiser, my greatest fear was that gas prices would climb, and I would be priced out of traveling. My Big Boy Samson is thirsty. But, even people with more fuel-efficient vehicles are starting to feel the burn of those gas and diesel prices. So, how does a pop-up trailer help?
Aerodynamic Design
Pop-up trailers offer better mileage per gallon because of their aerodynamic design. When you're driving down the road, the last thing you want is for your camper to be causing drag for your vehicle. That's where a pop-up's sleek design comes into play:
Pop-ups are much shorter than regular RVs and could even be shorter than your vehicle. This significantly reduces wind drag.
Pop-ups often tend to be much narrower than the bigger trailers on the road. This also contributes to less wind resistance.
Designers have more room to slope the roof at an angle for taller pop-up campers. This allows the wind to flow over the top of the trailer with less resistance.
Lightweight Construction
Another reason pop-up trailers offer better mileage is their lightweight construction. Most pop-ups weigh between 1,500 and 3,000 pounds, which is considerably less than other types of RVs. Lighter trailers are easier to tow and save you money on fuel. By eliminating unnecessary bulk, pop-ups provide a much easier towing experience.
The TAXA Cricket is the perfect example of this. At just 15 feet long, it is one of the smallest pop-up trailers and weighs just 1,753 lbs when empty. But don't let its size fool you! It's still packed with all the amenities you need for a comfortable camping experience. You can cook and dine inside, and you even have room for a portable toilet.
Better Sleeping Capacity
Pound for pound, pop-up trailers can usually sleep more people than travel trailers of a similar size. Pop-up campers often include designs that either pop out an extra bedroom on the side or add one to the roof. This reduces the need to buy a bigger and heavier trailer compared to a regular camper of the same sleeping capacity.
The TAXA Mantis is a perfect example of this capability. It sleeps two adults and two small children in its standard configuration, but it can accommodate two additional adults with the optional roof-top tent.
What Else Can You Do To Improve Towing MPG?
Towing a pop-up is the best way to get more miles for less, but it's not your only option. Here are a few other tips to consider for improving your towing MPG.
Tow With a Smaller Vehicle
People are often impressed that my Toyota FJ Cruiser has a towing capacity of 5,000 lbs. It is not the biggest and baddest tow beast on the road, but my Big Boy Samson handles my 22-foot trailer just fine. You don't need an F-250 to tow a trailer—least of all, a pop-up.
Not sure how to pair your trailer to a smaller vehicle? We've got you covered. Here's another article I wrote on How To Pick the Right Tow Vehicle for Your Rig.
Pack Light for Your Trips
You might feel tempted to bring everything but the kitchen sink. But, the more weight you add to your trailer, the more fuel your vehicle will consume. So, pack light and only bring what you need for your trip. You'll save money on gas and have a much easier time maneuvering your trailer.
If you're full-time like me, you might feel reluctant to give up your extra stuff. There's no need for that. Ask family members or friends to hold on to some of them for you. You'd be surprised to know how quickly you forget about possessions on the road.
Consider Buying Premium Fuel
If premium gas is optional for your vehicle, you might often buy regular gas to save money. From personal experience, this does not, in fact, save me money. I burn through fuel more quickly when I tow on anything less than premium. Ultimately, this means more detours to buy gas. This tacks on miles, travel time, and gas consumption.
While the initial investment is higher, buying premium gas pays for itself in the long run. Not to mention, it's better for your vehicle's engine. If you're towing a pop-up trailer, experiment with premium fuel to see whether you have the same experience.
Check Your Tire Pressure Regularly
Under-inflated tires can cause your vehicle to work harder and use more fuel. So, it's essential to check your tire pressure regularly. Most experts recommend checking your tire pressure at least once per month. RV manufacturers often recommend checking them before each trip.
I don't check mine every time I move the RV, but I certainly check them in these situations:
Before starting a long trip, such as when I drove from Southern California to Montana
After sitting parked up for a while, such as when I moved to Mexico for five months
After driving the trailer off-road, such as when I took the trailer into the national forest in Northern Colorado
Plan Out Your Gas Route
There's an app for just about anything these days, and finding cheap gas is no exception. GasBuddy is a great app for finding the lowest gas prices in your area. It's available for both iPhone and Android devices. Google Maps also often shows you gas prices along your route when mapping your way.
Using apps to plan your gas stops also reduces the risks of you almost running out of gas and having no service to find a gas station along the way. This has nearly happened to me more times than I would like to admit. Don't be like me. Plan your gas route!
How Do You Find the Right Pop-Up Trailer for Your Needs?
There are hundreds of pop-up options on the market. They come in various shapes and sizes: from A-frames to inflatables to roofs on struts.
So, how do you choose the right one for you? TAXA has created an easy quiz to decide which one of its habitats is right for you. Check it out and see which TAXA habitat meets your needs!