Decisions, decisions: why we chose Woolly Bear
By TAXA Adventure Specialists \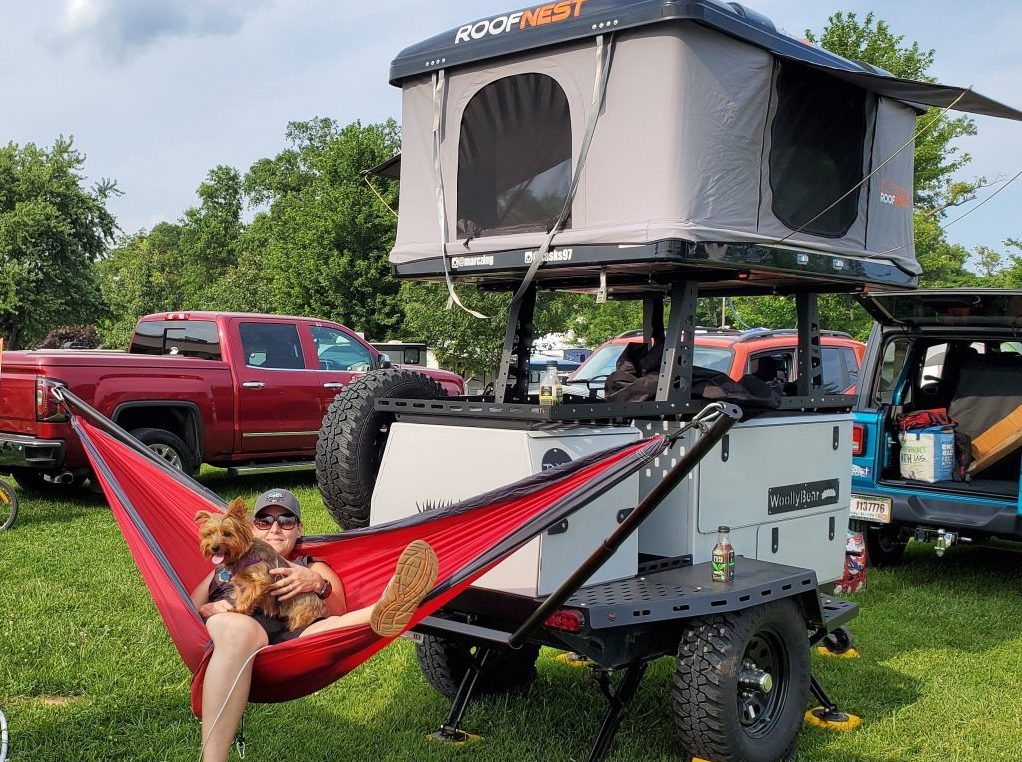 We camp everywhere. From resort campgrounds to BLM land – it's where we sleep when we travel. A little while after I got my roof top tent I saw a guy on Instagram who had his tent mounted to a trailer. It was an awesome setup that had a kitchen, storage for all his stuff and even place to store his canoe. Once I went down that internet rabbit hole, I soon discovered a whole world of off road trailers, off-road campers and trailers specifically designed to carry rooftop tents. Some are similar, some aren't. Some weigh 700lbs, some are the weight of a small armored vehicle. Some were bare trailers, some had water and electrical systems. Price was another factor and let's just say that sticker shock was an understatement at times. It's a confusing array of equipment out there. I first had to figure out our own needs. Having a basecamp that would work with either of our vehicles was necessary. Moving the rooftop tent to a trailer facilitated that. We sometimes go off road, so an off-road capable trailer was a must. We needed the ability to carry bikes, a canoe or extra items; additionally we wanted to keep it mostly loaded (with lockable storage), so we could pick up and go any time we wanted. Built-in stoves and sinks really weren't that important to us, though a place for a cooler or refrigerator would be a plus. Finally, it had to be light enough that the Jeep Renegade could tow it as well as the Jeep Wrangler (2000lbs vs 4000lbs). After narrowing it down to a couple of choices based on price and weight, I choose the
TAXA Woolly Bear
. These were the primary factors:
Individual Compartments: I like having things organized and stacks of totes in a trailer weren't going to cut it. The kitchen compartment and the cooler/refrigerator tray along with the other two compartments really set this trailer apart. All of the compartments are lockable so we could leave everything in it and be ready to go at a moments notice.
Roof Top Tent Mount: It would work with our existing tent and it didn't interfere with external cargo. Our Roofnest rooftop tentt is the largest model they make and it doesn't come with cargo bars like their smaller models. Because of this we needed a raised mount that left us access to the top of the trailer.
Cargo Area: I loved the idea of the raised tent with a cargo deck underneath for carrying a kayak, SUPs, extra coolers etc. Additionally the fenders and steps are slotted for tying down items. Kayak taking up space? We've strapped an awning and a generator down on the fenders and step. Additionally there's a dunnage area in between the cooler compartment and other compartments that can carry a porta-potty, nato cans, fire wood etc.
The Woolly Bear has some other pluses. It came with a 12volt power system which will save me time once we get a refrigerator in the slide. All the compartments are lighted with LED strips and there is even red LED ground lighting along with USB ports and a 12volt plug. There's also a two inch receiver hitch on the rear that we use for the bike rack and our hammock mount. Finally, the tent is at the same height as it was on the car roof so ladder angles stayed the same. The down side? If you have an unusual rig, someone will always have questions! On one trip in particular, it felt like gave 20 tours in two days – no kidding! It is kind of funny when people say it looks like a lunar lander and you can tell them truthfully that it was designed by a NASA engineer. Luckily, we like to talk and it's fun to show off! I'm sure if you find us at a rooftop tent rally we'll be giving tours